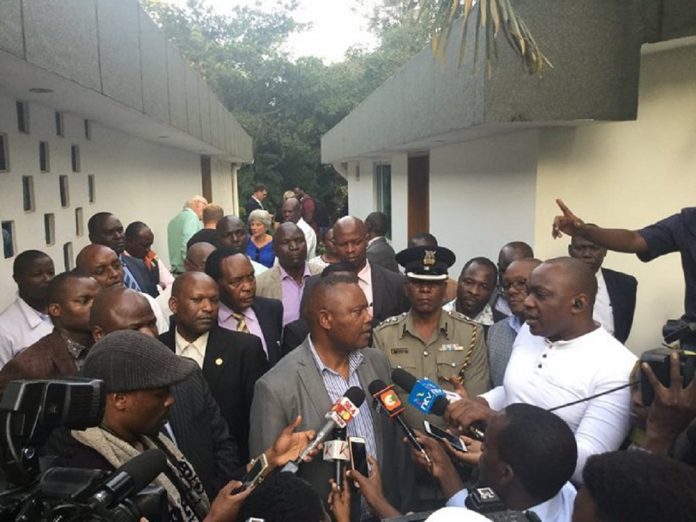 Director of C******l Investigations (DCI) Chief George Kinoti was on Thursday, November 18 sentenced to 4 months in p****n after being found g****y of c***************t.
The ruling was delivered by Justice Antony Mrima, who directed the Inspector General of Police Hillary Mutyambai to effect the warrants against Kinoti if he fails to surrender himself to the Kamiti Maximum Security P****n facility in Nairobi with the seven days.
Kinoti was found in contempt to court after the DCI failed to return f******s and a********n owned by business tycoon and 2022 Presidential aspirant Jimi Wanjigi. The w*****s include a Smith and Wesson p****l, one G***k p****l and an a*****t r***e among others.
The f******s had been taken from Wanjigi's residence in 2017, at a time when he was at odds with the government over his support for Orange Democratic Movement (ODM) leader Raila Odinga.
In January 2019, a court ordered the DCI to return the f******s and a********n seized from Wanjigi – an order the DCI failed to comply with. Kinoti then failed to show up in court on Monday, September 27 ignoring summons from a judge.
Justice Mrima noted that Kinoti had been given an opportunity for mitigation before the sentence was passed but he failed to appear in court.
In 2019, the courts had found that the State acted illegally by confiscating Wanjigi's f******s when he still held valid licenses.
"The actions of the respondents (the State) were u******l and actuated by malice. The court grants orders that all f******s be returned to the plaintiff (Wanjigi)," High Court Judge Chacha Mwita ruled
Kinoti and the DCI were yet to issue a statement on his a****t by the time of going to press.
The ruling is set to shine a spotlight on the government's regard, or lack of it, for court orders. Disregard for court orders has formed a key element of criticism leveled against President Uhuru Kenyatta's administration.