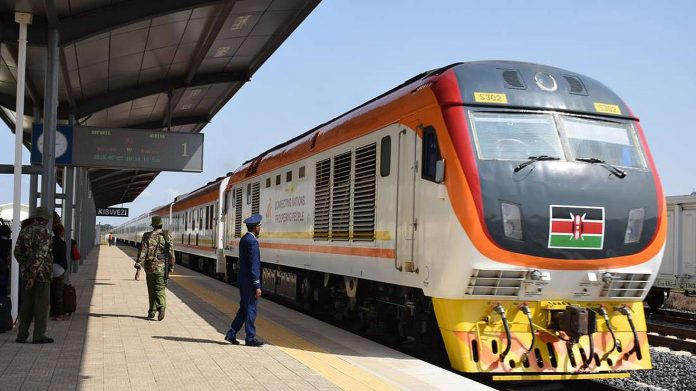 You'll need to plan Christmas trips better this year with number of new measures announced affecting users of the Standard Gauge Railway (SGR), airports and public service vehicles (PSVs).
The Kenya Railways Corporation (KRC) on Tuesday, November 23 issued a statement highlighting that travellers on the SGR will now be required to arrive at stations at least an hour before their departure. The move is meant to facilitate enhanced security checks at the stations including effective screening of passengers.
The notice is in line with the statement by Interior Cabinet Secretary Fred Matiang'i on November 19 informing Kenyans that they would experience inconveniences while travelling. Security agencies are on high alert following terror attacks in neighbouring Uganda and the escape of three terror convicts from Kamiti Maximum Security Prison, although they were captured and returned to the facility.
"We have changed the screening system to the airport, we have changed the screening system at the SGR and you are going to notice that."
"Fellow Kenyans, you will be inconvenienced because we are not in the normal space at the moment. We have raised the level of alert and we must be careful about what we do around here," he stated.
A separate statement issued by the Ministry of Health on Wednesday, November 23 also has implications for SGR travel this Christmas. It was announced that travelers should show proof of vaccination before use of SGR train services, domestic flights and regional matatus travel.
Vaccinated Kenyans can print their certificates on the Ministry's online portal for Covid-19 vaccination.
With Christmas a month away, travel companies and facilities are bracing for a sharp surge in Kenyans travelling upcountry or to vacation and getaway destinations.
The Government Spokesperson Col (Rtd) Cyrus Oguna had also issued a statement urging Kenyans to be vigilant and to report any suspicious activities. He further confirmed that the state was closely monitoring the situation at Kenya's open borders.
"We urge all citizens to be vigilant while in places of high human traffic and to promptly report any suspicious character, behaviour, movement, or unattended parcels to the nearest police officer or police station," he announced on November 16.