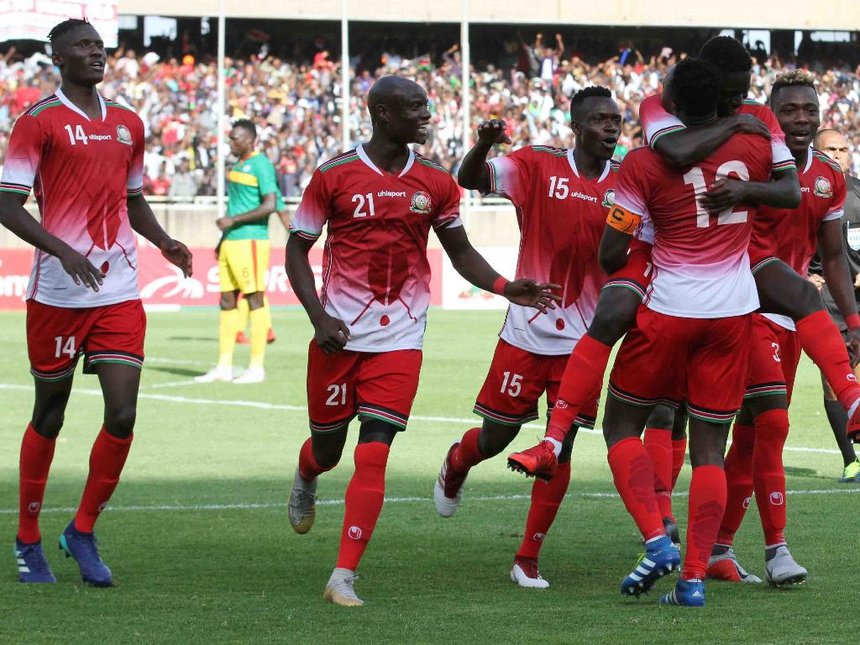 The Kenya National Men's Football team, Harambee Stars, has never played in the FIFA World Cup Finals. In fact, many Kenyans believe that Harambee Stars might not play in the World Cup finals anytime soon.
However, there might be just a tiny bit of hope for Harambee Stars after the round 2 World Cup Qualifiers draw results. Kenya's draw for the FIFA World Cup round two qualifiers was received with much optimism with stakeholders sharing the view that Harambee Stars have a realistic of reaching the third and final qualifying round.
Kenya will play Group E's top-seeded team Mali, rivals Uganda, and Rwanda in their quest to appear in their first-ever World Cup that will be staged in Qatar 2022.
Football Kenya Federation (FKF) president, Nick Mwendwa was the first one instill hopes in Kenyans' hearts. Hope that it will happen in 2022. Kenya might just play in the World Cup.
Immediately after the draw results, Mwendwa took to twitter to motivate the players and the fans. "Doable, can do. Let's do it Stars," Mwendwa tweeted.
Harambee Stars' head coach Francis Kimanzi on his part has said there is a big chance for Kenya but quickly pointed out that preparations must be done with utmost seriousness for Kenyans to stand a chance.
"The draw is fair, yes, but that does not mean we just sit and relax. Not even Rwanda can be taken for granted in this group if anyone sees them as an underdog. They can as well pull a surprise and qualify," Kimanzi said.
Group E Competition
Mali tops the group in FIFA rankings being the only tea that is in the top 10 in Africa at number 9 in the continent and 56th globally. Kenya, on the other hand, is placed 25th and 106th in the latest zonal and global FIFA rankings respectively
Uganda is 15th in Africa and 77th in the global ranking, while Rwanda sits at 36 and 131 in Africa and world tables respectively.
Interesting for Kimanzi is the close proximity of the East African teams in the group, a factor he considers to be a big plus in logistics and preparations for the away matches.
"Rwanda and Uganda are our neighbours and this is good for us in terms of travel logistics and planning arrangements. It is only Mali which is far, but it should not be a big challenge for us to handle drawing from our past experiences with Western and Northern African teams," Kimanzi noted.
See Also>> https://businesstoday.co.ke/kipchoge-finally-responds-to-critics-about-his-shoes/
Full Draws
GROUP A: Algeria, Burkina Faso, Niger, Djibouti
GROUP B: Tunisia, Zambia, Mauritania, Equatorial Guinea
GROUP C: Nigeria, Cape Verde, Central Africa, Liberia
GROUP D: Cameroon, Cotedivoire, Mozambique, Malawi
GROUP E: Mali, Uganda , Kenya, Rwanda
GROUP F: Egypt, Gabon, Libya, Angola
GROUP G: Ghana, South Africa, Zimbabwe, Ethiopia
GROUP H: Senegal, Congo,Namibia, Togo
GROUP I: Morocco, Guinea, Guinea Bissau, Sudan
GROUP J: DR.Congo, Benin, Madagascar, Tanzania.