Last year, Eliud Kipchoge was top of the World after he became the first person to run a marathon in under 2 hours. However, the new record brought up controversial thoughts and comments on how Kipchoge was able to do that. It had been deemed impossible for anyone to finish a marathon in under 2 hours in this decade but Kipchoge made it possible.
After the race in Vienna, there were claims that Kipchoge's shoes might have played a part in the marathon. Many suggested that the shoes Kipchoge used gave him ana advantage hence helping him easily beat the record.
The marathoner has broken his silence on the issue laughing off the claims that the shoes gave him an advantage. Kipchoge said that it is the person that runs and not the shoe.
Media reports on Wednesday speculated that the now-famous Nike Zoom Vaporfly racing shoe could be banned for giving runners "undue advantage." These are the shoes Kipchoge used when he became the first man to run the marathon in under two hours.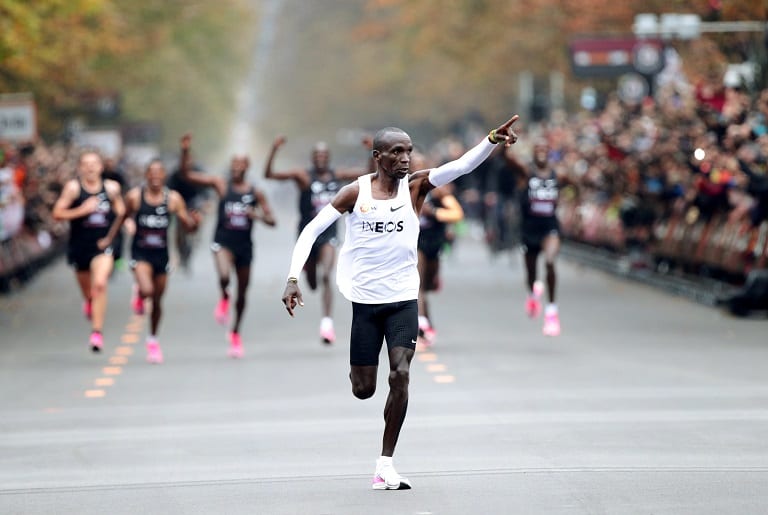 During Kipchoge's first attempt to run a marathon in under 2 hours, Nike created a new pair of shoes dubbed 'The Vaporfly 4%' which were claimed to make runners 4% more efficient. He was not successful even after using these shoes.
For the INEOS 1:59, Kipchoge had something new on his feet. The famous Nike Zoom Vaporfly racing shoe. With these, Kipchoge was able to finish the marathon in unde4r 2 hours. He crossed the finish line after 1:59:40.
Speaking at his Global Sports Communication/NN Running team training camp in Kaptagat on Tuesday, Kipchoge said records are broken by individuals, not footwear
"It's the person who is running, and not the shoes. It is (Lewis) Hamilton who does the driving and not Pirelli Tyres. In Formula One, (tyre company) Pirelli issues tyres to all Formula One cars, but Mercedes is the best, why? It is the engine. It's the driver. " Kipchoge said while drawing comparisons from Formula One Racing.
"The (Nike) shoes are fair and it (success) is because I train hard! Get those recreational runners, give them the shoes and set the time. If they get that time, then know there's no fairness," added Kipchoge.
However, Kipchoge also said that it is important to have checks and balances even as running technology evolves. He said that controls have to be there because fairness is good.
"Regulation has to be there for equality and for people to feel they are competing in a fairway. Fairness is good. But technology is growing and you can't deny that!" Kipchoge said.
Kipchoge is now training for the London marathon in April and the Olympics in June. A team from Nike's global headquarters in Beaverton, Oregon, USA, is expected in Kaptagat next week.
However, it is still unclear whether or not the visit is to launch the development of a new running shoe for Eliud to use at the London Marathon and at the Olympics.
Kipchoge is usually involved in the development of his own running and training footwear in consultation with Nike's research and development division at Beaverton.