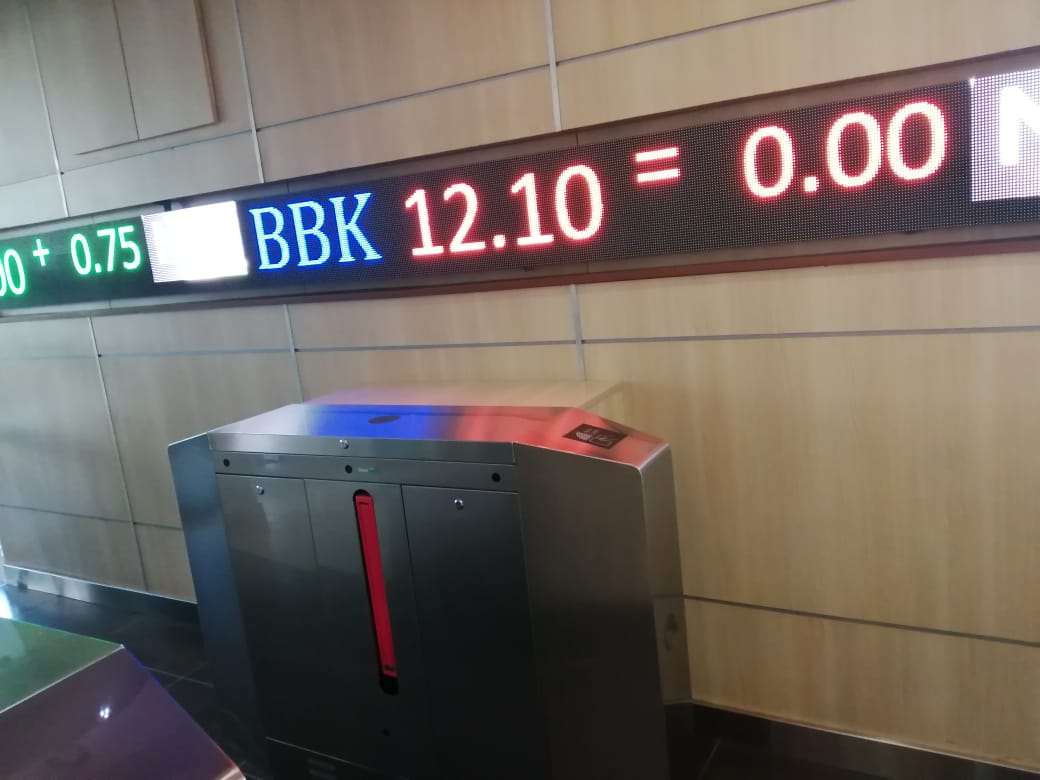 Stock market turnover at the Nairobi Securities Exchange (NSE) rose to Ksh529M million from the previous session's Ksh407 million, slightly growing investors' wealth, as the number of shares traded stood at 14 million against 26 million posted yesterday. The market was mainly driven by trading in banking and Safaricom shares, which represented over 85% of the traded volume.
Even then, the NSE 20 share Index was down 11.65 points to stand at 2647.58, an indication of a drop in share prices or trading in the constituent companies. All Share Index NASI shed 0.64 points to stand at 165.32. The NSE 25 Share index lost 22.50 points to settle at 4072.40.
Banks prices tie
The Banking Sector had shares worth Ksh199M transacted which accounted for 37.60% of the day's traded value. KCB Group actively moved 3.2M shares valued at Ksh166M at between Ksh51.50 and Ksh53.00. Equity Group Holdings remained unchanged at Ksh51.00 moved 373,000 shares worth Ksh19M. Standard Chartered Bank moved 32,000 shares worth Ksh6.69M and closed at Ksh204.75.
Both Equity and KCB touched Ksh51% at some point a rare tie for the two main banks. Their shares are expected to remain stable in January and could start itching in the course of February as the full results near.
Energy & Petroleum
The Energy & Petroleum sector had shares worth 4.9M traded & accounted for 0.93% of the day's traded value. KenGen unchanged at Ksh5.60 moved 750,000 shares worth Ksh4.1 million. Analysts don't see much activity in this counter perhaps until results are released and dividends declared.
Investment
The Investment sector had shares worth 7.0M traded & accounted for 1.33% of the day's traded value. Centum remained steady at Ksh29.00 moving 240,000 shares worth Ksh6.9M.
Manufacturing & Allied
The Manufacturing & Allied sector had shares worth 55M traded & accounted for 10.39% of the day's traded value. E.A Breweries moved 231,000 shares worth Ksh48.7M at a fairly stable price of Ksh210.75. B.A.T closed 1.75% lower to Ksh491.00 moving 12.4M shares valued at Ksh6.0M.
Telecommunication
Safaricom was the day's biggest mover with 8M shares valued at Ksh256M changing hands at between Ksh31.30 and Ksh31.75, representing 48.47% of the day's traded value. SBG Securities has maintained a buy recommendation on Safaricom, with its analysts saying they expect growth in the mobile operator's service revenues and earnings per share owing to digitization and business process engineering.
Safaricom stock price continues to soar.  Recently it hit Ksh33.30, few coins from its all-time high price of Ksh33.50.