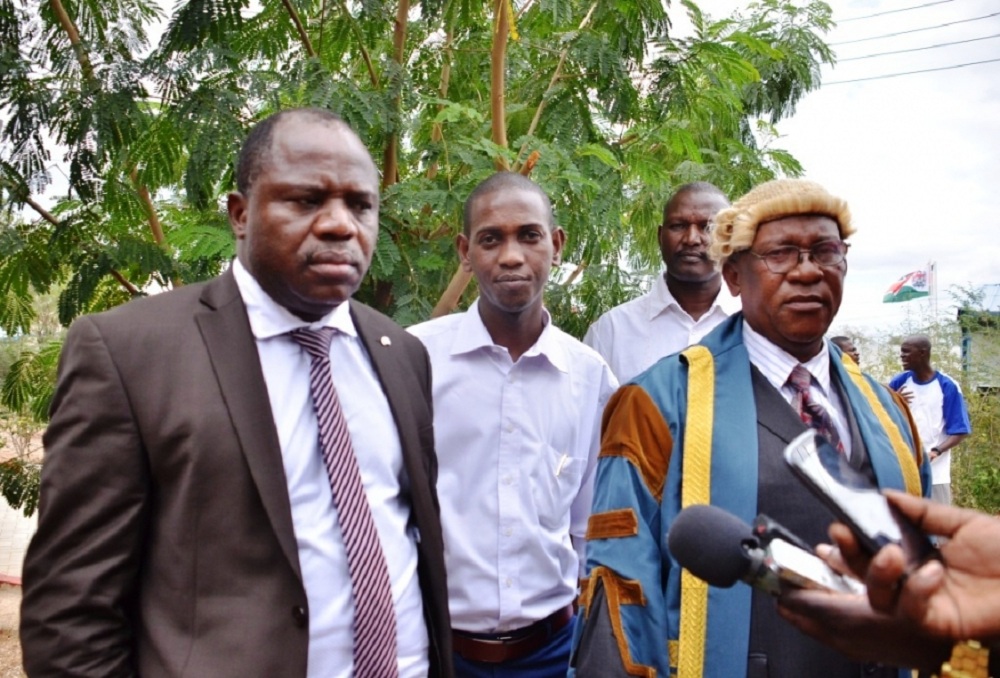 [dropcap]I[/dropcap]t is about 10 pm but Dr Dhadho Gaddae Godhana, the Governor of Tana River County, is still holed up in his office. The retired army major, who recently received two honorary doctorate degrees, is hosting one of the many delegations that call on him daily, as scores of other people wait impatiently in his secretary's office at the Trade Building in Hola Town.
"I am not leaving here until I see Major," an angry woman shouts at a security officer who tries to push her out of the corridor, where she and others have been sitting for the last six hours. "I have been here since 4 pm and I cannot leave without seeing the governor in person."
Inside an office manned by the governor's chief protocol officer, Moses Nandalwe, a battery of journalists is waiting impatiently. The scribes have been called at 7 pm for an 'urgent' press conference. They threaten to walk out but Nandalwe prevails upon them to wait.
The governor's secretary, bodyguards and other office attendants look evidently sleepy but they cannot leave before the boss. Eventually, the scribes are allowed entry into the governor's office, but they have to tread carefully lest they step on the sleepy women sitting on the floor along the corridors.
Media people have to wait for about 20 minutes for the governor to conclude a discussion with one more delegation before the start of the press briefing. "I hope you are the last group I am seeing," he tells the reporters after bidding farewell to the group the scribes found in the office. The journalists laugh.
"Your Excellency, there is a group of women who have vowed to see you at all costs. They are lying on the floor along the corridors," one journalist tells him.
Modus operandi
Major (Rtd) Godhana pulls a drawer and picks something, then walks out to see the women. As he walks back to the office after about five minutes, the governor quips: "It was a small matter the bodyguards should have handled."
This has been the Governor's modus operandi since he assumed office on August 21, last year. He seems to enjoy working at night. Even his County Executive Committee (CEC) members took their oaths of office at night recently.
Whenever he is in his Hola town office, residents, people seeking employment for themselves or relatives, tender seekers, development partners and the governor's friends throng the office to see him.
The governor has very little time to eat or sleep. And being a good listener and storyteller, he entertains all without minding time, his own health and family.What he does not know is that his aides are getting fatigued, as they have to be in office early and leave as late as midnight.
Residents demand to see the governor in person, and will not listen to anyone who suggests that they see a 'junior officer.' Yes, even the deputy governor and the county secretary are considered junior.But the governor cannot take it any longer. He has asked his people to give Him space to effectively serve them.
During the launch of the distribution of mosquito nets at Mikinduni village recently, Godhana lamented that his work had been made difficult by residents who flock his office daily demanding services from the governor in person.
"There is a very big problem of congestion at my office because people want to be served personally by me," he said.
"How will the government move if everybody wants to be served solely by the governor? Is it possible?" he posed.
He urged those in need of services to see the County Secretary, the Chief of Staff, his Economic Advisor, County Executive Committee (CEC) members, Directors and Sub County Administrators among other officials.
Godhana said that at the beginning of his term in August last year, people used to see him in person because he had not appointed CEC members and other officers, but since those officers were in office, it was imperative that the residents use them.
"At the beginning of my term, I was alone and so I did not have any option but to personally serve you. However, I now have other officers who have the mandate to serve you. Please go to them and only bring weighty matters to me," he said.
He urged the residents to seek services from sub county and ward administrators as well, who would refer cases requiring his attention to him.
"I have facilitated the sub county and ward administrators so they can effectively serve you. Please go to them," he said amid his traditional snicker, adding that he would soon appoint a government spokesperson and a director of communication as well as chief officers to manage information flow and communication within his government.
He has since named 14 persons to the positions of County Chief Officers, whose names are currently with the County Assembly of Tana River, awaiting vetting. He has also named Maryanroon Mohamed, an unsuccessful candidate in the position of County Woman Representative in the August 2017 polls, as his political advisor.
The governor said he would also from time to time move to the sub counties so residents can directly engage him."We shall start moving to the grassroots to thank you and explain to you the development programmes we have for the county," Godhana said.