An email sent to all staff members at Royal Media Services (RMS) on Saturday, January 30 has sparked a storm at the media house.
The email, seen by Business Today, was sent by a disgruntled employee under a pseudonym. He copied everyone from owner SK Macharia to Managing Director Wachira Waruru, all department heads and staff members.
Clearly frustrated, the employee tore into the RMS management over allegedly disproportionate salaries paid out to different members of the team.
In particular, he complained that well-known presenters and anchors were earning up to Ksh800,000 a month while producers, camera operators, technicians and other employees who play key roles in delivering content were confined to monthly wages of between Ksh40,000 to Ksh60,000.
He singled out the likes of anchor Jeff Koinange, Strategy Director Linus Kaikai and Editorial Director Joe Ageyo claiming their salaries were to blame for other staff members' woes.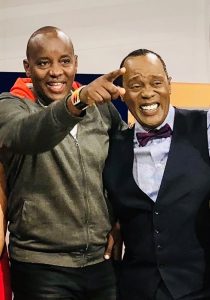 The employee further claimed that the management, which slashed salaries by 20 to 30 per cent at the height of the Covid-19 pandemic, was not keen on reinstating full salaries even after tax relief measures were revoked by the government from January 1, 2021.
"How can a transmission technician handling 3-4 sites and working 24 hours 365 days without breaks earn Ksh50,000 while a news anchor or radio presenter is earning six figures in salary?
"How can a producer for both radio and TV be taking home Ksh40,000 while the people that work so hard to ensure their content is professional earns three times their salaries?" the expletive-filled letter read in part.
Sources at the Dennis Pritt-road based media house told Business Today that the email had caused a stir and fueled murmurs at the company, with many employees silently agreeing with the issues raised.
Business Today had reported in November 2019 how the poaching of talent from top media houses had created a rift at the media house, pitting old and new team members against each other.
Between March and July 2018, Royal Media had gone on a hiring spree – securing the services of the likes of Ageyo (from KTN), Kaikai (from NTV), Yvonne Okwara (news anchor, from KTN), Jamila Mohammed, Pamela Asigi, Rashid Abdallah and Nimrod Taabu (all from NTV).
Journalists who had been working at RMS before 2018 were reportedly concerned by the higher salaries awarded to the so-called 'Dream Team', a situation that was inevitable given they joined from leading media houses as RMS looked to shore up ratings.
The tension between the two camps was said to be at the heart of some high-profile departures from the station.