Kenya's first farmer's market has been officially opened in Nairobi along Kiambu Road. The market acts as a direct link between farmers and consumers, eliminating high prices that emerge from intermediaries and mishandling of produce which reaches the consumer in a poor state.
The farmers market is a market where local farmers and growers sell their produce directly to the public.
The market is a first of its kind in Kenya, with a variety of goods at disposal.
The commodities range from fresh produce to other related products such as an assortment of household goods available in a general store on a both retail and wholesale basis, a grains superstore specializing in pure Mwea pishori rice and many other kinds of cereal, prime cuts butcheries, which include a specialised pork shop, a fish centre, a dairy and poultry centre, a pharmacy, wines and spirits shop and many other facilities.
The market is also inclusive of both sit-in and takeaway restaurants where meals, as well as snacks, are within easy reach for consumers.
The market also features a pop-up market where different producers, including non-farmers, rent tables on a short-term basis to sell different products, mainly artisanal items made at home. The pop-up market is limitless, allowing an array of different items to be sold.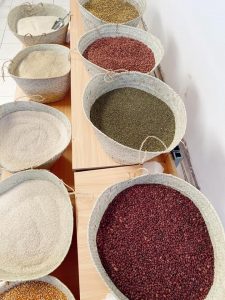 "This is our way of giving an opportunity to the talented Kenyans who lack an outlet for the wonderful things they produce. Now they can come and showcase them here and share their passion with others."
With the fair prices getting the buyers through the door, the supreme quality products, freshness and wide range of goods leave them yearning for more.
The market has been open since mid-December 2020 and despite being on a trial run since its inception, General Manager, Jeff Mundia is confident due to the thrilling response from customers.
"We have witnessed very many repeat buyers. Some of them even call asking for what they need, not believing they can just come and find the produce. We started without too much publicity so that the farmers can first get used to restocking requirements and so on. Now they are good at it, and very soon all the shops will be open," he said.
The Nairobi Farmers Market comes at a time of growing concern about the safety of food sold in Kenyan markets. Several institutions have published the rules and regulations expected of every product destined for export. However, there is little supervision for products meant for local consumption. The essential post-harvest handling protocol is not enforced, and no hygiene standards are enforced in some markets such as Marigiti in Nairobi or Kongowea in Mombasa.
The farmers in the market were thoroughly vetted beforehand to ensure ethical agricultural practices in the irrigation, production, harvesting, storage and transportation of their products are executed.
They are expected to comply with a common quality charter to ensure the safety of all the food sold in the market.
"Part of the objectives of this market is to avail safely handled food and therefore play our part in creating a healthy nation," said Mr Mundia.
He said all the stalls were booked even before construction was completed.
A Consumer Experience Centre is also in the works, where manufacturers of household goods can showcase their products, with the opportunity to carry out demo cooking and tasting sessions. This is expected to be popular with manufacturers of Fast Moving Consumer Goods (FMCG) seeking to introduce or popularise their products.
"In view of the changing trends in shopping, we have developed an App that will allow customers from all over the city to shop online and enjoy convenient home deliveries. This way, even though the market is very pleasant to visit, we do not expect everyone needing to buy from us to come all the way," says Mr Mundia.