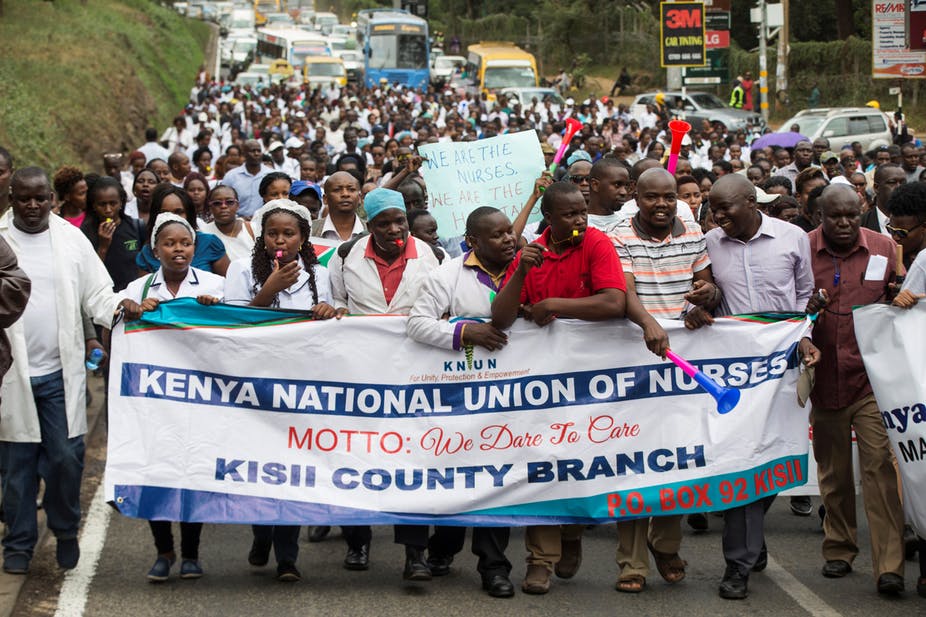 [dropcap]K[/dropcap]enyan's constitutional right to healthcare services in eight counties is facing serious violation as a result of the nurses' strike that is entering its second week. More counties are expected to join in in the course of the month.
To add salt to the wound, clinical officers, through Kenya Union of Clinical Officers (KUCO), have issued notice of impending industrial action that will commence on Saturday 16th, if their demands are not met.
The Kenya National Union of Nurses (KNUN) and KUCO blame the county governments for their distress that has paralysed healthcare services across the country.
The nurses are demanding an implementation of a 2017 agreement but the Council of Governors and the Treasury say there is no money. The Salaries and Remuneration Commission maintains a similar stance.
Since 2013, the country's public health sector has been affected by recurring medics strikes cumulative to 250 days and counting.
When the healthcare system was devolved with the entrance of new Constitution in 2010, medical management in the country was expected to improve in efficiency of service delivery and promote accountability and transparency among others.
These expectations, however, seem to have been far-fetched as the healthcare system has since been marred with strikes and political decisions that overlook the welfare of medical providers in the counties.
READ: THIKA BASED SPIRITS FACTORY SHUT OVER SH1.2 BILLION ILLICIT BREW
Recently, in the on going nurses' strike, Mombasa County was in good light for paying uniform and service allowances to its healthcare workers but the tune changed in few days after the payments were withdrawn from their January salary.
According to the Deputy Secretary General of KNUN Michael Opetu, the Council of Governance (CoG) is intimidating the workers over their rightful dues.
"The CoG is threatening county governments who have paid the nurses to retract the cash from the salaries. Governors have now resorted to humiliate nurses but we won't return to work until they implement the CBA signed in 2017," said Mr Opetu.
SEE ALSO: SCIENTISTS DISCOVER NEW CHLAMYDIA TREATMENT
Ironically, as eight counties are facing nurses' strike with others planning to join, Machakos, Kwale and Migori counties have cleared and paid their nurses the said allowances.
This portrays the insensitivity and amateur handling of Kenyan's health by the county governments despite President Kenyatta mentioning Universal Health Coverage (UHC) as one of his Big 4 Agenda.
Last year, public hospitals in the county levels were hit by shortage of drugs as county governments owed about Sh2.3 billions to the Kenya Medical Supplies Agency (Kemsa).
READ: CANCER TREATMENT COST NHIF SH1.36 BILLION
As of January 2019, Mbagathi Hospital in Nairobi was hit by acute drug shortage due to Sh235 million debt from the county government to Kemsa.
Though officials from Nairobi County denied the crisis, the Cabinet Secretary of health Sicily Kariuki directed the agency to continue supplying drugs as patients were forced to buy medication from private hospitals and pharmacies.
In the wake of ongoing healthcare crisis in the country for six years, ordinary Kenyans, mostly those who rely in public hospitals are denied the basic right in humanity.
Unable to access affordable health services, they are forced to dig deeper in their pockets and seek treatment from private hospitals whose charges are high.
READ: BIDCO SUPPORTS SCHOOL FEEDING PROGRAMME IN RUIRU
Those who cannot afford are left to the mercy of inconsiderate medics in public hospitals, who even in dire situations throw the Hippocratic Oath out of the window and look the other way amid the suffering around them.
At Mbagathi Hospital last week, we witnessed relatives of critically injured patients being forced to carry them around without the benefit of stretchers at the casualty department, adding to their pain as nurses and other staff looked on without a care in the world.
Sadly, when our leaders or their close relations fall sick, they are flown out of the country or seeking treatment in private hospitals, yet they govern public hospitals in various administrative units.
For instance, Governor of Kisumu Prof Anyang Nyong'o was recently admitted at a Kisumu private hospital after falling sick in a presidential function before being airlifted to Nairobi.  Health services at the public hospitals in the same region have been paralysed by the ongoing strike. 
To worsen the situation, Prof Nyong'o's administration is seeking to hire new nurses on temporary basis while threatening the striking medics on job replacement.
His West Pokot counterpart John Lonyangapuo has ordered striking nurses to return to work or vacate the area.
SEE ALSO: 5 JOB SKILLS YOU CAN LEARN WITHOUT HAVING A DEGREE
Last year, Mombasa Governor Ali Joho was hospitalised in a Mombasa private hospital after falling ill. Additionally, he flew musician Ommy Dimpoz to Germany to seek treatment for a throat related complication.
Further, Members of Parliament and the Senate opt to travel to India to seek treatment of cancer and other chronic ailments.
The complexity of the healthcare system should be taken into considerations, with leaders who seek better healthcare provide the same to the Kenyan citizens who elected them.
There have been suggestions now, and in the past, that health services should be returned to the national government as counties cannot manage them.
But there are also those who say that mandarins at Afya Centre rather than concentrate on their mandate such as policy direction are frustrating counties because they lost a huge chunk of funds that they often lined up their pockets with.
Whichever way one looks at it, there is need for a serious debate on this issue. It is a matter of life and death.