Caroline Mutoko speaks about her new job as Radio Africa's chief operations officer since ending her morning show on KISS FM. Radio Africa runs The Star newspaper, Kiss TV and a number of radio stations, including Classic 105, Kiss FM, Radio Jambo, and XFM.

Before joining radio, Carol Mutoko was a management trainee at a bank and went through the teller line, treasury and customer relationship training. But she couldn't handle the monotony.
Radio presented Ms Mutoko with an opportunity to bloom and bring out her personality – controversial at times, always forthright and hilarious. She started from the bottom of the radio pyramid, grabbing the opportunity to work at Capital FM where her work was to input music. But she soon rose through the ranks and ended up having her own show and worked at Capital FM for four years.
When the opportunity to join KISS 100 came, she grabbed it. There were 13 radio stations with three independent stations – Capital FM, Metro FM and East FM. The new entrant needed to be markedly different. Her show, christened the Big Breakfast, gained loyal following due to its vivacity and diversity. It made her the undisputed queen of the airwaves in Kenya, a darling of the middle-class and a thorn in the flesh of the mediocre.
In the 13 years that the show aired on KISS 100, Ms Mutoko served as the Programme Controller for six years. In fact, she is not a debutant in management. She has held various management roles within Radio Africa Group. Her promotion to chief operations officer was sequential, owing to her strict discipline, work ethic, enterprise and follow-through.
Radio Africa is positioning itself to be the preferred media house of the future. Therefore, Radio Africa 3.0 will be more focused on the dynamic needs of its defined target market. "Media is changing. The needs of our audiences and our advertisers are changing. In fact, they have changed over the last three years radically. Radio Africa 3.0 is about meeting the needs of our audiences and our clients in a digital world. The mission is simple; to be East Africa's leading provider of marketing, entertainment and media solutions," says Ms Mutoko.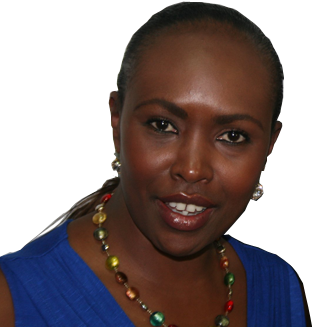 As the COO, Ms Mutoko is at the forefront in driving the new strategy. "My role is twofold. First, to ensure that operationally we are equipped and structured to handle the changing needs of our clients and advertisers to maximise value. The solutions provided must resonate with our clients' needs and our turnaround time needs to be better.  What worked 13 years ago doesn't work today. The other side of the job is to ensure the entire brand portfolio at Radio Africa, audio, visual digital and print is created and communicated both internally and externally. Simply put – create a deliberate plan and execute that plan with flair."
She is very excited about her new role. She not only has the intrinsic drive to develop disruptive and media industry-changing strategies, she actually studied for it – with the best in the world. She has been to the best schools, starting with University of Nairobi where she graduated with BA in Economics and Sociology, Harvard and Strathmore Universities where she studied leadership and IESE Business School in New York, where she undertook an Advanced Media Management course. This prepared her for the new role and direction that Radio Africa is embarking on.
SEE ALSO: CAROLINE MUTOKO UNDER FIRE OVER FACEBOOK COMMENT
At IESE Business School, Ms Mutoko got invaluable insights from her seven classmates, all senior media executives with leading networks. In business, career and life, Ms Mutoko has always associated with people who are ahead of her and invariably older, so she gets to learn a lot from them. In so doing, she avoids costly mistakes. For two years, she was planning her exit from the Big Breakfast show and didn't quite know how to handle the transition. Then an IESE classmate from NBC advised her that she needed to end the show and allow another person to grow. That was around the same time when Jay Leno was retiring from "The Tonight Show" and Jimmy Fallon was taking over.
Opening a new chapter
When she came back, she knew she had to surgically end the show. "Everything had to end so that Shaffie Weru and Kalekye Mumo could create something new. For me, I had to end that chapter and start something new," she says. The morning show on KISS FM is a totally different experience right now.
Ms Mutoko says she outgrew the show. She is not being arrogant; it is a statement of fact. "I did not go to an Ivy League university to talk about Rihanna! I was always heading to something else and I began to understand that there are different conversations that need to be had but the atmosphere that everybody loves needs to be transported to another vessel. So nothing has really changed – only that the vessel was wrong. KISS FM is eternally young but I have to transport the new conversation to another vehicle."
Asked whether Kenyan managers measure up to their contemporaries in the West, she said: "We need to think a lot bigger, bolder and see further. There is a crop of new managers and CEOs in the market who realise we haven't raised the bar in a long time. They are testing the waters and trying really hard to be better, bigger, different. However, we need to learn to learn. Too many have the you-can't-tell-me-nothing attitude. We need to see round the corner and also to fail fast. The times we live in don't allow us to be running on the treadmill to nowhere for too long."
This article was first published in Think Business magazine in December 2014
NEXT READ: GO TO HELL, CAROLINE MUTOKO TELLS BIG THREE MEDIA HOUSES

[crp]