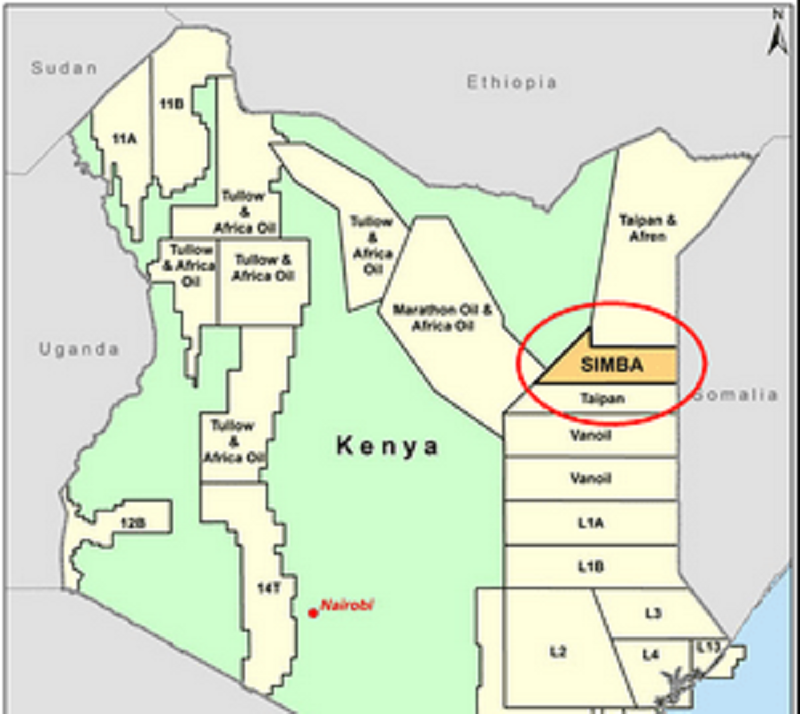 A study commissioned by Canadian Simba Essel Energy Inc. has established 29 leads and prospects of undiscovered oil within Block 2A in Wajir county.
In a press release, the oil exploration company said Sproule International Ltd's report, which consists of and assessment of prospective resources within the Block 2A in the Mandera Basin, puts the gross total undiscovered petroleum initially in place at 437.7 MMboe (Million Barrels of Oil or Equivalent).
"Five main horizons were identified in the interpretation. The youngest of these, Ken 6 is interpreted to be lower Jurassic (Liassic) in age. Four other deeper seismic markers of uncertain age were also evaluated. These horizons are from youngest to oldest, Ken 5 (Triassic), Post-Rift, Upper Syn-Rift, Lower Syn-Rift and Basement.  Twenty-nine leads and prospects have been mapped seismically at the Ken 5, Upper Syn-Rift and Lower-Syn-Rift levels. In conjunction with areas defined on these horizons and reservoir parameters defined from possible analogs, low, best, and high estimates of undiscovered petroleum in-place and prospective resources have been calculated," the company said in a statement.
It added that most of the structural closures can be classified as three-way dip closures bounded by extension faults. In addition, there were number of structural closures in the form of pinching out and four-way dip closures.
"The portion of the Mandera Basin underlying Block 2A is prospective as it exhibits a petroleum system with a trend of improving reservoir quality upwards in the possible hydrocarbon bearing leads and prospects. Also, the passive seismic which responds to reservoir quality to produce a response also indicates a continuous systemic profile of improving quality. Passive Seismic is an indictor of hydrocarbons and is used in places like Alberta (Canada) to monitor hydrocarbon front movement in water floods projects," the statement further said.
According to Simba E Energy, the agreement between the various reserve parameters over the prospects in terms of contacts and areal extant suggests migration has occurred. The Tarbaj oil seep located immediately north of Block 2A  suggests the presence of an active petroleum system with oil migrating up dip and being biodegraded as it raises to the surface, it says.
"Many of the prospects and leads are coincidental to the same structural event and are stacked one on top of the other. This means a single well can evaluate 2 or 3 prospects or leads. The Company is contemplating additional seismic to further detail prospects and to choose the best location for drilling.  Objective is to develop a dual or triple prospect location," Simba E Energy said.
The company says it plans to drill an exploration well of approximately 3,000 metres in 2018 in Block 2A to test  two (2) or more intervals. This well would fulfill the first part of its drilling commitment to the production sharing contract on Block 2A.
This report was prepared to assess the Company's P&NG resources according to definitions that are consistent with the standards of the Canadian National Instrument 51-101, which sets out requirements and standards for disclosure by reporting issuers engaged in oil and gas activities.