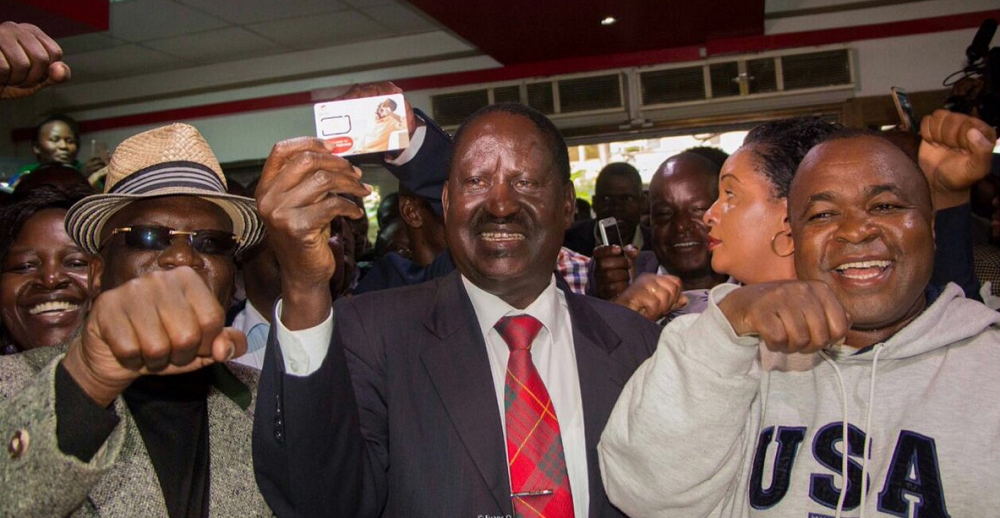 NASA leader Raila Odinga has migrated from Safaricom to Airtel as the economic boycott targeting three companies announced last Friday gained momentum.
Raila, who was accompanied by a section of NASA MPs, bought an Airtel subscriber's card at a store along Koinange Street in Nairobi. Scores of NASA supporters have been switching to Airtel since Friday's announcement, even as the Safaricom Dealers Association and analysts warned of the inherent dangers of the move that also targets Brookside Dairy and Bidco.
On Friday, MPs affiliated to the Opposition formation asked its supporters to boycott products of the three firms, accusing them of allegedly providing solid backing for the Jubilee regime and a platform for the rigging of elections.
They said names of more companies will be released in due course. Ugunja MP Opiyo Wandayi said: "We will release the list of companies in time because there is no price that is too high to pay for a country to go back to its democratic state.
"Kenyans are tired of the culture of electoral theft entrenched by the Jubilee administration."
Since the August 8 elections, Raila has been accusing Safaricom of routing results from polling stations in regions it had been assigned to France in connivance with ICT solutions provider, OT-Morpho, which the telco denies.
Monday, Safaricom's share price on the Nairobi Securities Exchange traded at Ksh 25 compared to Friday's price of Ksh 25.50.
Though Safaricom is yet to comment on the latest developments, the Director of Strategy and Innovation Joe Ogutu, who was speaking during the release of half year results, said political events of the last few months have triggered the largest decline in the stock market in Africa over the last year.
On the other hand, Airtel is planning to launch a promo targeting new subscribers in a move that directly targets the defecting Safaricom customers.