Airtel Kenya has upped its rivalry with market dominator, Safaricom, following last week's call by the National Super Alliance (NASA) to boycott it alongside Brookside Dairy and Bidco for allegedly funding key Jubilee leaders and aiding the rigging of the August 8 presidential election.
The company, which is wholly owned by New Dheli-headquartered Bharti Airtel, has come up with a new offer that would see those joining its network in Kenya make calls at prices discounted by 50%.
According to sources close to the Mombasa Road-based telco, it is set to kick off an aggressive media campaign blitz this week to attract those heeding NASA's call to dump Safaricom.
According to an ad sample leaked by one of our sources, the campaign was initially christened #RESIST, but this was set to be dropped and instead replaced by #unRESISTable. RESIST is the slogan of NASA's National Resistance Movement, which has picked economic boycotts as one of the weapons it is waging against President Uhuru Kenyatta's regime.
NASA leader Raila Odinga termed his re-election in the October 26 fresh election, which he boycotted, as a fraud. Here is the initial ad designed by a public relations firm doing social media campaigns for Airtel Kenya.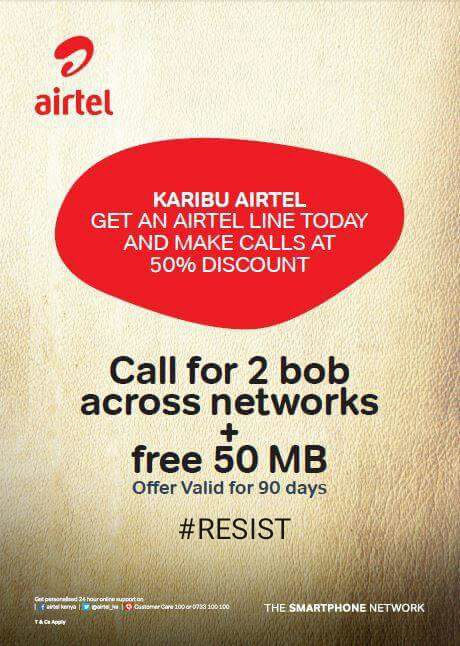 Since Friday, those seeking to port their Safaricom lines to take up Airtel ones have been received with open hands at the latter's customer care centres. There is no love lost between Safaricom and Airtel Kenya, which  begun operations in November 2010 following the acquisition of Zain by Bharti Airtel.
Airtel has been fighting to have Safaricom declared a dominant and anti-competitive player in the telecommunications sector without success. It has been pushing for mobile number interoperability and sharing of  mobile money agents.
A recommendation by Analysys Mason – an independent international consultant – to have M-Pesa detached from Safaricom was shot down by the government, which said it was not in the company's best interests.
The consultant, who had been hired by the Communications Authority of Kenya, had also proposed a wallet-to-wallet interoperable system that would allow a consumer to keep cloud accounts across different mobile money platforms, making it possible to move money across accounts as one chooses as well as the establishment of an 'agent-to-agent interoperability', where agents support multiple mobile money platforms.
According to the CA's fourth quarter report 2016-17, Safaricom controls 72.6% of the market having registered an increase of 0.7% while Airtel Networks Limited registered a decline of 1.0 percentage points to record a market share of 15.3% from 16.3%.
Recent statistics show Safaricom has a total of 25.94 million users while Airtel has 6.76 million users.
At one time, Airtel Kenya threatened to close shop, saying it has been registering losses since it commenced operations.
Whether the NASA migration will turn around its fortunes, only time will tell.
Analysts have, meanwhile, warned that the economic boycott may lead to an increase in prices of certain commodities, layoff by companies due to reduced sales, attack of staff and transport companies in Nasa regions as well as the practicability of enforcing the sabotage of the companies that enjoy near monopoly of the market, according to the Daily Nation.
Monday, the Safaricom Dealers Association said the boycott may see one million people lose their jobs.
Speaking on KTN, Esther Muchemi, group CEO of Samchi Telecom which was the pioneer dealer to roll out M-Pesa, said that the situation is already affecting M-Pesa returns. Nyanza Association leader Jerim Auko, who was also at the briefing, said that the boycott will cripple dealers who have helped Safaricom grow by connecting it to customers across the world.
"Kenyans must think carefully before fighting battles that will affect the economy and haunt their conscience," Auko cautioned. Raila is expected to migrate to Airtel at 4pm Monday.