Kenya Power has a new boss. And it's not Eng. Jared Othieno, the man who has been acting in the position for the last one year and four months.
The Kenya Power Board, in a surprise move that has shocked even its staff, has appointed Bernard Ngugi as managing director and CEO, replacing Mr Othieno who has held the position since July last year after the exit of the former management team over corruption allegations.
It is not clear why Mr Othieno, who was appointed by Energy Cabinet Secretary Charles Keter, was sidestepped since he, too, has impeccable credentials.
This move has certainly left a bitter taste in the mouth of the former acting MD for whom the highest prize at Kenya Power has been snatched from his jaws.
Before being appointed acting MD, he was General Manager for Street Lighting.
Mr Othieno and his team had, in fact, had their short terms in office extended twice, first in October last year and March this year as the board sought a substantial boss.
With the understanding that other factors – including politics and professional qualifications/experience – may have been considered in choosing a substantive MD for Kenya Power, BT nonetheless looks at the CVs of both managers below.
New MD Bernard Ngugi's credentials
Prior to his appointment, Bernard Ngugi was the Company's General Manager in charge of Supply Chain. According to the board, Ngugi has over 30 years' experience in the company with expertise in financial and revenue accounting, internal audit and supply chain management.
He also holds a Master of Business Administration in Finance and Bachelor of Commerce in Accounting. Additionally, Mr Ngugi holds a Graduate Diploma from the Chartered Institute of Purchasing and Supplies and is a member of the Kenya Institute of Supplies Management.
See Also >> Meet the Two Women Engineers in Kenya Who Can Work on Live Power Lines
Mr Ngugi is a Certified Public Accountant of Kenya and a member of the Institute of Certified Public Accountants of Kenya. He is also a Certified Public Secretary of Kenya and a member of the Institute of Certified Public Secretaries of Kenya
Eng. Jared Otieno's CV
Eng. Jared Othieno, 54, years, has over 30 years' corporate leadership and management experience in the energy sector, according to his CV on Kenya Power website. He joined the Company in 1987 as a graduate trainee and rose through the ranks.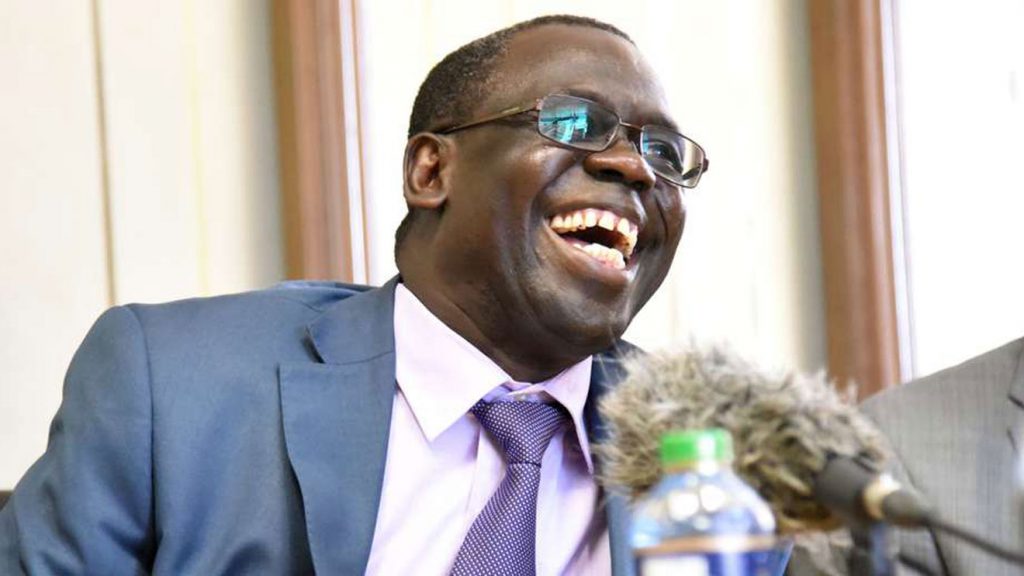 He holds a Bachelor of Science in Electrical Engineering degree from the University of Nairobi and Master's degree in Business Administration (Strategic Management) from the same institution. He is currently pursuing a Doctor of Philosophy degree (PhD) in Business Administration (Strategic Management) at Jomo Kenyatta University of Agriculture and Technology, among other professional qualifications.
Eng. Othieno is a registered professional engineer with the Engineers Board of Kenya and is a member of the Institute of Engineers of Kenya. He is a Certified Balanced Scorecard Master Professional by the Balanced Scorecard Institute – George Washington University, a Certified Trainer on Corporate Governance and also a Certified ISO Lead Auditor. He was appointed Acting Managing Director & CEO on 17th July 2018.
The last supper
Meanwhile, Mr Othieno's last function as CEO was on Monday when he officiated the launch of the Ksh2 billion Kenya Electricity Modernisation Programme that will see Kenya Power commence live line maintenance across the country.
Mr Ngugi says he's key focus would be on turning around the company's fortunes. "The immediate focus is to lead the company towards improved profitability while ensuring the business fulfils its socio-economic purpose," Mr Ngugi said.
He thanked the interim management team led by Eng. Othieno for stabilising the company after the crisis occasioned by the sacking of top managers, led by MD Ken Tarus, who have been charged with corruption.
Read >> Think the Economy is Doing Badly? Not These Car Enthusiasts Who Are Splashing All Out
Dr Tarus surrendered himself to the Directorate of Criminal Investigations (DCI) last year in July. Alongside other officers, they were charged with fraudulently procuring transformers worth over Ksh400 million. They denied the charges.
Today, the board said Mr Ngugi would drive the company thought a critical stage of growth.
"We believe that Mr Ngugi will see the Company through an important stage of its development and growth as we work to diligently implement all our plans to strengthen the Company and the commercial aspects of our business," said Kenya Power's Chairman Amb (Eng) Mahboub Maalim.