As she walks, there is something that goes…Tic.toc.tic. This is not the ticking of a watch or clock, it is the faint, barely discernible ticking of Ruth Wahu Ngwaro's artificial heart valve that gave her a new lease of life, allowing her to lead as normal a life as her precarious heart condition can allow.
Wahu, the second born in a family of three girls, was born in 1989 at the Guru Nanak Hospital in Nairobi. She has three half brothers. In spite of her eventful life, Wahu has little recollection of her life before the age of 11 much of which she has heard about from her mother.
Wahu recalls: "My mum says I was born normal although I had low birth weight. I always had difficulties in breastfeeding due to shortness of breath."
Wahu fell ill with fever and diarrhea and was transferred from one hospital after another. She finally landed at Guru Nanak Hospital, her place of birth where she was treated and discharged after two weeks.
The cause of Wahu's continuous shortness of breath was shockingly revealed to her frustrated mother by a nurse who rhetorically asked her: "Kwani hukuambiiwa mtoto wako ako na ugonjwa wa moyo (Were you not informed that your children has a heart ailment?).
The devastating news had initially been relayed to the girl's father but he could not find a way of telling her mother. Following the disclosure, she was taken to Gertrude's Children's Hospital where she was admitted in the Intensive Care Unit (ICU).
Catheterisation
"Mum told me that the doctors gave a bleak prognosis about my condition. I was destined to meet my maker any time thereafter," says Wahu.
However, to the surprise of all concerned, Wahu improved after staying for one week in the ICU and another week in a ward. She was discharged placed under the care of a pediatric cardiologist, Dr H. Aseso.
It was during regular follow-up visits to Dr Aseso's clinic, now at Kenyatta National Hospital, that four-year-old Wahu was selected through the Heart to Heart Foundation to go to the University of Maryland Medical Hospital in America for specialised treatment.
Catheterisation, which entails the insertion of a catheter into a chamber or vessel of the heart, was conducted to further diagnose her condition and any interventional measures needed. It was here that it was discovered that Wahu had two holes in the heart and one in the mitral valve (the valve that controls blood flow in the heart). Two major open heart surgeries were required to save her life.
Upon returning home in March 1993, she was placed under the care of cardiologist, Dr Betty Gikonyo, the founder of the Heart to Heart Foundation in Kenya and, now the Director of Karen Hospital.
"Dr Gikonyo has been so helpful to me.  Four months after my return, my dad died but from then on, Dr Gikonyo waived consultation fees and promised my mum, a house wife then, a job at the Heart to Heart Foundation where she was employed to provide psychosocial support to sick children and their parents for she had a testimony ," says Wahu.
The visit to Maryland did not completely sort out Wahu's condition as she would later learn that the hole in the mitral valve had not been repaired. She was ever fragile and had a slow growth rate as a result.
"In 2001, when I was 11 years, I started experiencing pain on the left side of my chest. Investigations revealed that I had a growth in the aortic valve. One valve had a hole, the other had a growth," says Wahu.
"My mother was given month off to go and raise Ksh 650,000 needed for the hospital bill and air ticket to urgently repair  my mitral valve and my aortic valve," she adds. Sadly, only half of the required amount was raised.
Crucial operation
But as life would have it, lady luck smiled on her when in the process of fundraising, officials of a charity, Children Heart Link, happened to be in Kenya. They offered to pay for her operation at the Nairobi Hospital. "I had been meeting these people during their yearly visits to Kenya and when they discovered that I had been on the list of those awaiting surgery, they offered to underwrite the costs of the operation that was eventually done by Dr John Kariuki of Nairobi Hospital," she says.
Her updated medical report was provided to Dr Kariuki by Dr Naomi Gachara. But Wahu says she was very ready for the operation because now, for the first time in her life, it would be life changing.
"The chest pains had remained in spite of the drugs. I was happy that finally, the pains would be gone and I would be able to do normal activities like other children," says Wahu, adding that her focus was on the post-operation image.
During the crucial operation, Wahu's fragile mitral valve was replaced with an artificial one, which announces its presence by a discernible tic-toc-tic sound.
When she woke up in the ICU, she found machines blinking and beeping. She was struggling even to open her eyes because she felt dizzy and uncomfortable.
"You have pipes in the mouth, nostrils and on the torso. When I recovered, I discovered that I have two depressions near my stomach. I was told they were cut to put a pacemaker to help the heart in its function after the operation," says Wahu.
She was at the ICU for four to five days on painkillers throughout. "When the power of the pain killers would subside, ile nduru utapiga, nurse anakuja mbio (Your screams alone would the nurse comes in a hurry)," says Wahu.
Then there were the chest exercises conducted by physiotherapists. "They would place a pillow on one's chest and ask you to cough. This is to dislodge some mucus discharge," she says.
Wahu says patients who have undergone surgery should be kept in seclusion to protect them from post-surgery infections. "When patients come out of a major operation, everyone is excited to see him or her. It is easy for them to pick infections," she notes.
After the operation, Wahu was able to play with children her age although some of them still considered her to be fragile.
Though Wahu's education was affected by prolonged ill health, she managed to successfully attend various schools. She sat for her KCPE exam at Gateway Primary school in Githunguri in 2004 and later KCSE at StephJoy in 2009.
Determined to make a difference in society, Wahu enrolled at the Kenya Methodist University and pursued a degree in Applied Biology with a major in Microbiology. "I studied Microbiology because it is research-oriented and I wanted to make a difference in the field of research," she says. Wahu did internship for three months at the Kenya Bureau of Standards (Kebs) in 2014.
Youth advocate
After graduating, she felt the need to start an organisation that would bring together people who had undergone or were waiting to undergo heart surgery and shared the idea with her pediatric cardiologist Dr Naomi Gachara whom she had been frequently seeing on her follow ups clinics.
"I had developed such a wonderful mother-daughter relationship with her. She could offer me support whenever I was in need," says Wahu, adding that Dr Gachara connected her with Jackie Mbugua, who was also her patient. "I contacted a colleague of my mother during her stint at Heart to Heart Foundation, Mr Samuel Keter Sang, also a heart patient."
Through the trio's efforts, the Kenya Mended Hearts Patients Association (KMPHA) was birthed and registered in May 2017. She is also a youth advocate lobbying for people living with Non-communicable diseases together with National Council of Churches of Kenya (NCCK).
Wahu is currently seeing Dr Bernard M. Gitura, an adult cardiologist at Kenyatta National Hospital. "For a cardiac patient, you must always consult your cardiologist; you can't just buy drugs over the counter because you don't know how they will interact with the prescribed medicine you are on," says Wahu, who continuously thanks God and well-wishers for her life.
Dr Gitura started seeing Wahu three years ago when her heart started misbehaving because of another  medical condition. "I started seeing Wahu three years ago. When I saw her, she was almost going into heart failure. Her heart had fast, irregular beats," says Gitura.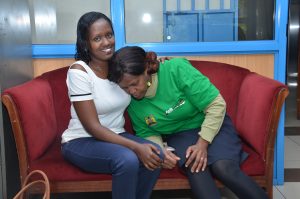 Gitura, who is also the President of the Kenya Cardiac Society, says: "The medical condition she presented then needed the attention of a cardiologist for adults and we were able to assist her by changing her medication," says Gitura, adding that Wahu is currently in stable condition.
"Personally, I'm on anticoagulants – blood thinners – because I have an artificial valve," says Wahu. "My mitral valve was taken out and the one I have is an artificial one. You can even hear it tic ticking like a watch," she says as she moves her chest near this writer's ears.
She says that when she does something strenuous like running, it will only beat faster like for that of a normal hearted person. "I've participated in the Kenya Cardiac's Societies' walks on World Heart Day and I also did the same on Friday, September 29," she says.
Wahu laments that medicines for heart illnesses are quite expensive and are not covered by insurance companies. Even the National Health Insurance Fund (NHIF) does not take care of the medicines.
"Every cardiac patient is unique and so the medications are all patient-specific. There are some patients who are not on medication after surgery while other patients whose conditions are too severe for even an open heart operation to be performed on them will depend on drugs for the rest of their lives," says Wahu.
KMHPA has about 145 members who include heart patients and guardians of children with heart complications, and is an affiliate member of the Kenya Cardiac Society (KCS).
Their mission is to advocate, educate and create awareness while giving hope to the patients, their families, friends and supporters. The co-founders and members are all supportive of one another. They can be reached through mobile number 0731010734 or email address: [email protected].