[dropcap]W[/dropcap]hile many people believe social media is ruining our generation, there are those who strongly hold that it is quite helpful and is opening many doors for its users. One such person is Ms Joyce Wagaki. Growing up, Joyce dreamt of becoming one of the best TV queens in Kenya. She even studied journalism, but this never came to pass.
After five years of an unsuccessful formal job hunt, Joyce would try one thing after the other, until the day she posted a picture of herself on Facebook with a simple caption, which becoming the turning point in her life. Facebook became business ground.
She shared her story with BUSINESS TODAY.
"I grew up with only one dream, to be a newscaster. I knew this was my talent and I had the ambition to take news broadcasting in Kenya to the next level. With the help of my elder sister and my parents, I enrolled at the East African School of Media studies in 2009. However, my studies were marred with financial constraints when my sister travelled to China in 2012 and I had to differ one academic year.
After clearing college, I got a chance at Royal Media Services as an intern and this ignited my hopes of achieving my dream. Like any other fresh graduate, I hit the ground running in search of formal job, broadcasting in particular. Despite being praised by the employers, I never got an opportunity anywhere. I had to narrow down my ambitions from news anchor to radio presenter but still nothing much was forthcoming.
Life in Nairobi became hell to me; bills were pilling, no one was there for me since my sister had travelled outside the country. I decided to go back home and start a fresh but then I remember the dictum, 'Winners never quit and quitters never win.' I was determined to win and had to stay put and fight on.
A sigh of relief came when my sister shipped me around 30 ladies bags to sell and 'sort myself out'. Within one month, I had sold all the bags and made a profit of Ksh30.000. The happiness was short-lived as I carelessly spent the whole amount buying petty effects. I learnt a painful lesson from this mistake.
Friends kept inquiring if I had the bags. I felt this was an opportunity to strike a deal with my sister so that we could do the business seriously. After the second shipment, the business collapsed. I had to take it easy and move on.
Eastleigh date turns treasure
On this day I had a date with a friend from Eastleigh. I arrived as planned, within 30 minutes the friend had not shown up. Boredom overtook me and so I decided to take a walk in Eastleigh for some window shopping.
Being a fan of style and fashion, I was attracted to a stall where a woman was selling some female Swahili dresses commonly known as 'sera.' I moved close and after a few minutes of negotiation, I bought one material which would eventually become a dera dress after paying only 50 shillings to a tailor. The dress looked gorgeous. It became my Sunday best.
One Sunday after church I requested a friend to take a photo of me. I uploaded it on my Facebook page with the caption, "If you want this, call me," and put my contacts. I received many calls from people interested in the dera.
Being a product of my own mistakes, I saw this as an opportunity meant to correct my past. I would get the dresses and deliver to clients within and outside town. The more I delivered the more my client base increased. At this point I created Gaki collections page on Facebook where I would post my products and interact with my clients.
Soon competition got stiff, with low quality materials entering the market. But I never lost hope since my quality played a key role in beating competition.
One afternoon one client asked me if I could also sell her African sandals that matched her dress. I saw another opportunity.
I did a quick market survey and identified a fundi who could make me customized sandals. I delivered to her and posted the sample on my page.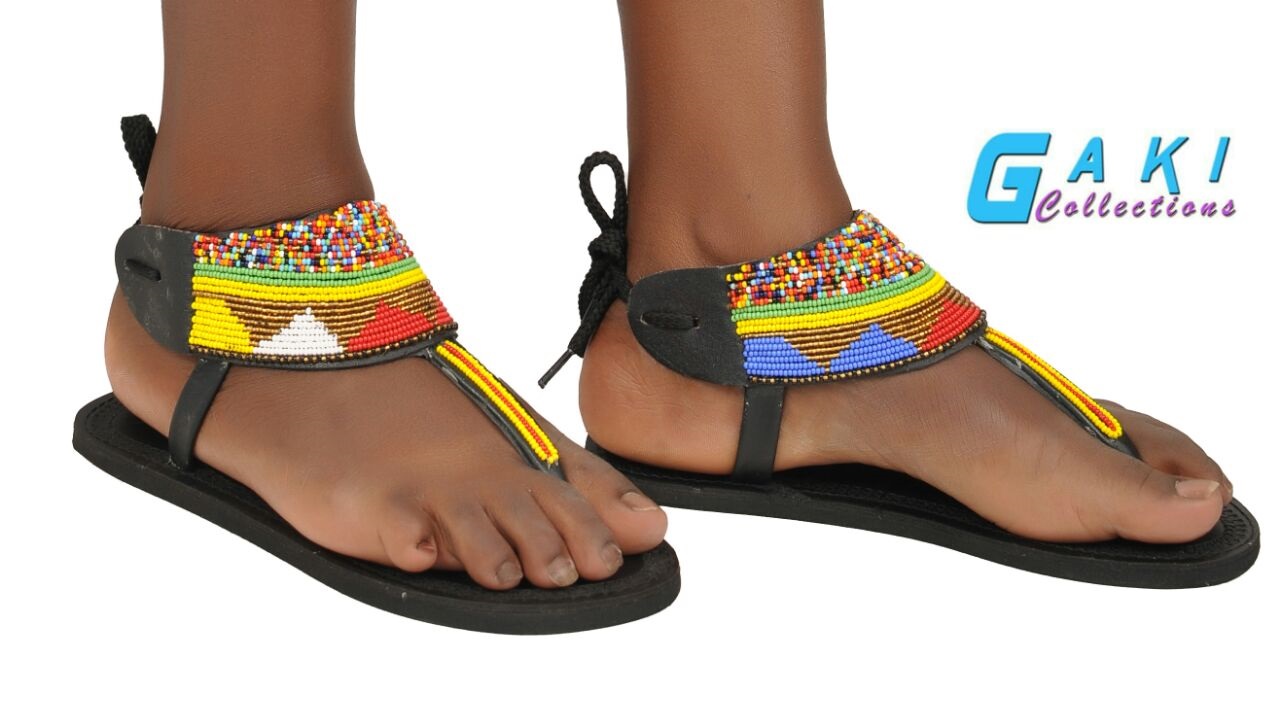 The reception for sandals was even better. In fact I even got requests from as far as Australia and United Kingdom for the sandals. Since the dera business had become crowded with cheap low quality materials, I decided to focus on the African customized sandals. And to complement it, I introduced jewelry.
I missed my childhood dream of becoming news anchor but my communication skills have greatly impacted helped in changing my life. Today, I serve international markets, and I am passionate about what I am doing."
Joyce says in the next one year, she will be launching her own company.