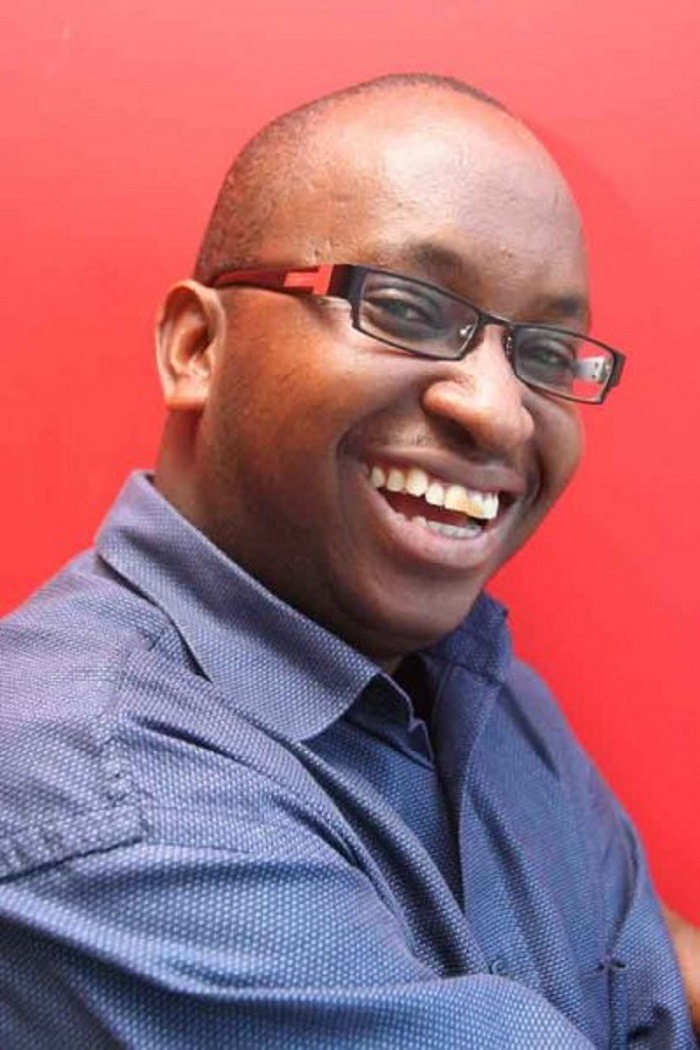 Former Standard senior writer at The Standard, who was among 32 Kenyans who perished when a Boeing 737 Max 8 came down on Sunday killing all 137 people on board, has been mourned as a champion of freedom of a responsible press and good journalism.
Royal Media Services Director of Strategy and Innovation Linus Kaikai tweeted:
I mourn a defender of good journalism and freedom of a responsible press. He stood with us in the literally 'dark days' of February 2018. Thank you and farewell #TonyNgare. pic.twitter.com/IOZTwk2evw

— Linus Kaikai (@LinusKaikai) March 11, 2019
Kenya Union of Journalists (KUJ) Secretary General Eric Oduor wrote on Facebook: "A friend and colleague in the struggle for press freedom and rights of journalists Tony Ngare in no more. #ET plane crash."
Ngare joined the Kenya National Commission to Unesco after leaving The Standard and served as Deputy Director, Communication and Information (CI) programme. In that role, he was instrumental in the establishment of the Kenya Media Sector Working Group (KMSWG).
He also supported many initiatives aimed at strengthening the Kenya community radio sector.  
Some described him as a great team player, reliable and his passing on is not only a big loss to his family but also to the entire media fraternity in Kenya.
William Janak, chairman of the Kenya Corespondents Association said: Tony would never miss any media industry engagements, whether organised by the Kenya Media Sector Working Group or individual stakeholder groups. He also involved many of us in initiatives at his office/NATCOM level and would consult and do follow ups on agreed tasks. He was a very rational and professional person."
The KMSWG is a forum for co-ordination of national and development partners' support to the media sector, with the aim of aligning support to the sector's priorities and strategies, avoiding duplication of efforts and complementing efforts to increase the impact of the national and development partners' intervention in Kenya. It is convened by UNESCO Regional Office for Eastern Africa and co-chaired by the Media Council of Kenya and the Kenya Union of Journalists.
It was among organisers of the 1st Eastern Africa Conference on National Mechanisms for Safety of Journalists within the framework of the International Day to End Impunity for Crimes Against Journalists held in Nairobi in 2017 to share good practices on national, regional and international mechanisms for safety of journalists and how to localise such mechanisms in Eastern Africa.
It also discussed how to build the capacity of Safety of Journalist's focal persons from the relevant Government institutions and ministries, in accordance with the UN Plan of Action on Safety of Journalists approved by the UN General Assembly in 2012.
A part from his job at the Kenya National Commission to Unesco, Ngare was the writer of the popular sports column 'The Banter with Tony Ngare' in Pulse magazine.
Staff at the entertainment outfit are in mourning: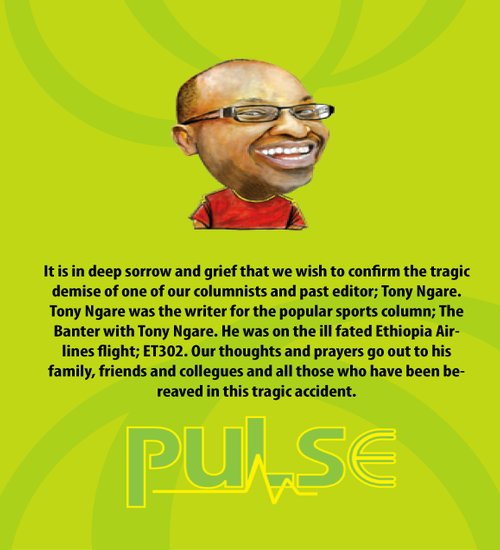 Cartoonist Gammz's way of mourning his former colleague:
#EthiopianAirlinesCrash Still trying to come into terms with your demise. This caricature by yours truly (done in October 2007) was the first to grace your PULSE column The BANTER. Not only were you a fellow GOONER but such a wonderful colleague @Tonyngare FARE THEE WELL pic.twitter.com/BCwpyUkXS5

— GAMMZ (@kiddoGAMMZ) March 11, 2019
The Ethiopian Airlines crash claimed lives from at least 35 nationalities. Other Kenyans who perished in the crash include former Football Kenya Federation Secretary General Hussein Swaleh, Tamarind CEO Jonathan Seex and KAA managers George Kabugi and Juliet Otieno.
Canada lost 18 nationals, Ethiopia (9), USA (8), Italy (8), China (8), France (7), UK (7), Egypt (6), Germany (5), Netherlands (5), India (4), Slovakia (4), Russia (3), Austria (3), Sweden (3), Spain (2), Israel (2), Morocco (2) and Poland (2). Several other nations including Mozambique, Rwanda, Somali, Sudan, Togo and Nigeria suffered single casualties.