Star newspaper in crisis as business desk collapses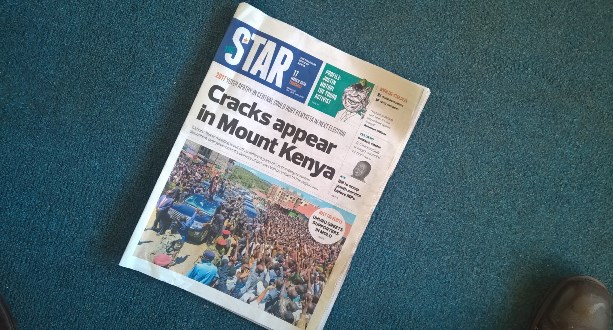 The Star newspaper is faced with a crisis after the exit of journalists that has left its business desk nearly empty.
Two business reporters – Richard Mungai and Martin Mwita – have resigned over the past one month in unclear circumstances and it is understood that even the acting business editor Constant Munda is on his way out.
Insiders at Radio Africa Group say Munda, who has been acting for eight months now, after the exit of Lola Okulo in October last year, is serving notice and will be out soon.
The exodus appears to be a protest against management which, it is said, has been micromanaging the desk and giving them "unrealistic targets" on delivery of stories.
The desk is running with a business editor managing interns. When Munda leaves, the desk will virtually be empty.
READ: How Maina Kageni took his fans for a ride
Munda could be frustrated by acting for too long without substantive powers and job description, while the reporters felt a vacuum on the desk which had led to ego fights.
"And then there was too much pressure and micromanagement," said a Star journalist who has been closely following events on the business desk at Lion Place. "The top editors and management are always on their necks for big stories."
Next: DStv sweetens its deal on HD decoders
The Star newspaper has been shaky over the past one year due to falling circulation and ad revenues. It was forced to sack a good number of employees in February this year to stay afloat but that has not lifted revenues.
The newspaper is said to be surviving on the government newspaper insert, MyGov which is the only assured commercial in the Star these days.
There has been talk of the newspaper folding up after the next elections to let the group focus on digital and radio.
[crp]
Former KTN anchor James Smart launches digital TV show
Two smart guys with an unhealthy appetite for Afro-Politics and unmatched knowledge of International politics have come together to produce a TV series that captures African politics in the most hilarious fashion yet.  Simply, its two guys, two beers and their views…. in a bar!
These guys would be enemies if they were actual politicians but instead they are political pals because they don't know who else to turn to with their constant brain surges of why the world works the way it does and what that means for Africa.
They don't need to agree, they just need therapy. These guys are James Smart and Marvin Tumbo.
TV personality James Smart, a renowned journalist,  and Marvin Tumbo, a political strategist, have combined their expertise to come up with a political programme that's gaining ground among audiences across Africa.
Marvin Tumbo is a well-respected political strategist having worked for three heads of state.  He has led many high profile projects including visits to Kenya by Obama and the Pope. Marvin helps government departments execute social media strategies to engage the public on various civic initiatives.
Having been a behind the scenes force for most of his career, Marvin is ready to share his political views with audiences everywhere. The two are working under What's Good Networks, an online entertainment network run by young African creatives, which seeks to connecting young urban audiences through dedicated lifestyle channels featuring the next wave of African talent.
James Smart is one of Kenya's most prolific political commentators popular with wide audiences, particularly on Twitter @JamesSmart.  Having started The Trend at NTV in 2009, he then moved to KTN in 2013 to start three new shows: News Sources, KTN Live Wire and The Breakfast Show.
James Smart's new passion is engaging young audiences with political affairs in a digitable way and reaching them where they are: on mobile watching what they want when they want it.
Each show is themed towards current affairs with five segments featuring other topical issues. The hosts source one final topic from trending social news.
Show is recorded as live in a modern 'local' called J's Fresh Bar & Kitchen, which is a sports bar popular with residents in the Lavington/Westlands/Kilimani area.
The show is filmed with the natural bar interactions- friendly conversations in the background complete with bar sounds because let's face it- you wouldn't have a natural conversation about politics in a studio, you'd be in your local.
Airing
Thursday 8:30 pm – Africa & Global affairs
Sunday 8:30 pm – Kenya Affairs
Show format : 24 min
Show Milestones: Facebook
Episode 1 – 10.7k views
Episode 2 – 23k views
Episode 3 – 26.4k views
Episode 4 – 14k views
Epidoe 5 – 26k views
Episode 6 – 27k Views