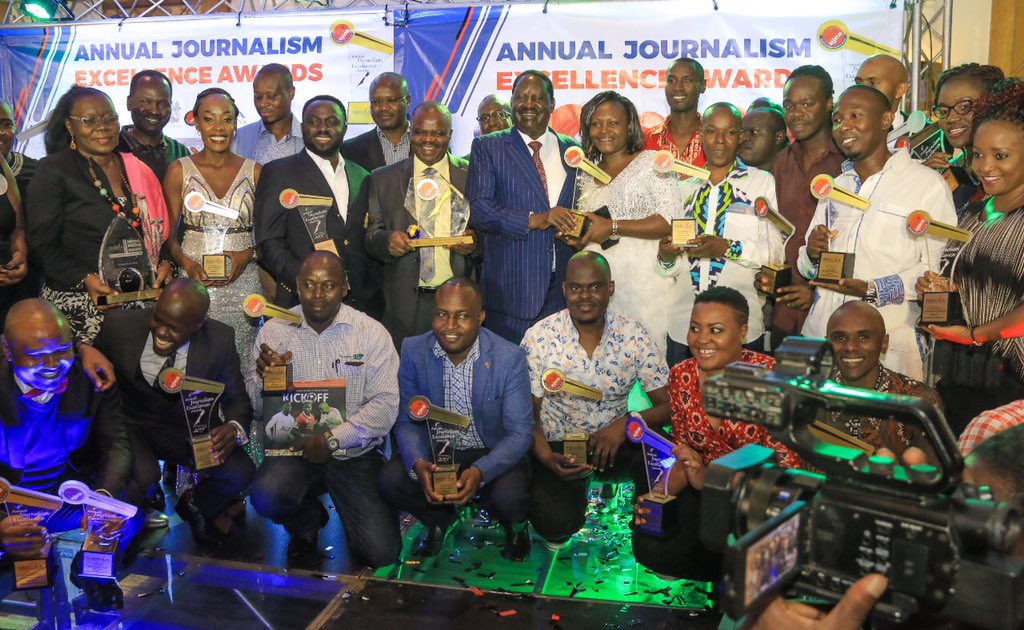 Standard Group came tops in the Annual Journalism Excellence Awards (AJEA), narrowly beating market leader, Nation Media Group, but the crown went to a trio of independent journalists working on their own. Standard scooped seven Media Council of Kenya Awards awards, while NMG scooped six. Royal Media Services got four awards.
Africa Uncensored, however, carried the day as John Allan Namu's The Profiteers got him the Journalist of the year award. Other contributors of the documentary – Samuel Munia Wakaba and Elijah Kanyi – were also feted.
Namu recently won the Global Shining Light Award alongside Elijah Kanyi (camera operator) and Samuel Munia (camera operator) and the  Trace International's 2019 Prize.
John Kamau, an editor for Nation Media Group, was feted as the Best Business print journalist for his story Fertiliser Politics and how factory bid was derailed. Josphat Kioko of Voice of America Swahili service got the Business radio journalist award for his story Sea weed kilimo biashara.
Standard Group also had a share of the prize in the Business category as KTN was feted for airing Africa uncensored's My Donkey, my co-wife, which was done by Dennis Mbae, Sam Munia, Elijah Kanyi, John Allan Namu.
NMG and Standard shared prizes in the ICT category as they managed to win ICT best print journalist and ICT best TV journalist respectively. Wakwa Maina who writes for NMG's Business Daily was awarded for his story, "With this mobile app you can run your farm on remote control".
KTN News' Dorcas Wangira was awarded the best ICT TV journalist for her story Garissa medics who examine patients via computers (teledoctor). Mercy Tyra Murengu of Upendo FM was awarded the best journalist of the year for her story Teknolojia yapunguza utundu shuleni.
RMS, NMG and Standard shared the prizes in the Gender category. Daily Nation's Angela Atieno Oketch got the print journalist award in this category for her story Kenya's first human milk bank finally ready to save babies' lives while KTN News' Hussein Mohammed was awarded the best TV journalist for his story dubbed Merchandised. RMS got the award for the radio segment as Radio Citizen's Emmah Kahaso Marevu got an award for her story Mimba za bodaboda.
In the Development category, Wanjohi Kabukuru of the New Africa Magazine was victorious in the print sector for writing Mass demolitions mark start of Nairobi regeneration. Citizen TV's Mauritius Oduor, Wilkister Nyabwa & Faiza Maganga were feted in the TV sector for their story Refugee Empire. Victor Mukama dominated the radio sector with his story Safari ya Dukana (Makala Maalum).
Kabukuru was also feted the best environment print journalist for his story Climate Change Adaption in Western Indian Ocean. Faiz Musa of Radio Rahma was the best environment radio journalist for Kufariki kwa Matumbawe. Citizen TV's Enock Sikolia & Stephen Kiprop were feted the best environment TV journalists for their story Garbage Rivers.
Standard dominated the Sports category scooping TV and Radio awards in the category. Shadrack Andenga Odinga of Radio Maisha was awarded as the best sports radio journalist for his story Problems Encountered in National Super League while his counterparts from KTN News Duncan Khaemba, Martin Kioo & Faith Makena were feted as best TV journalists for their story Henry Wanyoike's two worlds.
Daily Nation's Celestine Olilo was the best Sports writer for her article Rotting in jail: The footballing talent we waited for in vain while Reuters' Thomas Mukoya was named Photographer of the Year.