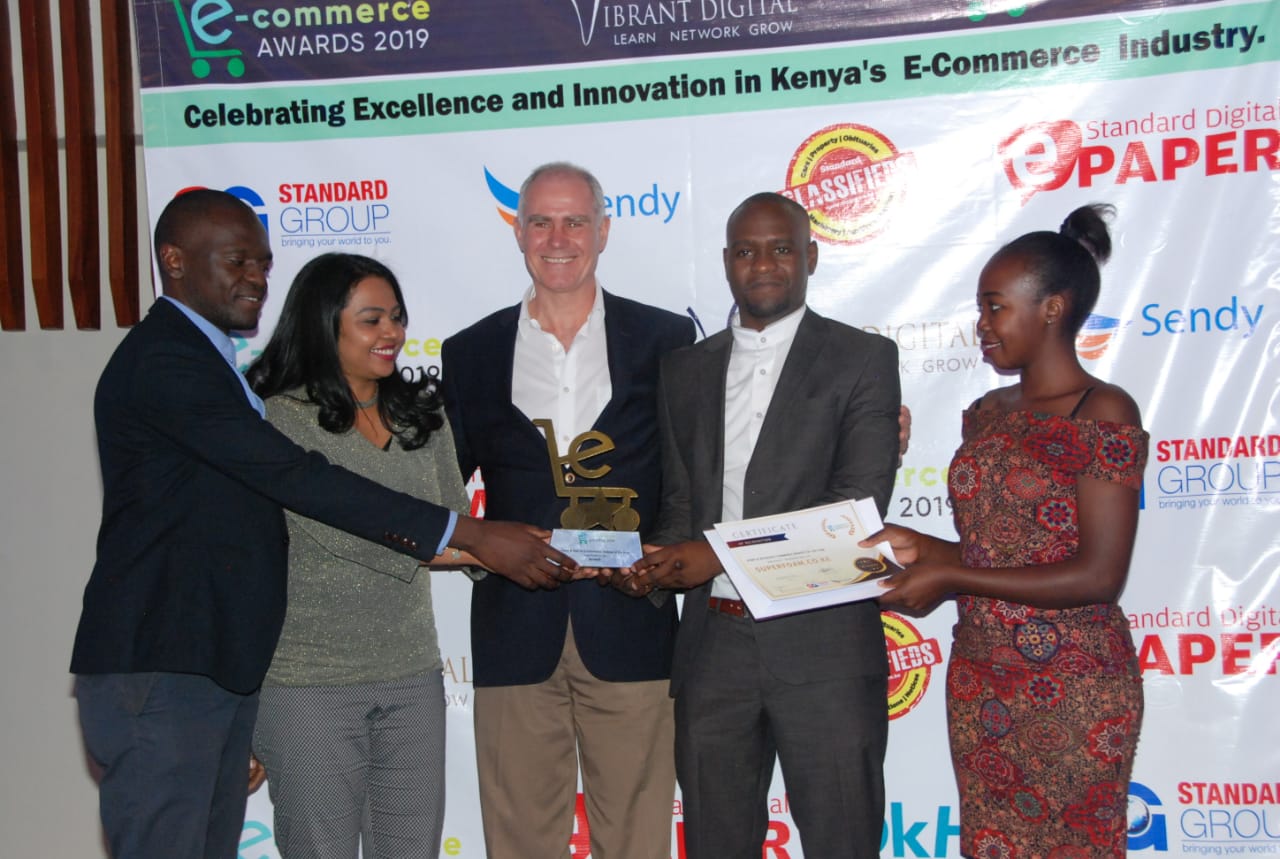 Superfoam, Naivas, and Masoko by Safaricom were among the feted companies at the inaugural e-commerce awards 2019. The honored winners were selected from 85 companies placed in 17 different categories.
Superfoam Limited won the Home, Furniture and Interior Design Ecommerce Website of the Year Award while E-Commerce Website of the Year went to Masoko.com which is owned by Safaricom.
Naivas bagged the supermarket E-commerce website of the year while copia came in second in that category. The 2nd runners up in the Supermarket category was Grocery pik.
The awards aim at encouraging enterprises to embrace technology in business amid the ever-expanding digital space, with more and more consumers looking for affordable convenience from both service and goods providers.
Speaking after receiving the award, Superfoam CEO Mike Fisher said that the awards will help Kenyan companies improve their products' quality.
"We are honoured to be recognized as the leading website in this category. We not only aspire to be leading overall e-commerce awards through our innovative products but also bring joy into households in Kenya by providing affordable, reliable and quality sleep solution," noted Mr. Fisher.
Sharon Holi, Head of Masoko -Safaricom Limited, said that the awards would add fresh momentum to the manifestation of a prosperous nation and creation of alternative job opportunities.
"Kenya has one of the biggest bases of internet users in Africa. Therefore, it is only logical to align ourselves and provide goods and services conveniently to these users. In return, this will accelerate our growth towards a 24-hour economy thus the creation of job opportunities," she said during the event which was held at a Nairobi hotel.
The inaugural Kenya Ecommerce Awards was established to recognize and celebrate exceptional websites, online businesses, suppliers and marketers from in-house teams and agencies across Kenya in regards to efficiency in web-based brand development.
E-commerce is a growing multi-billion industry in the world with many brands in Africa seeking to understand how to sell on Amazon FBA.
The recognition awards were founded on preeminence as well as other definite facets of the participating companies with each category.
Full List of Winners
Fashion E-Commerce Website of the Year – Motherbaby.co.ke
Food and Drinks E-Commerce Website of the Year-Cakecity.co.ke
Financial Services E-Commerce Website of the Year- Aspira.co.ke
Music and Entertainment E-Commerce Website of the Year- Boomplaymusic.com
Electronics and Computers E-Commerce Website of the Year- Laptopclinic.co.ke
Beauty, Health and Wellbeing E-Commerce Website of the Year- Healthcart.co.ke
Furniture and Interior E-Commerce Website of the Year- furniturepalacekenya.com
Home and Interior E-Commerce Website of the Year- Superfoam.co.ke
Home Improvement E-Commerce Website of the Year- Shopnanjala.com
Home appliances E-Commerce Website of the Year- Lg.brandshop.co.ke
Sports Leisure and Fitness E-Commerce Website of the Year- decathlon.co.ke
Travel and Tourism E-Commerce Website of the Year- albahotels.co.ke
Telecommunications E-Commerce Website of the Year- dukatech.com
Grocery E-Commerce Website of the Year- kalimonigreens.com
Building and Construnction E-Commerce Website of the Year- crmkenya.com
E-Commerce Search Campaign of the Year- kudobuzz.com
E-Commerce Delivery and Logistics Provider of the Year- sendyit.com
E-Commerce Rising Star Award- grantech.co.ke
Gifts E-Commerce Website of the Year- Print soko
Supermarkets E-Commerce Website of the Year- Naivas.co.ke
Jewelry and Accesories E-Commerce Website of the Year- zaveris.com
Agro Inputs E-Commerce Website of the Year- elgonkenya.co.ke
Ticketing Platform of the year- kaps.co.ke