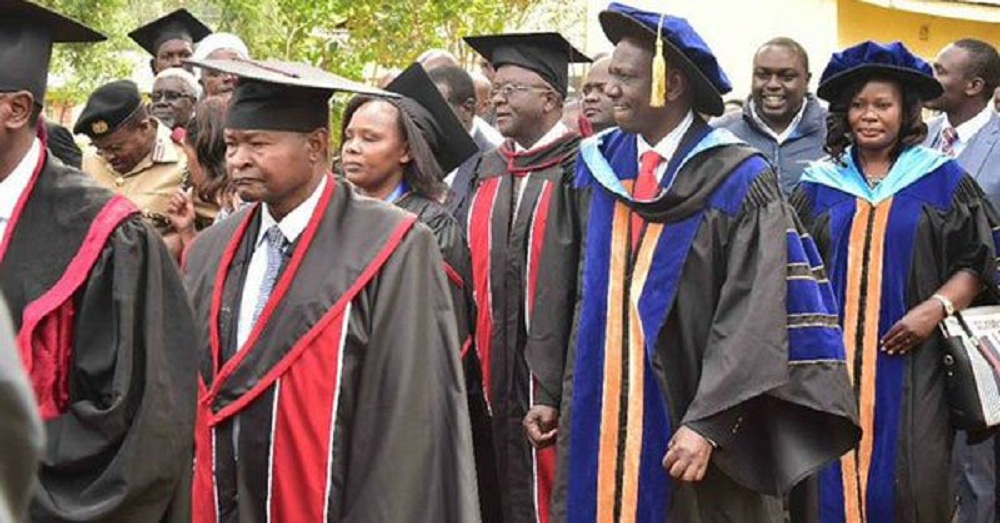 Tough action will be taken against those found to have participated in c********n that saw Kenyans lose billions of shillings in the National Youth Service and National Cereals and Produce Board s******s, Deputy President William Ruto has said.
Mr Ruto said public servants have a duty to protect the resources entrusted to them.
"Those identified to have participated in the loss of billions of shillings in these s******s should be punished. No one should be spared," he said.
Speaking in Kisii County on Friday during the graduation ceremony of St Paul's Teachers Training College Nyabururu, the Deputy President called on the Director of Public P*********n and the Ethics and Anti-C********n Commission to move fast and bring the s******s to book.
"Stiff penalties must be meted out to stop such acts. We cannot be losing money to c*****t individuals at the expense of the development of the country."
In particular, Mr Ruto asked the ministry of agriculture to explain to Kenyans not just how much money had been lost but how the money meant for farmers ended up in the hands of brokers and businessmen.
"How can one supply more than 200,000 bags to the National Cereals Board yet he or she has no land? Such a question needs an honest answer," the Deputy President noted.
Present in the function were Governor James Ongwae, MPs Richard Onyonka (Kitutu Chache), Innocent Obiri (Bobasi), Mohamed Ali (Nyali), Eric Muchangi (Runyenjes), Shadrack Mose (Kitutu Masaba) Alpha Miruka (Bomachige) and Moses Kuria (Gatundu South).
Others were Kisii Woman Representative Janet Ong'era, Transport Chief Administrative Secretary Chris Obure, former MPs Omingo Magara (South Mugirango), Walter Nyambati (Kitutu Masaba), several members of the county assembly, among others.
Meanwhile, Mr Ruto has said that the period of politics is over, and as such, leaders should engage in activities that would address the welfare of Kenyans.
He said that the government had set aside resources to boost infrastructure in Kisii County, notable one among them being the tarmacking of the 90-kilometre Kisii-Isibania road that is expected to cost Sh2.2 billion.
"In total, we are going to tarmack at least 400-kilometres-long of roads in Kisii County for we appreciate that the foundation of any development in a country is its infrastructure," said Mr Ruto.
At the same time, the Deputy President said a modern C****r Centre would be set up at the Kisii Hospital, a project that would be launched by President Uhuru Kenyatta in November.
Bomachoge Chache MP Alpha Miruka called on his fellow Kisii leaders to engage in politics of development and unity, observing that the focus now should be in the achievement of the Big Four Agenda.
Mr Miruka said based on his past records, Mr Ruto stands to be Kenya's next president in 2022.
His sentiments were supported by his South Mugirango counterpart Silvanus Osoro who said that youths would be rallying behind their "fellow h*****r" when he seeks to ascend to the country's top political seat.
"But Deputy President I ask you to empower these youths economically by offering them employment and business opportunities," said Mr Osoro.
READ: NMG F***S TOP MANAGERS OVER F***D
The Deputy President also launched the tarmac work on the Nyachenge-Tabaka-Ogembo and Nyansembe-Etago-Kenyanya roads.
Story credit: DPPS