Not too long ago, Nairobi's public toilets were hideouts for muggers and street urchins. Their walls were emblazoned with graffiti and the stench of previous year's poo wafted all the way to Kampala.
Only those with running stomachs dared to trot into the shitty loos that even land-grabbers feared like a bad case of diarrhoea. Then the defunct city council initiated public-private partnerships to manage the toilets. In came Iko Toilet and Alika Cleaning Systems companies, and before you could say 'sh*t, toilets were the new gravy trains in town.
"I live in Kitsuru in a six-bedroom house. We change rooms, sometimes we are in this bedroom, then we are in this and next we sleep in our daughter's bedroom. Then we say today, let's go down stairs we sleep in the guest room".
That is what Tom Makale, the chairman of the Toilet Operations Association of Kenya told University of Nairobi's School of Business students a while back. So lucrative is this business that people are willing to fight over poo, and like everything Kenyan, politics is never far off.
The scuffle witnessed in March when about 300 youth stormed toilets at Muthurwa, OTC and Bus Station and assumed control was the culmination of a process to kick out old, well-heeled players and replace them with the youth who are politically connected to the administration of the day.
SEE ALSO: ECO-FRIENDLY MOBILE TOILET LAUNCHED
"Not just the youth, but those who played crucial roles in the last polls' campaigns. They were promised that they will be rewarded with these toilets. Besides, there has been plans to eject old players who have made millions of money from this venture," a county official told The Nairobian.
Makale, the CEO of Unique Loo Limited and owner of Alika Cleaning Systems that has been running a number of city toilets for close to 20 years, describes himself as a wealthy man. Indeed, he has managed to educate his two sons and daughter in prestigious universities abroad. They went to United Kingdom's University of Portsmouth, University of Bedfordshire and University of Birmingham respectively.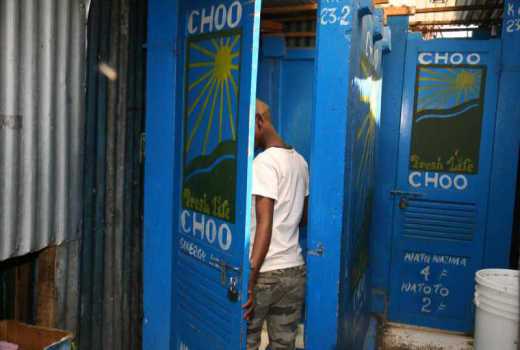 "All this is money from the toilets," he said. Toilet business in urban areas and particularly Nairobi is lucrative, and apparently, everybody wants a share of the cake. In a past interview, Iko Toilet boss David Kuria said that he was ordered to surrender eight toilets to the county government, which left him with four, while Alika Cleaning Systems operated seven. Other companies operated leaner numbers.
RELATED: INVESTOR WHO IS TURNING SLUM SHIT INTO BILLIONS
In January, then acting county secretary Leboo ole Morintat wrote to operators, ordering them to vacate the toilets by the end of March when their contacts expired.  "To this effect, it has been decided that henceforth, public toilets will be managed by youth groups as a way of employment creation and youth empowerment. The county government is therefore in the process of procuring new managers for the toilets under the new policy directive," Morintat directed.
He added that, "Notice is given to you to vacate the public toilet by March 30, 2018 to allow the newly procured managers to take over the facility. This is in accordance with sub-clauses 6.2 and 6.3 of the Public Toilet Management Contract."
Nairobi, with slightly less than 150 public toilets and a shortfall of 50 is a goldmine. The city centre and the immediate environs has around 30 toilets.
To get a glimpse of how lucrative this business is, consider this: Even with just four toilets, Kuria makes Sh40,000 or more daily. Makale, with strategically located toilets in termini has been making Sh70,000 daily, while smaller players rake in Sh10,000 or more daily.
"Every day, about one million people come to the city centre and a big fraction of them need sanitation services, some twice or more daily. And this demand is also high at night, but because of insecurity, it is hard to operate past 9pm," says Kuria.
On average, a toilet can accumulate Sh10,000 daily or more for those in strategic points like OTC, Bus Station, Accra Road and Muthurwa market. "Business is even better when it rains. We are talking of an income of over Sh300,000 per toilet per month, yet rent for the same toilet goes for just Sh20,000 or less," says an operator in one of the toilets.
An investor running five toilets makes about Sh1.5 million monthly, while paying rent of about Sh100,000 and minimal expense on water, staff emoluments and other overheads like toilet paper. In 2015, the county government revised rent for toilets from Sh15,000 to Sh20,000 monthly in up-market areas, while for the low-market areas, the rentals were doubled from Sh5,000 to Sh10, 000.
READ: WHY I'TS ALWAYS LONELY AT THE TOP AND WHAT YOU CAN D ABOUT IT
The profit margin is high and it will be a battle for current holders to let go of this cash cow. "Current holders are living large, have money to push political agenda, but the group replacing them is aggressive and conscious of the sweet profits.
It will not be an easy transition," says a county officer familiar with dealings behind the tussle. A sitting MP, MCA and senior politician are allegedly behind the youthful group which they promised opportunities if elected, while the current players being pushed out are linked to the city's previous administration. During the May 12 clash between Makale and youth who took over the OTC toilet, Makale who is a gunholder, fired twice in an attempt to throw them out of the facility but was arrested before an ugly incident unfolded.
The Criminal Investigations Department has taken over the case. Makale who says he has employed over 60 people, claims the youth were incited by their leaders to forcibly take facilities he invested millions of shillings in. "These are toilets run by individuals through a public-private partnership pact with the county government. Due process was followed," Makale says.
New operators
However, the city youth's chairman Francis Macharia who is leading one of the seven groups eyeing the toilets, claims they are going to kick out the few individuals benefiting from the toilets and spread the income among dozens of struggling youth.
"We cannot allow a few individuals to stick with these toilets for decades. We applied to be new operators. The current operators' term expired in 2014 but they stayed put illegally," claims Macharia. He says they have seven youth groups with membership of between 20 and 30 youth. "The county government promised us this opportunity. We will follow due process and hopefully we will get seven toilets. It is only fair that we also get a share of that income" he insists.
A county environment officer said the provisions are that the county can partner with any person to provide lavatory services at an agreed fee. "This agreement is reviewed every three years," he explained. [Credit: JAMES MWANGI / The Nairobian]
NEXT: WHY SHAVING OF PUBIC HAIR IS NOT A VERY SMART IDEA