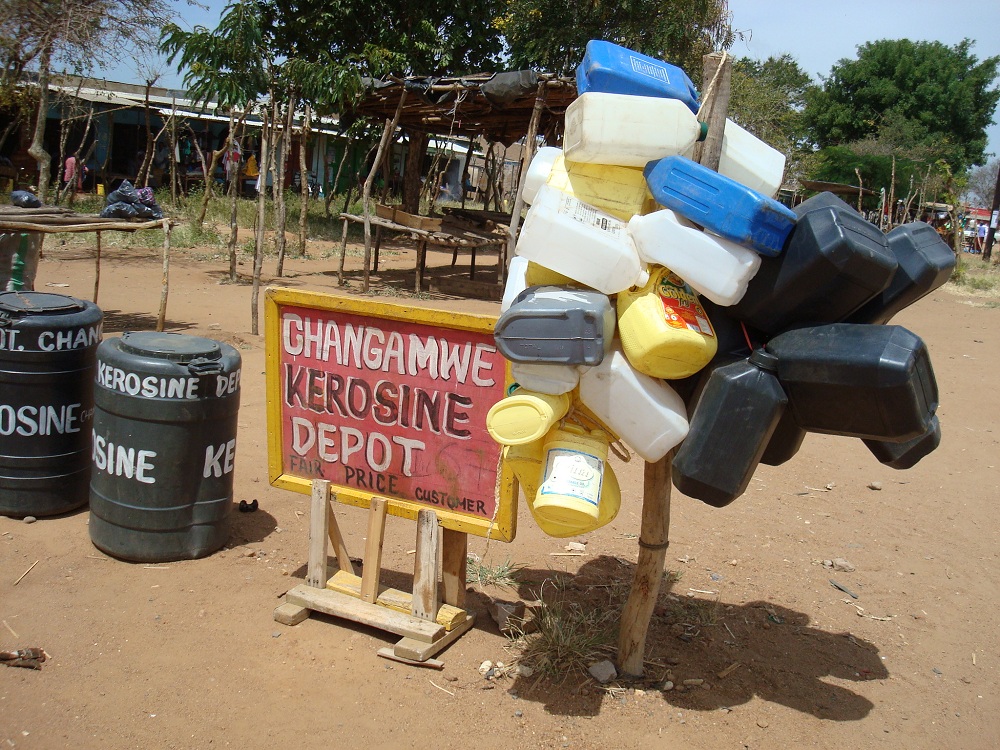 [dropcap]A[/dropcap] queue stretching for up to 20 metres has become a permanent feature every evening at a fuel station in Kayole, a low income residential area in Nairobi.
Standing on the queue are normally people of various ages holding small plastic bottles seeking to buy kerosene.
The scene is replicated to other suburbs across Kenya, with those in the countryside lining up at shops and tiny kerosene points to buy the fuel used by millions of low income households.
These households, which use the fuel mainly for cooking and lighting, are feeling the pinch due to rise in the price of the commodity.
Until the third quarter of 2017, a liter of kerosene in the East African nation was retailing at an average of Ksh 60, offering a reprieve to households.
But in the last five months, the cost of the fuel, alongside petrol and diesel, has been on the rise, peaking on Wednesday in a review by the Energy Regulatory Commission (ERC).
ERC on Wednesday increased the cost of kerosene by Ksh 1.97 to Ksh 73.98  per litre.
Similarly, diesel which is used mainly by commercial vehicles was increased by Ksh 2.14 to Ksh 93.96 and petrol by Ksh 1.62 to Ksh 107.92.
"The changes in this month's prices have been as a consequence of the average landed cost of imported fuel, where petrol increased by 4.1%, diesel 4.3% and kerosene 4.7%," Pavel Oimeke, the ERC director-general said in a statement on Wednesday.
Kerosene attracts zero taxes, the reason why its price increases are usually one of the highest among the three fuels, according to the ERC.
Following the review, the hardest hit by the price increases are the users of kerosene, who are majorly low income earners.
Kenya National Bureau of Statistics (KNBS) classifies low income families as those that spend less than Ksh 27,862 a month.
On the other hand, middle income families spend between Ksh 27,862 and Ksh 141,337 while high income earners spend more than Ksh 142,452 a month.
A majority of those who use kerosene fall in the low-income category, with the fuel mainly used for cooking in towns and for lighting and cooking in rural areas.
"An increase in kerosene means more expenses for me because I now have to buy in smaller quantities," Simon Angatia, a stone mason who lives in Kayole, said on Thursday.
"The kerosene, which we use for cooking all our meals on a stove, initially lasted three days. Before October, the same money would afford me a liter of fuel but due to the rise this buys me less than three-quarters of a liter. This means I have to buy the fuel nearly daily," he said.
The mason normally returns home with about Ksh 400 every time he goes for work at construction sites.
"They pay us at most Ksh 600 for a day's work but part of the money goes to transport. Then I have to buy food, save for rent and other expenses. A rise in the price of kerosene is not good for people like us," he said, highlighting the plight of millions of small earners.
Consumers living in residential areas where there are no fuel stations nearby have to spend more because they buy kerosene from shops that sell for up to Ksh 100 a litre.
Fuel stations use the capped prices announced by ERC, therefore consumers get a reprieve.
"I buy my kerosene from the shop near my house and the shopkeeper sells half a liter at $0.5 (Ksh 50) while a liter goes for $0.9 (Ksh 90). This is more expensive but we have no choice," said Beatrice Namai, a resident of Kitengela, adding that she hopes the cost would fall in next review.
In rural Kenya, the cost of the fuel rises further as traders have to factor in transport costs, hitting consumers harder.
Kenya's inflation stood at 4.83 percent in January, up from 4.50$ in December, mainly due to increase in prices of food and energy products. With rise in fuel cost, inflation is expected to surge.
"Fuel prices certainly affect inflation, the reason why the cost of the commodity is tracked by the statistics agency, KNBS. With increase in fuel price, inflation is expected to rise, hitting harder low income earners who have to spend more on kerosene," said Henry Wandera, an economics lecturer in Nairobi.