The quote was shared extensively online between Tuesday, August 3, 2021 and Wednesday, August 4, 2021. It was shared under the banner of The Star Newspaper and NTV, even as the authors of the piece tried to make it look authentic.
The quote read, "I have been stopped from flying to Uganda because the system believes only the children of the rich and famous can fly to foreign countries to dine with Presidents. But we have God and will overcome. I am putting the tribalists and dynasties on notice that our patience has run out and we will not take any more humiliation. Let them face me openly instead of hiding behind lowly serfs in the civil service."
Dr Ruto was on Monday 2nd August 2021, barred from boarding a flight to Uganda for not seeking clearance as all civil servants should. The DP was scheduled to fly for personal reasons to Entebbe, accompanied by a seven-man entourage comprising his close political allies and businessmen. 
According to a flight manifest from Phoenix Aviation, he was to use a private jet on flight number Jadestar 12. The DP's office protested what it termed a change of rules on his foreign travels without notice.
The quote in question gained much prominence on Wednesday, after it was shared by blogger Robert Alai on his Twitter page and even Kitui governor Charity Ngilu on her Facebook page.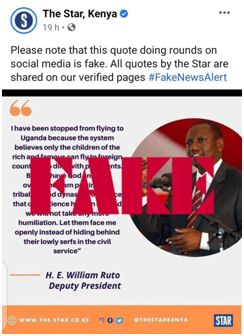 The Star, on Tuesday, dismissed the quote as fake, saying that it did not originate from their verified channels. "Please note that this quote doing rounds on social media is fake. All quotes by the Star are shared on our verified pages," said the Star on its verified Facebook and Twitter pages.
NTV also posted on its Facebook and Twitter pages, terming the quote as "fake news".
VERDICT: The quote purportedly from Deputy President William Ruto warning tribalists and dynasties for blocking his trip to Uganda is FAKE since it has been disowned by media houses on whose banners and branding it was placed.
 [This story was produced by Business Today in partnership with Code for Africa's iLAB data journalism programme, with support from Deutsche Welle Akademie ]