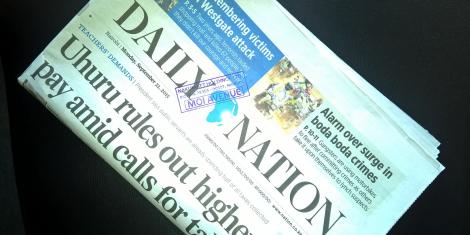 The Nation Media Group (NMG) has lost two senior journalists, dealing a blow to management's efforts to trim and hopefully strengthen its editorial team. BUSINESS TODAY has reliably learned that Sunday Nation Buzz magazine editor Josephine Mosongo and sub-editor Beatrice Obwocha have both resigned from the media house to pursue different interests.
They have dumped the pen and note book to try their hands at communications and public relations. Ms Obwocha has joined the Nakuru County Government as communications director, according to inside sources, while Ms Mosongo is said to have joined a local PR agency.
This is a major hit at NMG, coming just weeks after it lost three writers attached to the Business Daily. The exit of the two editors may complicate its restructuring efforts, as editorial managers have to make some realignments to fill the gaps, in case the two were not lined up for the chop.
Nation Media Group, once one of the best employers in Kenya, has over the past few years been suffering staff haemorrhage as journalists look for better opportunities. The company has, also, increasingly become a victim of raids by PR firms, which have turned into vicious predators for journalistic talent.
READ ALSO
Many of its journalists populate a number of PR and communication agencies while others are managing communication in a number of corporates and other non-media organisations.
Journalists, too, have developed a growing appetite for PR work, a segment they previously frowned upon. PR and communication has evolved into a competitive career, with better pay and working environment, thus attracting journalists due to their wide understanding of media operations. Last week KTN senior reporter Carol Nderi quit the station to take a job in the Nyeri County government as communications director.M
Meanwhile, Nation Media has pulled a consolation move by poaching Mac Otani,  who was news and digital editor for radio at Royal Media Services, who now becomes online subeditor and social media editor at NMG.