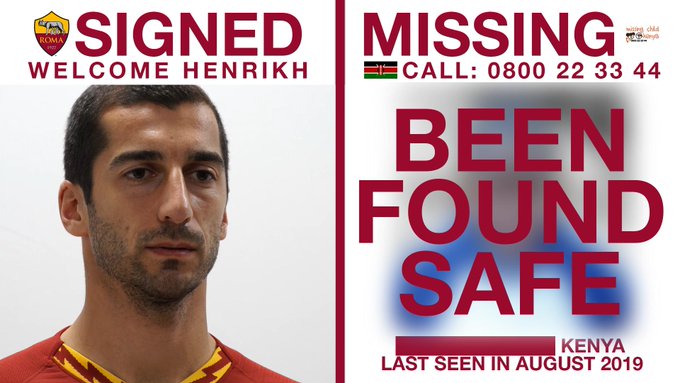 Two Kenyan children who featured in a missing child social media campaign launched by Roma have been found and returned to their families.
The Italian club featured a picture of each missing child alongside their announcement of two of their summer new signings. The social media announcement of AS Roma signing 30-year-old Armenian midfielder Henrikh Mkhitaryan and 29-year-old English defender Chris Smalling helped reunite the two missing children.
Mkhitaryan scored on his Serie A debut, with his new side beating Sassuolo 4-2 – the same day a 13-year-old Kenyan boy was found. Almost a day later, an eight-year-old Kenyan girl featured along with center-back Smalling's move from Manchester United was found "safe and well".
The Italian Club also used its announcement of new signings to help find other missing children. A girl from London and a boy from Belgium were found after the arrivals of Mert Cetin, and Davide Zappacosta.
The initiative of using football to find missing Kenyan children started during the last Mashemeji derby. During the recent Mashemeji Derby at the Moi International Sports Centre, Kasarani, the Kenya Premier League in association with the participating teams supported a human interest initiative by Missing Child Kenya.
The support was shown through players of AFC Leopards and Gor Mahia walking to the pitch holding posters of missing children, which had been verified by Missing Children Kenya. Images of the players carrying the posters were broadcast on live television as fans who could not make it to Kasarani followed the match on TV.
Thanks to the broadcast, three children were found safe and reunited with their families. The children who were reunited with their families thanks to the Mashemeji derby were Chantel Gift Osebe (13), Evamariserah Murugi (16 ), and Prudence Khavugwi ( 11 ).
The Mashemeji derby initiative scooped four awards at the African Media &Advertising Summit held in Marrakesh, Morocco.
The awards whose theme was "Positive Brands" feted the Kenya Premier League (KPL) for its campaign dubbed "The missing mascot". The KPL initiative bagged four awards — two Gold, one Silver and Mad Grand Prix (The most prestigious medal at the awards). The campaign was entered in three categories namely PR, Print and Promo Activation.
This is however not the first time that other platforms have been used to help reunite missing children with their families.
It originated from rock band Soul Asylum's music video for their 1992 song Runaway Train, which highlighted the faces and names of missing children.