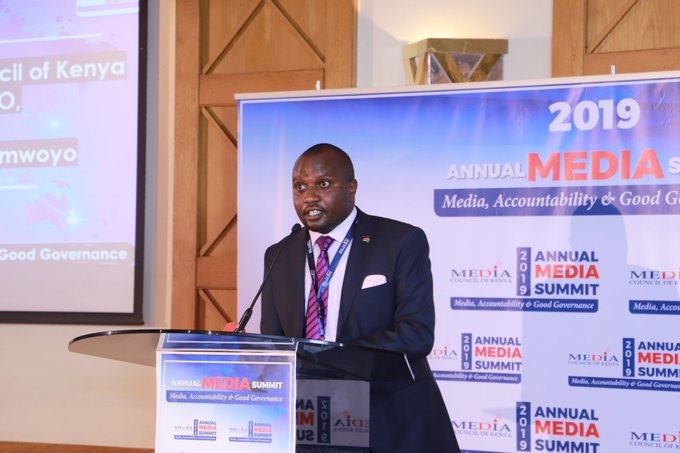 There is need to disclose the ownership and leadership structures in the media industry as one way of enhancing accountability.
Speaking during the opening of the two-day Annual Media Summit 2019 at a Nairobi hotel on Thursday, Media Council of Kenya CEO David Omwoyo said transparency is also needed with regard to who makes crucial editorial decisions.
"Media must be transparent about their ownership, leadership structures and who makes editorial decisions. We must know who owns the dog for us to know if the dog is barking at the right thief," he said.
While the ownership structure of media houses in Kenya is not available publicly, save for Nation Media Group and Standard Group which are listed on the Nairobi Securities Exchange, prominent personalities especially politicians have been tied to a majority of them.
But even for Standard Group, the Moi family and businessman Joshua Kulei, who are the majority shareholders do not own their stakes directly.
Instead, S.N.G Holdings Limited is indicated as the main shareholder with 69.03%, Trade World Kenya Limited (10.90%) and Miller Trustees Limited (10.53%).
Omwoyo also stressed the role of the media in serving public interest, noting its its duty to annoy government.
"Journalists need to know that it is there duty to annoy the government. If the government is too comfortable, the media must annoy it," he said.
Earlier, Nation Media CEO Stephen Gitagama said the media have a duty to afflict the comfortable and comfort the afflicted, a position Omwoyo reemphasised.
He called on the government to release critical information to the media but, at the same time, urged journalists to use such information responsibly.
Going forward, Omwoyo said there is need for strategic reforms including on audience measurement and general welfare of journalists.
Another issue that needs to be addressed is the viability of the media industry in terms of sustainability.
According to Omwoyo, the role and space of the public broadcaster, KBC, community radio stations and established media need to be defined.
The theme of the summit is media, accountability and good governance.
In his remarks, Gitagama said the summit comes at a critical moment when the industry is at crossroads and has to introspect and determine the direction it seeks to take to remain relevant and useful to an increasingly impatient and skeptical audiences.
More than ever before, he said, the media that traditionally stood on a pedestal and appeared revered and untouchable has become the object of h**e, mistrust and scorn.
"Media as an institution and the practitioners at large are consistently being lambasted often wrongly and more so by those whose sole interest is to derail us from our business of telling the truth. Their intention is to settle score and demolish our integrity and believability with the objective of intimidating us into inaction. But that does not worry me," added Gitagama.
Journalists reeling under poor remuneration
Kenya Union of Journalists Secretary General Erick Oduor accused media houses of ignoring the suffering of journalists, whom he said are poorly remunerated yet they deserve decent jobs.
According to Oduor, a hungry and thirsty journalist is a threat to press freedom.
He accused employers of turning a blind eye to their suffering yet they generate billions in revenue and expressed concern over the redundancy spree witnessed in the industry in recent years.
"The industry is b******g experience and quality. Media houses get billions from advertisers yet when that one comes, they do not go into the welfare of journalists," he said.
He expressed concern that despite the union signing a collective bargaining agreement with media houses from which it draws its membership in February, it is yet to be implemented and is instead gathering dust on the shelves.
"We demand justice for journalists," he said and called on editors and newsroom managers to organise an urgent meeting with the union to thrash out the issue, warning they may resort to strike action.
Association of Media Women in Kenya (AMWIK) Executive Director Marceline Nyambala said the freedom of the media is being curtailed by self-censorship and regulation and threats.
Related: Boon for journalism as Editors Guild launches new magazine
She said that is why they formed the Kenya Media Sector Working Group to address safety of journalists.
According to Ms Nyambala, media owners are also interfering with editorial independence, including determining which guests would appear on talk shows and the nature of questions they would be asked.