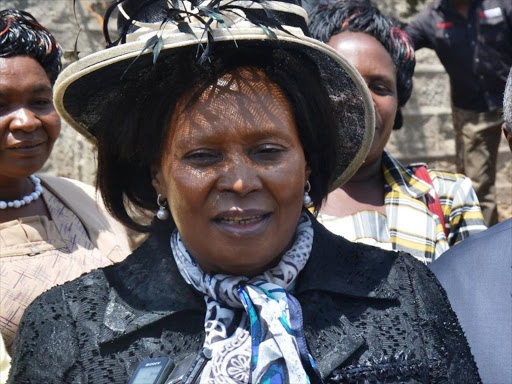 The Labour Court on Friday quashed the appointment of former Othaya MP Mary Wambui as the chairperson of the National Employment Authority (NEA).
Justice Onesmus Makau overturned her appointment and went a step further to issue an injunction barring her appointment to the position following a petition filed by the Kenya Young Parliamentarians Association (KYPA).
While delivering his ruling, the judge agreed with the petitioners saying that Wambui's appointment is irregular and rendered her unqualified for the job.
In October, the court suspended the politician's appointment pending the hearing and determination of the matter after KYPA's lawyers moved to court to block her appointment holding that she is grossly unsuitable for the position.
KYPA moved to court on the instructions of Nairobi Senator Johnson Sakaja whose actions were necessitated by public outcry over the appointment of the 69-year-old to the sensitive position.
Sakaja said that he had personally asked Wambui to decline the offer but a defiant Wambui maintained that she was up to task.
Kenyans were angered by President Uhuru Kenyatta's decision to appoint Wambui holding that she was too old and because of her limited education background.
In its petition, KYPA avered that the holder of the position needed to have specific academic and professional qualifications as stipulated in the act of parliament that established the authority.
"That the 3rd respondent (Wambui) has on several occasions personally admitted that she possesses a limited educational background which for all intents and purposes makes her unqualified and unsuitable to conduct the affairs of the chairperson of National Employment Authority," read the petition.
Wambui's appointment also came at a time that the public was angered by President Kenyatta's preference for the old guard while appointing people to lucrative positions.