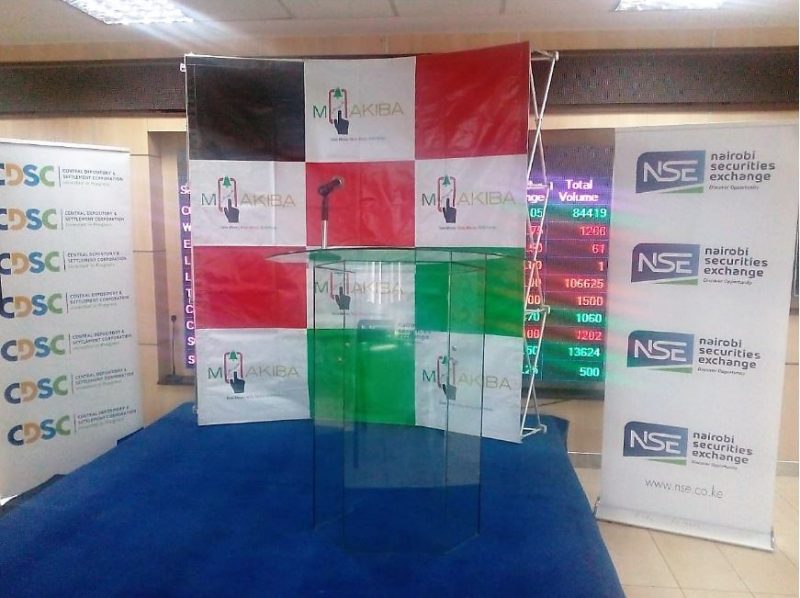 The stage was set at the Nairobi Securities Exchange (NSE) but the cancellation of a planned press conference to mark the second reopen of M-Akiba left unanswered questions over the mobile bond.
Journalists, who had arrived from various media houses, were left wondering as the briefing scheduled for 2:30pm failed to take place, with an email alert cancelling the event arriving 12 minutes too late.
The NSE management, in its apology, indicated that the figures initially planned be announced at the presser were still being "reconciled". Additionally, a corroboration of the numbers with third parties was still to come, meaning the announcement could not be made as planned on March 12.
The sudden change of plans appeared to point to performance-related issues of the government bond offered exclusively via mobile phone.
The M-Akiba bond had commenced with a Special Limited Offer (SLO) of Ksh150 million, which attracted 102,632 investors; successfully achieving the target two days before the set deadline. It was then reopened on February 25 and ran up to March 8, with Treasury aiming for Ksh250 million against the Ksh1 billion target.
NSE had said that it expected the reopened bond to trade well at the 10% interest rate offered to investors. Its success was also pegged on its level of return in its 18-month maturity period against other papers accepted by the government with a less than two-year tenure.
"M-Akiba is a low risk investment product that offers investors a steady source of income and an effective way for saving for the future," NSE Chief Executive Mr Geoffrey Odundo had said.
[ Read: Citizen TV owner SK Macharia finds himself with surprise Sh157 million debt ]
At the same time, the Central Depository and Settlement Corporation (CDSC) CEO Rose Mambo had said that the bond has attracted over 300,000 new investors onto the bond platform. With these positive statements, it could seem that the uptake of M-Akiba may have been high among investors, leading to the delay in reconciliation and collaboration of the numbers.
Others, however, opine that a lower than expected performance from the reopening of bond cause the cancellation of the commemoration of M-Akiba on March 12. If investors held onto their money, then that would leave the parties involved with the need to restrategise on how to hit the target.
In 2017, when M-Akiba was first offered as a retail infrastructure to investors, the bond performed less than expected, raking in a paltry Ksh247.75 million as against the Ksh1 billion target. The dismal debut had seen M-Akiba attract 303,534 investors in its main offer, out of which 5,988 bought the bond.
[ See Also: What will Uhuru look for in next Inspector General of Police? ]