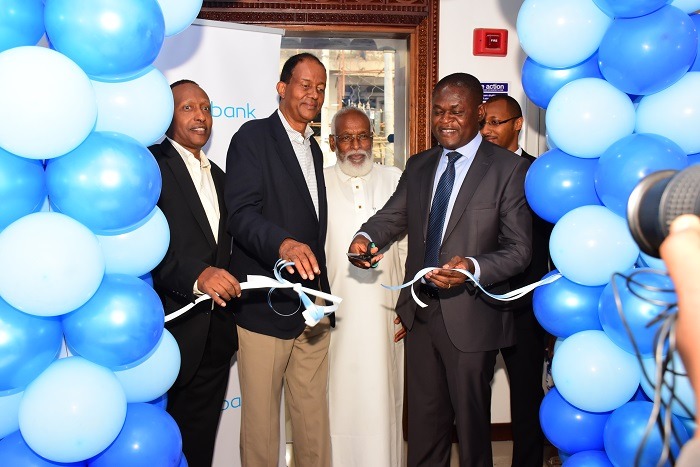 SBM Bank Kenya has opened two more branches in Nairobi targeting the Ksh 2 billion that changes hands in the thriving Eastleigh and Gikomba on a daily basis. A third branch has been opened in Mombasa.
"The economic dynamism of Eastleigh and Gikomba areas as business centers in Nairobi, informed our decision to set up branches not only to increase convenience for our customers in the regions but also to tap into the almost Ksh 2 billion that exchanges hands daily. Our focus in the SME space is real and establishment of the two branches is a strong testimony to this," SBM Bank Kenya Deputy Chief Executive Officer Jotham Mutoka said during the official opening of the Eastleigh branch on Monday.
The Eastleigh branch on General Waruinge Street, Gikomba branch in Gikomba market and Mombasa based Jubilee Arcade branches started operating on Monday.
Mutoka said the opening of the new branches was informed by the strategy of the lender to increase the accessibility of its services to customers while at the same time creating a business environment that's entirely focused on the ultimate customer convenience.
"Our new branches are pillars of our customer service even as our structures are built on digitization where the customers are able to benefit from online banking platforms," he explained.
The bank, which currently operates a 52-branch network across the country, is keen on expanding its outreach by growing the service channels in strategic areas across the country.
Kamukunji MP Yusuf Hassan, who was the chief guest during the launch, welcomed the investment made by SBM, noting that the Gikomba and Eastleigh branches are within his constituency. He said Eastleigh continues to attract investment with the number of shopping malls growing from 24 in 2013 to over 59 malls this year.
"We are currently investing in infrastructure to enable the growth of business within Eastleigh and the wider Kamukunji Constituency. We have already finished works on General Waruingi Street and are moving on to First Avenue. For the wider constituency there are plans to dual Juja Road to increase access with additional resources dedicated to widening Muratina Road creating a direct link to Thika Road so that traders do not have to go back into town," Hassan added.
Read: Hidden bombs in picking Boinnet successor 
Currently, SBM Bank is leveraging on its multi-pronged banking model via the mobile app, agency banking, card business and internet banking to complement its branch network. It aims at gradually positioning itself as a one-stop-shop providing retail and consumer products, SME and corporate banking in support of international trade finance business across the Africa, Mauritius, India and Asia corridor.