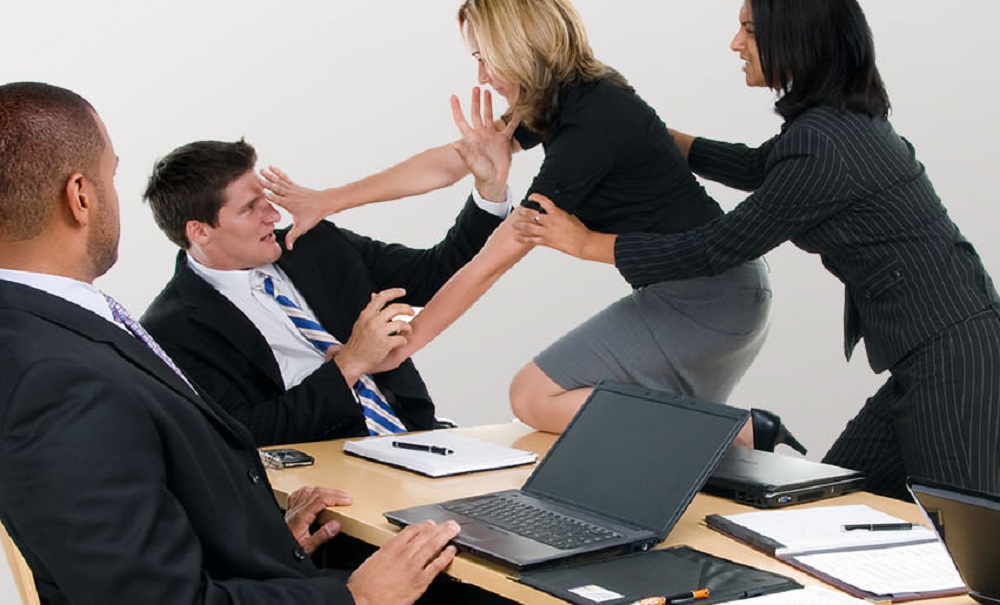 [dropcap]H[/dropcap]ave you ever felt like your boss is out to get you? There are a lot of bad bosses out there. Ideally, they are not stupid but just lack emotional intelligence, have poor self-awareness, are blank psychologically and can't control their emotions. Their values seem to be on a permanent leave of absence but still purport to be always right and ready to pick a fight with any employee at anytime just because they are the boss.
Conflict with one's boss is a much dangerous step however right you might be because many of our cultures place huge value in the official hierarchy: the higher you are, the more "right" you are assumed to be. It is a self-perpetuating system that respects and rewards people by virtue of their level in the organisation, not their behaviour. 
The system coupled with the old adage: "Arguing with your Boss is like wrestling with a pig in mud. After some time you will realise that you are getting dirty and the Pig is enjoying it." The boss is always right. It is an uphill task to wedge war against your boss and carry the day. Instead, the outcome is likely to slowly and insidiously derail your career and probably harm your personal self if you don't watch the space and calculate well your steps. 
Here are reasons why you are likely to lose to your boss however right you are;
1. You risk exposing your own life to scrutiny. 
Most boss-employee battles always end in the corridors of justice especially if your boss goes ahead and fires you after along disagreements within the organisation. To him, this might give him an opportunity to dig deeper into your past employment records, including that time you got fired from a previous job after you stole company's assets, your criminal background, your health records that is likely to reveal when you suffered any mental disorder, your five previous marriages, and your history of filing lawsuits. This might leave you with nothing to hide about your personal life, including that top secret that you have kept for years. However much your lawyer shall have fought, your personal life will be all over the public domain and leave you traumatised especially if you lose the case.
To convince the judges that you were treated unfairly, your lawyer will include a claim for emotional distress in your lawsuit. This will prompt the company to request for your medical and psychiatric records dating back, say, 10 years. It is not worth it!
2. You are likely to succumb the long drawn-out, stressful, and painful litigation process.
Have you ever thought of why most courts today prefer mediation or alternative dispute resolution? It is because even lawyers or judges no longer enjoy litigation.
Indeed, the Office of the Director of Criminal Prosecutions has just published procedures that would allow for plea bargaining. So, instead of one being jailed for corruption or other criminal offence, including murder, he can plead guilty and get a lesser punishment or pay a fine and thus avoid going through the rigours of litigation.
So, think of how stressful it will be both for you and your lawyers as well as the judge and how much you will come to hate it.
In as much as they don't enjoy the process of litigation, the lawyers fight to the end, the outcome notwithstanding. This is because you are the one who is picking up the tab. 
While it is true that outcome of your  lawsuit will be stressful and disruptive for your employer, it is likely to be more stressful and disruptive for you as you are not used to the court system or dealing with lawyers. And you don't even know whether it's a trap when the employer's lawyer says hello to you and offers to shake hands. This is likely to haunt you even in your new job and expose you to an unpleasant experience that is difficult and stressful.
3. Your action might be treated as an illegality after all.
Generally, it is not expected of any boss to treat their employees like family or even be nice or particularly fair. In fact, bosses can be downright jerks as long as they are equally jerky to everybody. They can be arbitrary and play favorites as long as they're not making distinctions based on "protected" categories, like race or sex. 
Therefore, engaging your boss in a fight might be viewed as arrogant, irresponsible and disrespectful to him/her. In adverse situations, this is likely to ring an alarm to other potential employers who, perhaps, have been keeping tabs on your career progression.
Based on this, it calls for a second thought before engaging your boss in a fight that ends on litigation because, again, it won't be enough for you to prove that your employer made the wrong decision. 
4. Your co-workers are likely to abandon you. 
You are convinced that your employer wronged you and your work-mates witnessed the whole drama. You opt to institute a legal action against your boss hoping your work mates will volunteer as witnesses  but no sooner do you institute a legal suit than they turn their backs on you. No co-worker is willing to testify in your case. You are on your own. After all, everybody is out to protect his/her own job. 
It could also turn out that a fellow employee who you had been confiding in might volunteer to testify and reveal all the dirty secrets you have been sharing, including the many contract violations you might have committed.
Of course, I'm not doing this article to suggest that bosses should forever remain untouchable. No. What I mean is that picking a fight should always remain your last resort.
But before you do it, have a strategy to protect yourself from the fallout and a good "exit strategy" to get out of the conflict. Secondly, try and  focus much on yourself. Don't just pick a fight  to prove something or cover up your own insecurity. Fight for goals that are worth, never get dirty in the fight and, finally, try and carry out a realistic personal evaluation and your job and make a sober decision.