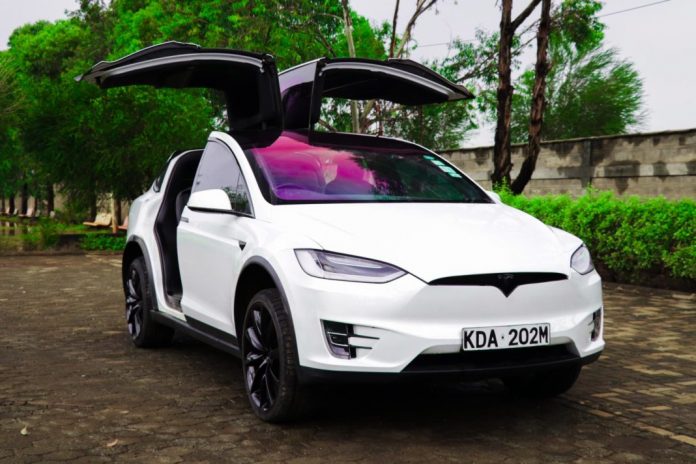 It isn't every day that you see electric vehicles (EVs) on the streets of Nairobi, let alone Teslas.
Tesla, founded by the world's second richest man Elon Musk, has established itself as the innovative, market-leading company manufacturing electric vehicles and integrating them with people's everyday lifestyles.
In 2020, Nairobi resident Jayesh Patel became the first known individual in East and Central Africa to purchase a Tesla. He shipped in the Tesla Model X 75D, which costs between Ksh11 to Ksh13 million.
While tax credits accompany purchases of EVs in several markets due to their contribution to reducing carbon emissions, the situation is different in Kenya. In an interview with GTSpirit, an international automotive publication, Patel opened up on his experience as a Tesla owner in Kenya revealing that he had to pay Ksh7 million in taxes for the vehicle.
"No we don't (receive tax credits) unfortunately, in fact it's viewed an an ultra rare luxury good and being the first one in the country did not help the situation either.
"Compared to other countries, the taxation of electric cars locally serves as a deterrent instead of an encouragement," Patel disclosed.
Numerous governments including China, India, Phillipines, Armenia, Austria and Finland have introduced incentives for EV purchases as they work towards combatting climate change and ending reliance on fossil fuels.
Patel also revealed the savings he enjoyed compared to a petrol or diesel car owner.
With a three phase connection, it takes only 3-4 hours to fully charge his Tesla Model X 75D. With a slower single phase connection, it takes between 12-14 hours.
A full charge lasts for around 400 kilometres of driving.
"The cost savings are quite noticeable. It costs us about KES 1,000 ($9) for a full charge which may last up to 2 weeks under our current driving style. In comparison, an SUV owner will use between KES 5,000-7,000 ($45-$63) for a full tank of fuel," he stated.
Patel disclosed that he had installed two wall chargers at spots he considered convenient. He stated that no special modifications or equipment were needed from Kenya Power and Lighting Company (KPLC).
Like many Tesla offerings and technology updates, however, the Tesla Supercharger is not available in Kenya or the region. The supercharger is a 480-volt direct current fast-charging technology.
Features including air updates, autopilot and manual override remain switched off for the region.
"The Supercharger option is not available locally, a quick search revealed that it would cost us about $150,000 (Ksh16.4 million) to have one installed," he revealed.
While the car is still relatively new, Patel noted that maintenance had been the least of his worries.
"So far so good, we have no maintenance costs. We only had to change into a new set of tires and brakes. It's like a phone, what do you have to service other than charge it on a regular basis?" he stated. Patel noted, however, that they had to import filters for Tesla's HEPA filtration system from the United Kingdom (UK).
Like any other Nairobi resident, Patel noted that he was affected by power outages. In extreme cases, he stated that a generator could be used.
"You just have to be prepared by not allowing the car to be on empty charge. In any case, power outages will last only a couple of hours," he stated.