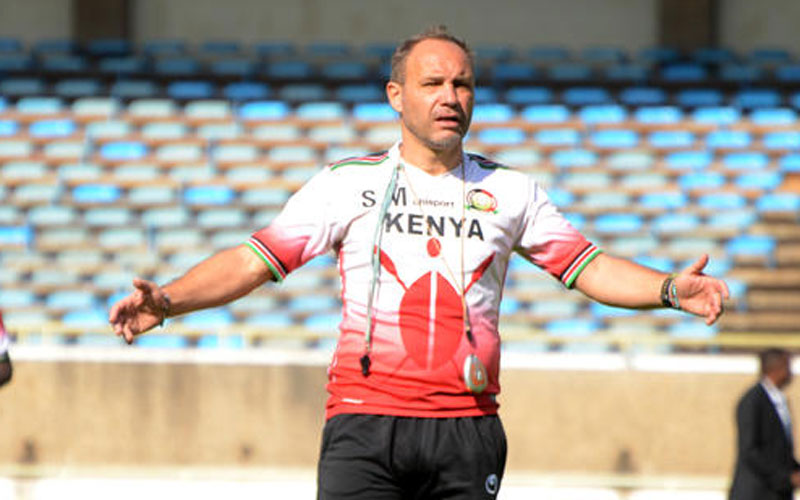 French tactician Sebastien Migne was sacked by the Federation of Kenyan Football (FKF) as Harambee Stars Manager. Migne was supposedly sacked because of the team's dissatisfying performance at the African Cup of Nations (AFCON).
Migne's sacking, however, was seen coming as the tactician had earlier dared the Federation to sack him hinting that FKF could not afford to pay off his contract. The immediate former Harambee Stars coach said that FKF could not afford to sack him as paying his salaries was even a problem.
Could he have been sacked because he did not see eye to eye withy federation over his salaries? Maybe. What we know for sure is that Migne was paid in time for the AFCON tournament but was he paid for CHAN preparations and matches?
Prior to Harambee Stars' second leg match against the Taifa Stars of Tanzania, there were claims that the players had not received their camping allowances. This might have contributed to the team's loss to Tanzania in one way or another. If the players were not paid, chances are that the coach was not as well?
According to an article published by Kahawa Tungu days before his sacking, Migne had taken Harambee Stars hostage. The article suggested that Migne was on a mission to get the most out of Harambee Stars financially. This might be why he dared the Federation to sack him because if e is not making money then why should he continue with his job as Stars' coach.
The Federation said that Migne was sacked because of poor performances at AFCON but there might be more to it. Kenya's humiliating performance at the continental tournament was inevitable judging from the teams which Harambee Stars failed. Harambee Stars managed one win against Tanzania but failed to win against Senegal and Algeria who were finalists in the tournament.
Migne was the man in charge of the team that saw Kenya participate in AFCON after a 15 years absence from the tourney. Actually, performance is the last reason Migne could have been sacked for. Kenya was close to making it to the knockout stages in the tournament as one of the best losers.
In the recent past, the Kenyan Sports ministry has been struggling to sponsor national teams for continental outings. The national hockey, amputees, basketball and rugby teams have lamented about neglect from the Ministry.
Foreign managers are expensive and with the struggles that the Ministry is going through currently, it just might be that it was expensive maintaining Migne than it was letting him go.
Migne becomes the latest national coach to lose his job following the 2019 AFCON, after Javier Aguirre (Egypt), Desabre Sebastien Serge Louis (Uganda), Emmanuel Amunike  (Tanzania), Clarence Seedorf (Cameroon) and Paul Put (Guinea).