Every weekend, when you visit your favourite joįnt you expect the bartender to serve you your favourite beer, alongside choma, as is the custom for most Kenyans. Or maybe when the bartender comes to your table you just have to use the magical words 'kama kawaida' (as usual) and voila! Your order is served without a question.
Now picture this: You visit your favourite joįnt and you put your order, kama kawaida. Instead of the bartender rushing to quench your thirst, he starts convincing you to take a new brand that has been introduced into the market. The brand, he explains, is brewed by a certain small brewer who just entered the market the other day, or is a product of the joįnt. In short, he tells you it is a craft beer.
You end up deviating from your regular brand to try the new craft beer, and maybe you end up loving it.
"The advent of craft beer is what I would term as a blessing in disguise. You get to taste something new with a greater taste for the same feeling, or sometimes greater. It is a source of diversity, and to some extent reminds us of our roots," says Meta Masimba, a resident of Embakasi, Nairobi.
Masimba's view reflects a change in the drinking culture among Kenyans, who are now embracing new drinks that promote local culture.
A craft beer comes from a craft brewery otherwise known as a microbrewery. A craft brewery is a brewery that produces small amounts of beer, as compared to large breweries that produce the common brands in the market.
Legal craft breweries started existing in the United States and the United Kingdom in the 1970s, although traditional brewers still existed in other parts of the world.
Craft brewers, unlike the 'regular' brewers, put more emphasis on flavour and quality rather than quantity.
Slowly, the focus on craft brewers is moving away from quantity to alternative attitudes and approaches to brewing flexibility, adaptability, experimentation and customer service.
Despite being prominent in Europe and America, craft brewery is taking shape in other parts of the world like Africa, and specifically Kenya and South Africa.
In Kenya, African Originals (formerly Kenyan Originals) can be termed as the best example of a craft brewer, producing beers and other beverages from local ingredients.
African Originals produces craft brands like KO Pineapple &Mint using pineapples from Thika and Kisii, KO Mango & Ginger with mangoes from Lower Eastern, KO Lime & Ginger with lime from Garissa, KO Passion Fruit & Lime with passion from Nyahururu.
The company also produces Honey Cider, inspired by 'dawa', a sweet local mixture made from lemon, ginger and money among other ingredients. The company gets its honey from Baringo. Others include the KO Rose & Cucumber, KO Chilli & Tumeric, the KO Light and KO Classic.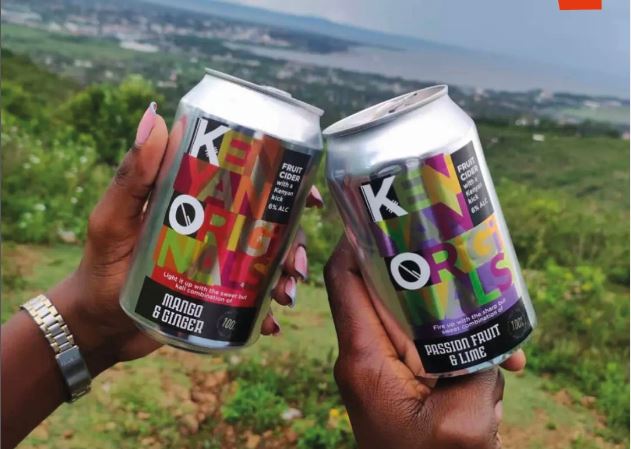 Kenyan Originals, a perfect example of a craft brewer, was started three and half years ago with seed funding from Ms Alex and industrialist Manu Chandaria as the first investors. Later, the company brought on board more investors including experienced players in the alcóholic beverages space.
In a previous interview with Business Today, Ms Chappatte said that craft brewery is the best way to disrupt the current monopolistic status in the country in the beverage sector.
"I think the beverage space here is really ripe for disruption. We have a pretty significant monopoly, and there are very few markets in world at that kind of monopoly. There isn't much choice for the consumer. There are no other players challenging what the big players are offering, and particular choices that are relevant to the local consumers. That is where we come in because we have our production here, we have our consumer here and we speak to them every day, and that's why we are able to innovate quickly," she said.
So far, the company has partnered with over 1,100 outlets in Nairobi, and is looking to expand across the country and the continent.
"We are now in a stage where we feel like we have a great network and good advisors and we really want to make this (brand) truly African originals," she added.
Read: Inside The Kenyan Originals Craft Room
>>> African Originals to Cede 10% Stake To Customers Through Crowdfunding