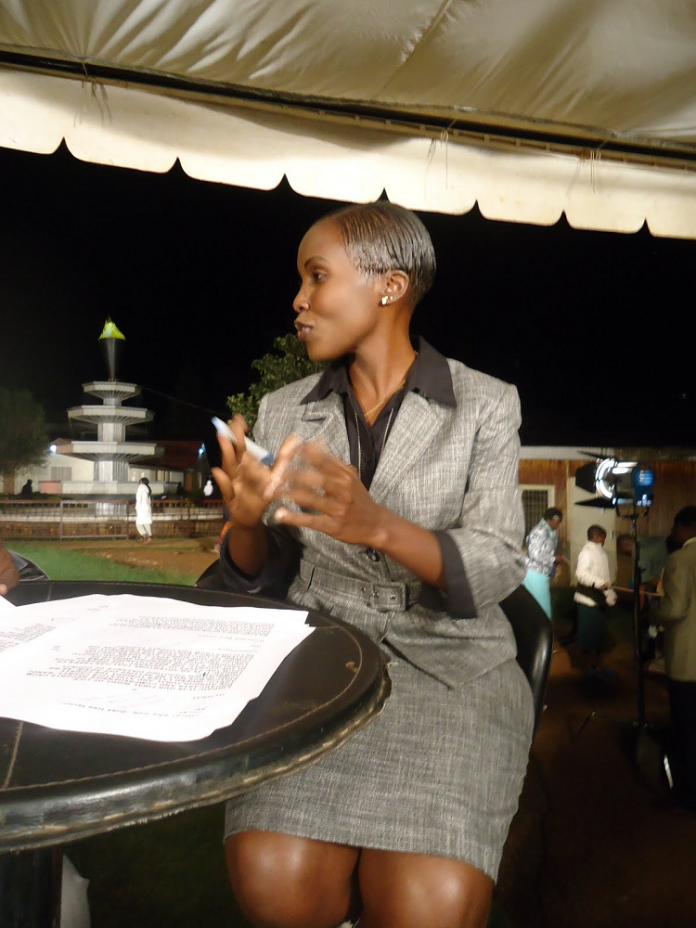 Former TV queen Linda Ogutu could be headed for a comeback to the screen after an assignment for which she took a sabbatical lapsed this week. Ms Ogutu, who worked for KTN as news anchor and talk-show host, announced today her tenure as head of the Football Kenya Federation secretariat transition committee had lapsed, opening speculation on her next destination.
Ms Ogutu, who was among the finest news anchors on Kenyan television, boosted by her humble demeanor, says it was an honour to serve the federation for almost a year. After 10 months at the helm, she exits as the new administration of President William Ruto begins to take control of various departments of government.
In a statement released on Thursday, she said that it wasn't an easy task but she wouldn't trade the experience for anything else. "It has been a great honour to serve at the FKF caretaker/Transition committee for close to a year," she said. "We are done. Wasn't easy but an experience I wouldn't change for anything."
Without giving much detail on her next job, Ms Ogutu just said she had learnt "great lessons" at FKF caretaker committee. The journalist took a sabbatical from the screen in December 2021 after she was appointed to head the caretaker committee secretariat. "A big thank you to all who tried to help. To incoming Cabinet Secretary Ababu Namwamba all the best Waziri."
Linda Ogutu was appointed to head the FKF caretaker committee's secretariat by the Sports CS Amina Mohamed for a period of six months. She then announced that she had taken a sabbatical from the TV job to focus on FKF.
As head of FKF Secretariat, Ms Linda Ogutu was deputized by Michael Mucheni (secretary), Lorine Nerea Shitubi (Jóint Secretary), Caesar Handa, Herbet Mwachiro, Edward Rombo, Hiba Hussein, and Gabriel Warigi.
See Also >> KTN and Standard Newspaper Journalists Face The Axe In Mass Sacking
"Personal news," she announced on Twitter on 19th December, "I have taken a sabbatical leave from the Standard Group Limited to serve in the FKF Secretariat. Tukutane kwa futa (let's meet in football)."
It is understood that the news anchor, who had been the face of KTN for three or so years, was forced to leave by the management of Standard Group, which owns KTN, as her appointment to the FKF Secretariat job, being fulltime, conflicted with her a job as a journalist and news anchor. FKF, by the way, is also actively in the news.
It is not clear whether she will return to TV. Meanwhile, her return to KTN is doubtful since the Standard Group is undergoing restructuring and is expected to start laying off workers anytime to cut its expenses.
The company has over the past two years been trimming its staff by retiring highly paid employees in favour younger and cheaper talent.  Linda had been poached by Standard Group from NTV at the height of ego battles between KTN and NTV, earning her a six-figure salary.
Read >> Why Miguna Miguna Strikes Fear In Media Bosses
Will she return to her former employer NTV? Or Will Citizen TV snap her up? The NTV option looks more likely as Nation Media Group has a history of taking back its former employees. Citizen is currently crowded with top-rated news anchors and maybe unwilling to pay top dollar for a talent is really isn't craving.
The other most likely beneficiary could be TV47, which has been picking the spoils in the battle for talent in the media industry. Also, with her 10 months' experience in football affairs, Mr Ababu Namwamba, the incoming CS for Sports, could as well find something for her to do either in communications or FKF management.
See Also >> How Radio Presenter Makes Millions Outside Radio Studio