After months of fuzzy mathematics at Standard Group, the management has finally decided to bite the bullèt: it is set to offload nearly 200 employees to stay afloat. Things have not been good at Standard Group, which runs Standard newspaper and KTN, but management has been adept at painting a rosy picture by coating its figures to give hope to employees and confidence to investors.
OBITUARY – News Presenter Khamisi Themor On How He Broke News Of Mzee Kenyatta's Déath
Standard Group released a memo on Friday 30th September 2022 informing staff that it will be retrenching some of them in what has become more than an annual ritual at Standard Centre on Mombasa Road. Yet it's often an irony of sorts that after sacking employees, the company immediately goes into a hiring spree!
The company says the sacking is necessitated by a strategy to adapt to the changing media space that is embracing technology and dumping convention channels. Standard Group CEO, Mr Orlando Lyomu, pointed to "disruption of our business in 2020 and 2021 as a result of the pandémic" which, he said, continues to negatively impact revenues. He said the company is also restructuring its business model to adopt a leaner, more efficient structure.
Insiders say the company plans to sack about 200 of it's near 1,000 employees across the country. Most affected will be journalists, who form the bulk of its payroll. Indications are that big heads will roll but also some bureaus and unviable businesses could be closed.
Standard will be hoping its convergence model that embraces multimedia journalism will make up for the loss in employees, especially journalists, though it is also having its own teething problems.
Changes in media consumption due to the tech revolution has cut down readership and advertising for newspapers and TV viewership as most audiences move to digital platforms for real-time information. The mobile phone has been the main gadget for media consumption and media houses in Kenya are scratching their heads on how to find their space in the palm and win this very volatile audience.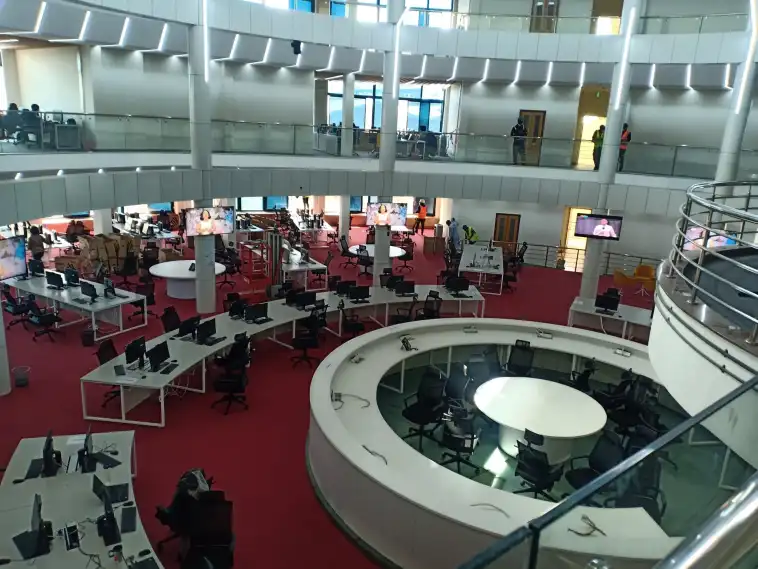 Standard Group has Standard Digital but its revenue model still relies on the traditional banners and sponsored content – which is not sustainable these days with competition from behemoths like Google and Facebook and a host of other small but nimble websites. The subscription model for online content introduced recently has put off majority of readers, cutting down on hits, and forcing even Nation Media Group to reopen its articles online.
Standard Group has been struggling financially in the last five years, oscillating between losses and little profits, all blamed on management that has focused so much on expansion at the expense of viability of projects.
The company, for instance, has three radio stations (Radio Maisha, Vybez and Spice), four TV stations (KTN Home, KTN News, Burudani and Farmers TV), Standard newspapers as well as Nairobian. Most of these media outlets are loss-making except perhaps Standard newspaper, KTN Home and Radio Maisha which has gained in terms of listenership ranking.
Standard Group cut its loss before tax to Ksh22 million for year ended 31st December 2021 compared to a loss before tax of Ksh434.4m over a similar period in 2020, an improvement of 95%. After taxation, however, the loss increased to Ksh73.1 million, down from the previous year's net loss of Ksh301.6 million.
Technically, the company is financially crippled with delays in paying salaries and has not been remitting statutory deductions for years, including Sacco and pension contributions by employees. In the financial results for December 2021, financing costs devoured a big chunk of the revenues to the tune of Ksh162 million, a slight drop from the previous year's figure of Ksh164 million.
Financing costs include interest and other costs incurred by the company while borrowing funds, which means Standard Group has expensive loans it is servicing and which are weighing down its balance sheet.
INTERNAL CIRCULAR TO STAFF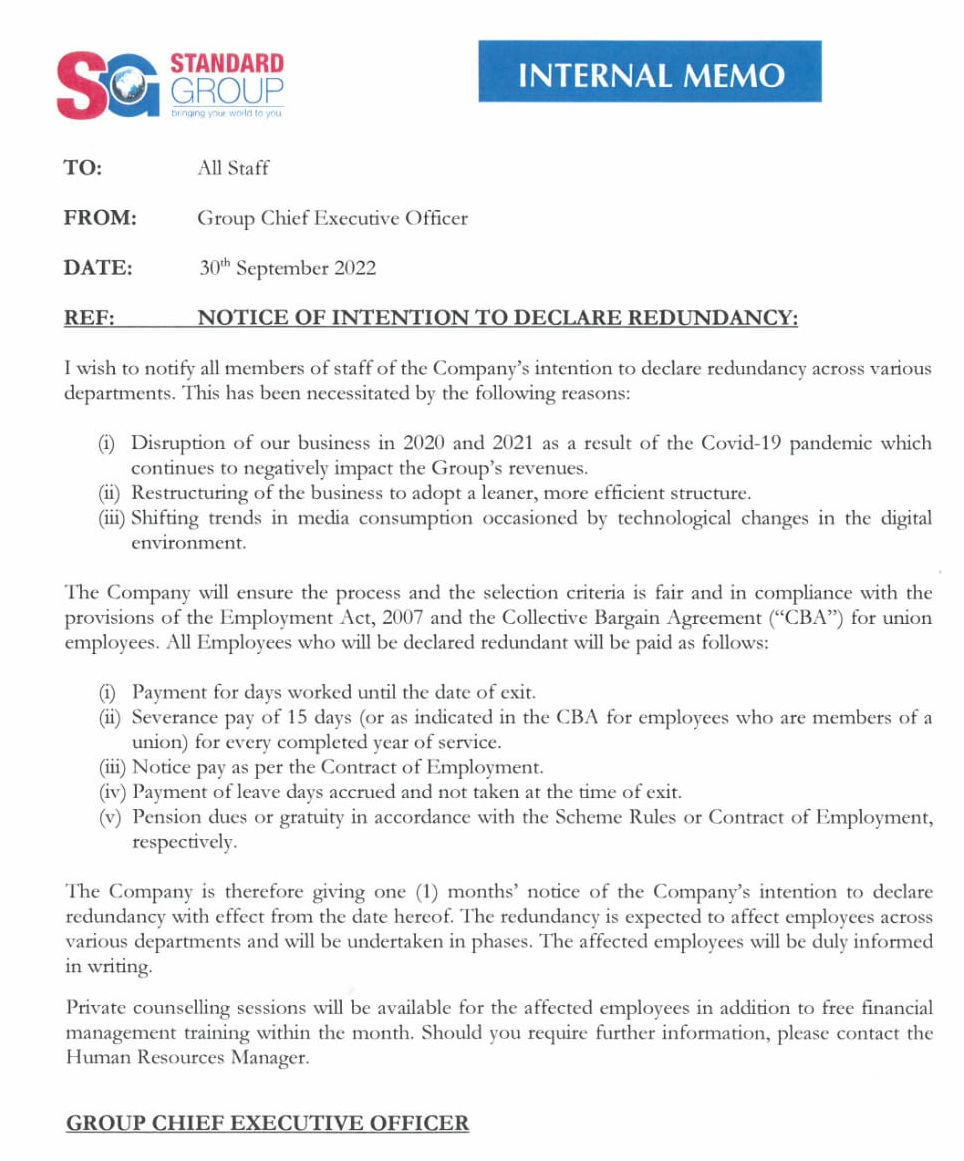 The management should be bold enough to axe some of these stations to boost the flagship product, Standard newspaper and KTN Home, which has been starved of talent. Because of uncertain financial health most journalists are always bolting out at the slightest instigation and the company is finding it hard to attract top talent.
Bad as this retrenchment looks, it is necessary for the short-term to enable Standard meet its financial obligations, but management should then turn its focus on what real ails the Standard instead of treating the symptoms. This way job security will be assured and end this disruptive layoffs that has pushed many into depréssion.
Next Read >> President Ruto Raids Dynasties To Finance Hustlers