Veteran TV broadcaster Khamisi Themor has dìed. Themor, who worked for KBC radio and TV for decades presenting news, breathed his last on the evening of Thursday 29th September 2022 while undergoing treatment at the Coptic Hospital in Nairobi, according to information reaching BT newsroom.  He is survived by a widow, four sons and a daughter.
Themor was admitted to Coptic Hospital on Wednesday after complaining of stomach pains. Doctors suspected the problem to be a blockage in the large colon for which a surgery was undertaken. His condition, however, worsened on Thursday and was rushed to the High Dependency Unity where he succumbed at around 6:30 pm.
His voice evoked the authority that came with KBC during President Daniel arap Moi's authoritarian rule when the 1PM news was often used to sack government officials and or make cabinet reshuffles.  Kenyans remember not only his signature voice during broadcasts – that would often begin with "hii ni taarifa ya habari kutoka idhaa ya taifa ya KBC, Nairobi" – but also his conspicuous afro hairstyle.
Khamisi Themor had aged gracefully and listening to him evokes nostalgic memories for those who watched and listened to him during his hey days.
In an interview late last year, Themor said he joined KBC in the mid 70's and was at KBC when Kenya's first President Mzee Jomo Kenyatta dìed. "When we got the news that Kenyatta had dìed, senior government officials refused to take responsibility of the news," Themor recalled. "We had to look for away to announce it without attributing the information to anyone. We had to say "it has been announced by State House that Kenyatta is dèad (Imetangazwa na ikulu kwamba Rais Kenyatta amefariki".
See Also >> Kenyan Media Billionaire You Won't Find On Social Media
Themor says he was at the KBC newsroom when the information was sent in and actually wrote the Kiswahili version of Kenyatta's déath bulletin.
Themor, who maintained a humble demeanor rarely displayed by TV presenters these days, worked initially as a news director before getting into newscasting. At some point he was directing news when one evening the wife to one of the Kiswahili news presenters, Steven Kigumu, called to tell say her husband was unwell. "There was no one to read news and the chief news editor asked me to read," Themor said. "I took Kigumu's coat and tie and read the news and that is how I started reading news on TV."
Themor loved his job. Besides the fact that he did not have formal training apart from a short course in the US sponsored by USAid, he worked hard to be good at news writing and presentation. He rose to become head of translation at KBC newsroom.
Unlike the current crop of newscasters that is fond of 'cat walking' in the studio and making every effort to impress the day, back in the day, news reading was a serious affair with the anchors reading while seated, with serious looks on their faces.
"I took Kigumu's coat and tie and read the news and that is how I started reading news on TV."
He recalled his experience during the 1982 coup. "I used to stay in Amboseli estate. I didn't have ID so I didn't go to work for five days, because the ID was mandatory during the státe of emèrgency that was declared after the attempted coup. On the sixth day I was taken to work by GSU officers."
Themor revealed how KBC used to get directions from the office of the president on what to broadcast or not. When the airwaves were liberalized, he says, KBC started becoming more independent.
He said he mentored many young journalists from KIMC during his time at KBC. "It is good to be humble and that's what I tell upcoming journalists."
Read >> Kenya's Richest Church: Citam Has Most Generous Givers
In 2019, Themor was among KBC legends invited to get medals in recognition of their service at the state-owned broadcaster. "We were happy to receive more Legendary Broadcasters at KBC this afternoon. Karanja Kimwere and Khamisi Themor were presented with Medals of honour by KBC Managing Director Dr Naim Bilal," KBC said on its social media page.
Others in the Themor generation include Ngulamu Mwaviro,  Leonard Mambo Mbotela, Mohamed Juma Njuguna, Billy Omalla, Catherine Kasavuli,Raphael Tuju, Prof Joseph Nyasani, Salim Juma, Beatrice Marshall, Njoroge Mwaura, Elizabeth Obege, Elena Shiveka as well as Gladys Erude, Wilkister Muga, Ali Salim Manga, Jack Oyoo Silvester, Charity Karimi, Badin Mkusin, Anunda Sakwa, Jacob William Maunda, Ndinda Kasalu, Nzau Kalulu, Githombe Maina, Ken Walialu Walibora, Edward Kadilo, Odongo Wandago, Khadija Ali and Charles Omuga Kabisaye.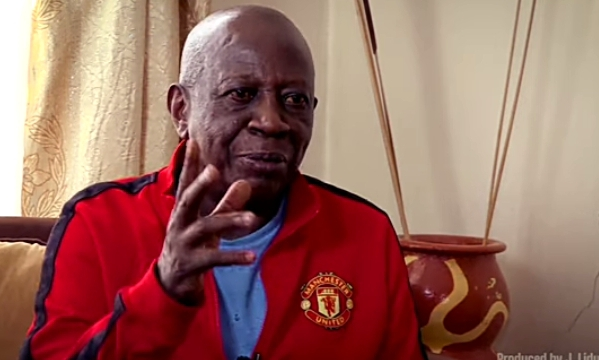 "News was news in those days because the newscasters were so engrossed in reading news that you could think they were already at the scene of action or they read news with gestures, while some shed real tears, when reading sad and emotional stories. Those were the good old days when all the children wanted to be newscasters. We knew the newscasters' names by their voices. If it was time of news to be read, there was a great debate on who was favoured that day to read news, but nowadays a newscaster can read news the whole month," Veronica Onjoro once reminisced in a blog post.
After news of Khamisi Themor's dèath filtered through, Kenyans responded by sending condolence messages, with some sharing their nostalgic memories. Dominic Maluki. For instance said, "Khamis Themor, this man never smiled while reading news on VOK television, the big hairfro and the sharp suits. Long live legend. You made us adore radio journalism."
Next Read >> Meet The Kakamega Tycoon Who Wants To Take Over Africa