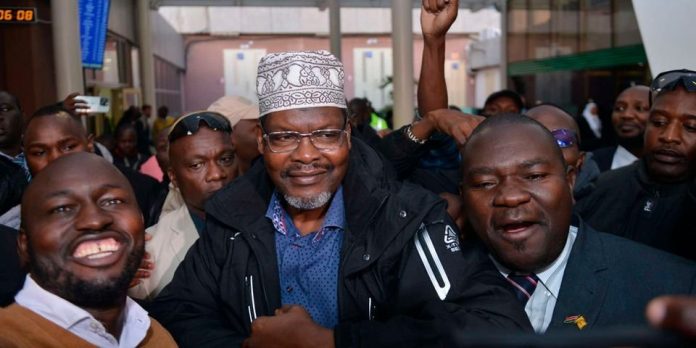 Miguna Miguna's return to Kenya after his unláwful deportation four years ago has been the whirlwind you'd expect. Before his deportation, the barrister and politician was famous for giving numerous media interviews and featuring on countless TV panels.
His no-holds-barred political commentary and staunch belief in the causes he supports made for great viewing, and ratings, as he takes on guests and interviewers alike. Unsurprisingly, therefore, Kenyans have been keen to hear from Miguna following his return – and he has been doing the rounds at various media houses.
Days after clashing with NTV's Joe Ageyo in a televised interview over his claim that former Prime Minister Raila Odinga received cash to abandon his electoral justice push, Miguna is again at odds with what he calls the 'githeri' Kenyan media – with Standard on the receiving end this time. This is after, according to Miguna, the media house requested him to sign an indemnity agreement moments before a scheduled interview on Spice FM, in a bid to shield the media house from any legal actíon that might arise from remarks made by Miguna on their platform.
Miguna shared a copy of the form online, slamming the media house associated with KANU party leader Gideon Moi. While what led to the unusual request is unclear, it is instructive to note that the company has a history with Miguna. His appearance on Jeff Koinange's show would lead to the show being dropped after outrage over comments he made on Nairobi women rep Esther Passaris.
Miguna's interview at rival NTV – in which host Joe Ageyo insisted on Miguna offering evidence of his claims regarding payments made to Odinga – might also have left decision-makers at Standard Group feeling extra jittery.
But, ultimately, the truth is the political class controls much of the mainstream media in Kenya, and newsrooms are therefore subject to the considerations and interests of their owners. Research by OdipoDev in 2018 found that a majority of TV stations, newspapers and radio stations in Kenya are either either owned by politicians or have owners closely affiliated to politicians.
Countless times, stories have been pulled for touching on the wrong toes. Unpredictable, articulate individuals on political missions such as Miguna might therefore be good for TV ratings, but not TV station owners and their associates.
Tom Japanni, Standard Group General Manager – Radio Products, claimed that Miguna had earlier agreed to sign the indemnity form before a last-minute change of heart. Miguna, however, denies having been made aware about the form until minutes before the interview.
"I think it's very unfortunate he refused to sign. We had spoken earlier on Friday and made it clear that he had to sign the indemnity form," Japanni told Standard Digital.
"It is not that we don't have confidence in his articulation of issues. He accepted and said there was no problem until he came this morning and refused to sign," he stated.
Miguna disclosed that he had initiated legal actíon against Standard over the matter.
"I've given instructions to my advocates to sue Standard Group for defamation. I never agreed to sign the indemnity form. Not on Friday. Not ever. I never spoke with anyone from Spice FM or the Standard Group before 7:02 AM today (Monday) when they tried to impose the íllegal conditions," he stated.