So many people have told their life stories through books, but very few have done it from a religious angle. The supernatural power behind their success, God, is rarely acknowledged. But for Caroline Mbanacho Oduol, a finance expert, things are different.
She has walked the murky waters in the workplace, where most people shy off revealing their religious orientations. She has tried her best to be the only shining light in the workplace despite resistance from colleagues. She never thought that she would become an author one day, let alone being read globally.
Through her book, 'Experiencing My Faith in the Marketplace', Ms Oduol explains how it looks and feels to be 'faith active' at work. She dissects the dilemma most young people face in revealing their religious stand. The book has become one of the bestselling books on leading online book stores, Amazon, Xulonpress and African Book Hub.
Selling our souls
"I just journaled it down for the purposes of remembrance," Ms Oduol said during the book launch in Nairobi on 18th August 2017, "but it has ended up being one of the most appreciated works worldwide."
Through her book, which tells of her story of Christian life in the workplace, Ms Oduol suggests that professionals who are destined to be in the corporate world can be happier and more productive by giving their best through faith. "We can achieve top results without compromising our faith or selling our souls," she says. "Those who are created to be business builders and entrepreneurs, employing others, can invite those employees to exercise their faith in that environment."
In one of the instances, she tells of how she turned down a job offer, even after making it in the interview and being allocated a workstation. It took her two days of praying God to help her make the right choice. Eventually, she rejected the offer, the lucrative salary and allowances notwithstanding.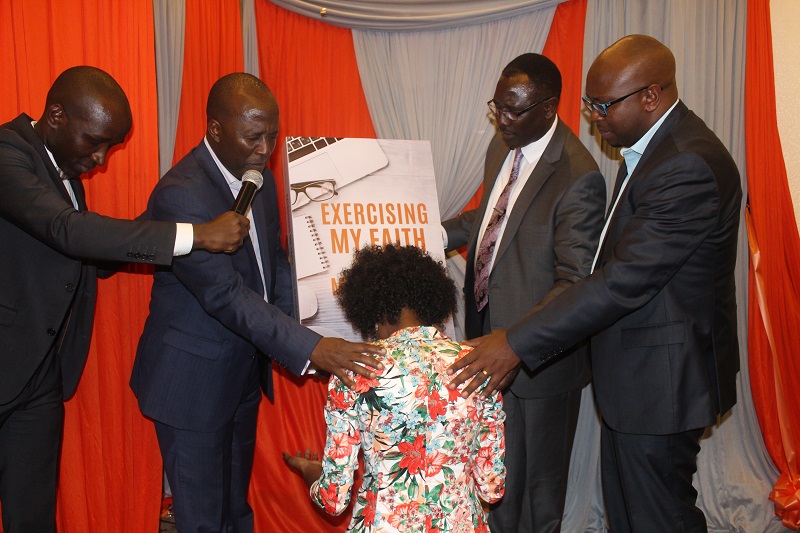 "It is always hard to let go of things that have high monetary value attached. This was one of them. The cash and benefits were tempting, but I was not at peace with it," she remembers.
A couple of months later, the company closed down. Faith at work there.
Reverend Julius Wainaina, her Pastor since childhood, describes Ms Oduol as a lady of faith, who would not let anyone water down what she stood for, in the most polite and convincing manner.
Having been brought up in a family of nine siblings, all girls, Ms Oduol throughout the book writes about love in the family, connection of God in the job market, the best way to cross-over from one job to the other, Christian culture and choice.
Most Christians leave their faith at the door of the workplace, but this should not be the case. It should always be part of you, wherever you are, whatever you do, she says.
Being a first time author, Ms Oduol faced a challenge in identifying the right publisher before settling for Xulon Press. She also did not know the right way to present her content, because she feared hash reception that would kill her aspirations at inception.
The CEO of Global Hospitality Resources, Mr Robert Harp, terms Ms Mbanacho's book as one of the best guides in the workplace not only for employees, but also for employers seeking to understand the hidden treasures of religious life for fear of dismissal. "In 2016, I met Caroline at a Faith at Work summit in Dallas. Her story will be an encouragement to those seeking to serve the Lord in the market place."
Carol Kinyanjui, a former colleague of the author, describes her as a silent fighter whose every prayer is honoured by God.
Pastor Philip Kitoto, who writes on relationship matters in the Daily Nation, described Ms Oduol's decision to put her Christian and professional journey in writing as one of the boldest steps in her life. "Life is what you say you want to make it to be, and Caroline is living her true life through the book and her interactions," said Kitoto.
Ms Oduol recently moved to Cincinnati in Ohio, United States, with her husband for official duties. She is the founder of Imani Works, an upcoming online platform that provides an avenue for believers to share their workplace experiences.