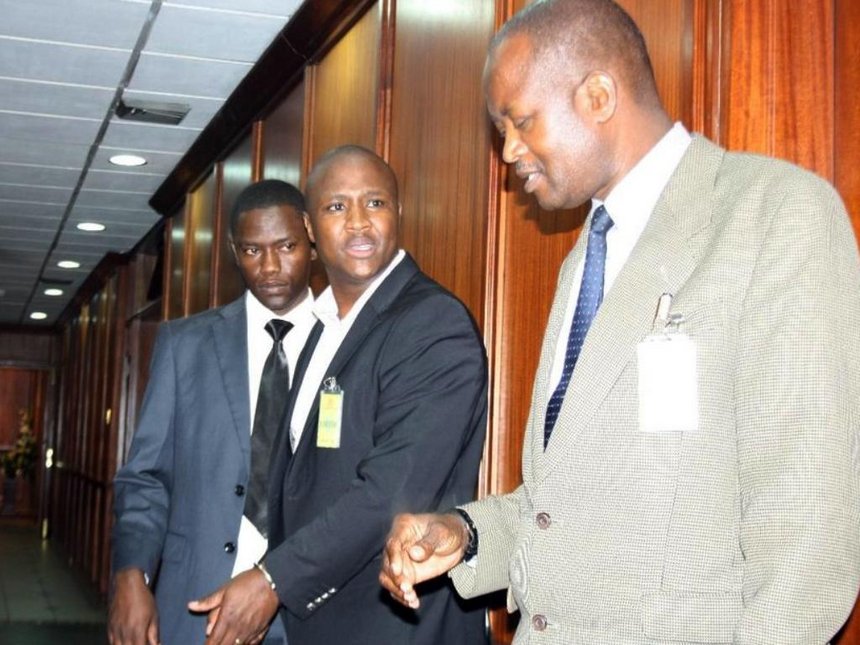 Embattled Nandi Hills Member of Parliament Alfred Keter and two others who were arrested at the Central Bank on Friday while presenting  fake Treassury Bills were arraigned in court this morning after staying in police custody for four days and released on bond.
Keter, Madat Saburali and Johnstone Arthur Ingolo Sakwa, who are  directors of Desai Limited, were charged with  forging a Ksh633 million Treasury Bills at the Central Bank of Kenya (CBK).
The three were arrested at the Central Bank of Kenya (CBK) headquarters in Nairobi as they waited to meet the CBK Governor Patrick Njoroge. They pleaded not guilty to charges of conspiracy to defraud, making false documents, forgery and uttering false document.
Chief Magistrate Francis Andayi allowed the MP unlimited access to his phone but only in the presence of detectives at the Directorate of Criminal Investigations (DCI) when he will be reporting there once a week.
Keter through his lawyer applied to have his phone conversation with the CBK governor availed. Andayi directed the lawmaker makes formal application to Safaricom regarding Keter's conversations with Njoroge since November 2017.
"Lawyers should be granted access to CCTV footage showing the time they entered CBK premises, conversations held with Njoroge until time of the arrest," said Andayi.
The prosecutor requested the court to deny bond to Saburali for allegedly possessing an ID belonging to someone else with the same particulars and that his true identity is unknown.
The Court ruled that the evidence is not sufficient to deny an accused person bond.
The magistrate released the three  on either Ksh2 million cash bail or Ksh 5 million bond each and  directed the three to report to DCI headquarters once a week.