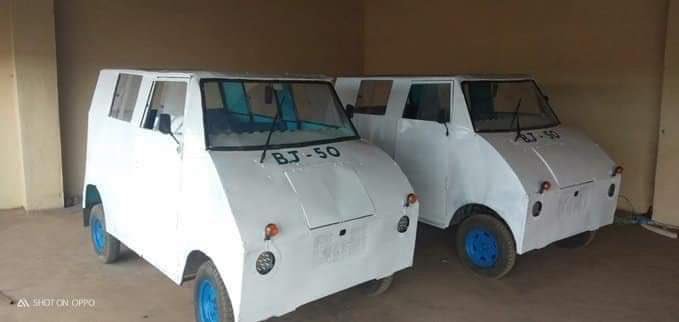 Laikipia county unveiled its own manufactured seven-seater tuk-tuk named BJ-50 but Kenyans on Twitter (KOT) quickly rubbished it because of its physical appearance. Well, the car is not as beautiful as Japanese models but with support and investment, it can be made better.
The big four agenda focuses on food security, manufacturing, affordable housing, and healthcare but the BJ-50 only contributes to the manufacturing sector of it. Kenyans should at least give some credit to Samuel Gatonye, a Nyahururu-based self-trained innovator who is the brain behind the innovation.
Samuel must have invested a lot of time and money in the project before Kenyans got to see it at the sixth annual devolution conference held in Kirinyaga county. If you first knew about the tuk-tuk on social media then you have already rubbished it as it has not been portrayed positively by KOT. To realize our big four agenda, we have to start from somewhere.
Follow the tweets about the cars and you will realise that they are more humorous than they are supportive of the idea. For Samuel to come up with such an end product, you can bet he went through a lot and at least deserves some positive comments.
The only thing that Samuel needs in order to make the car a success is financial support for a good end product. Critics about the car are heavily based on the appearance as it is not as appealing to a buyer as cars ought to be. In Samuel's defence, he had to work with what he had hence the poor finishing.
The BJ-50 is a tuk-tuk more than it is a car and can be a great addition to Kenya's economy if used well. The main reason for the invention is to have it serve as a public service vehicle because it carries more passengers than a tuk-tuk. Ordinary tuk-tuks carry a total of five passengers which is a low figure compared to the heavily criticized BJ-50.
With a speed limit of 70 kilometres per hour, the BJ-50 is no different from ordinary tuk-tuks except the fact that it can comfortably carry seven passengers. Tuk-tuks are not normally used for long-distance travel because of their low-speed limit and the BJ-50 is to be used for the same purpose.
According to an article on the Laikipia county government website, the car has already received 26 orders and it might just be Kenya's first own manufactured sell if the trend is emulated. The only reason the innovation was showcased at the devolution conference was to look for investors who will help in making it better.
The car has not only received negative comments from all Kenyans as some have applauded the invention saying it is a try. At the devolution conference, Laikipia's car received heavy critic because it stood out. Donald Kipkorir, a lawyer and managing partner for KTK Advocates, praised the innovation on Twitter saying it is a step ahead.
"Truly proud of Laikipia County which hosts my Holiday Home for its Car Manufacturing Industry … The Media has been unfair praising other Counties & ignoring Laikipia .. Now you know which County is ahead. Congratulations Governor," he tweeted.
Read: S*****l of guests paying to appear on talk shows
The vehicle is just but a  protege and can be made better if invested in. The price might also be lower than the mentioned Ksh 450,000 if it gets huge investments and manufactures in bulk.