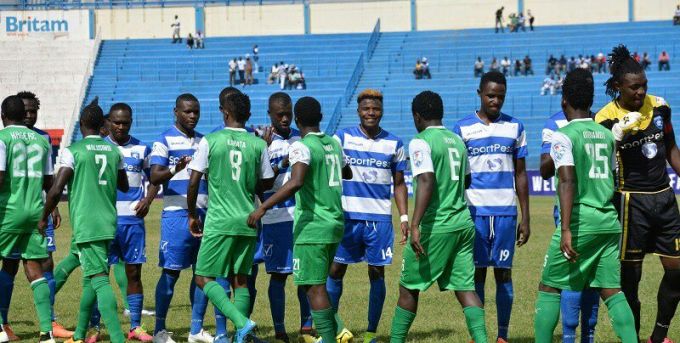 [dropcap]G[/dropcap]or Mahia is only a match away from claiming the Kenya Premier League title but has a battle royale in its hands as they are set to lock horns with arch-rivals AFC Leopards.
It is the second time this season that the biggest rivals in Kenyan Football will face each other in what is expected to be a thrilling match. This edition of the Mashemeji derby, however, means a lot to both teams than it has in a relatively long time.
K'Ogalo is on the verge of winning the KPL title and a win against  Ingwe will see the league leaders crowned champions at Kasarani Stadium this weekend. Ingwe, on the other hand, is willing to do everything in its power to draw Gor Mahia further from the title. If anything, Ingwe fans will be heartbroken if Gor wins the league at their expense.
For Gor Mahia, the importance of winning the derby overshadows their title chase. Gor on Wednesday had a chance to win the league title but they could not find the back of the net, losing to Nzoia Sugar FC. Hansell Ochieng's 34-minute goal was all that Nzoia needed to condemn the toothless Gor Mahia.
Hassan Oktay's approach towards the Nzoia Sugar game proved that K'Ogalo is indeed prioritising the Mashemeji derby over the title chase. Oktay rested almost the whole squad to have them fresh for Sunday.
Oktay rested key players such as Francis Kahata, Harun Shakava, Philemon Otieno, Jacques Tuyisenge and Sheffik Batambuze. Technically, Oktay rested the entire first 11 as not so familiar faces graced the Mumias Sports Complex turf for K'Ogalo.
Coincidentally, Casa Mbungo also rested a big chunk of the Ingwe squad in their match against KCB. AFC suffered an identical loss to that of Gor Mahia as KCB's Kenneth Owino scored on the stroke of halftime to silence Leopards.
Mbungo, on his part, rested Paul Were, Kayumba Soter, David 'Cheche' Ochieng, Whyvonne Isuza, Brian Marita and Vincent Oburu. Basically, the Rwandan Tactician rested the crucial member of his squad. Isuza, Were and Cheche has been crucial in Ingwe's resurgence.
With crucial players rested ahead of the Mashemeji derby, both teams will be fighting for victory on level ground. Both Ingwe and K'Ogalo are expected to bring their A game into the fixture that is arguably the most crucial in any season.
It will indeed be a Mashemeji derby to remember. Ingwe does not want to give Gor the title whereas Gor wants to win the Mashemeji derby and the league in one match for bragging rights.
Read: Why CMA slapped insider trading suspect with Ksh208 million fine
This despite the fact that Gor is still sitting pretty at the top of the log with 66 points with four matches to go while Ingwe is in position 9 with only 39 points.