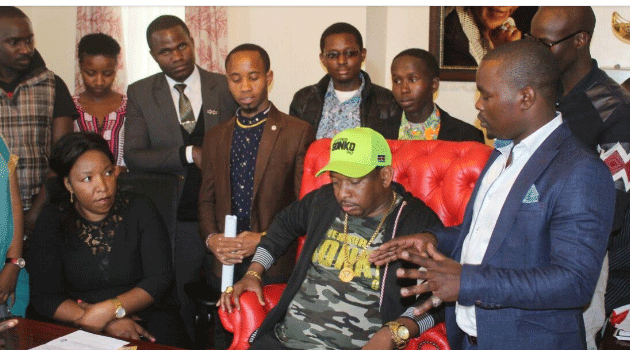 Businesswoman Agnes Kagure is the new patron of the Kenya University Students' Organisation (KUSO), following elections held on July 7th in Nairobi.
The elections were conducted during a meeting of the association, also attended by Nairobi Governor Mike Sonko. In her maiden speech, Ms Kagure urged the students to be keen on having representations in key institutions involved in their affairs.
"You should push to have representation in some of these institutions that run affairs that affect you," she told the students at the inaugural meeting, also attended by other student leaders elected to key posts of the organisations, including Antony Manyara, who heads the University of Nairobi Students Association (UNSA), who was elected KUSO Chairman.
Kagure was referring to organisations like the Higher Education Loans Board (HELB) and the Kenya Institute of Curriculum Development (KICD) which are actively involved in students affairs. During the meeting, the student leaders shared ideas on optimal student engagement with the Government, private sector and the Kenyan society as a whole.
RELATED: KRA DISOWNS TAX CLAIMS AGAINST AGNES KAGURE
"You should air your grievances in smart ways and not through violence," she told the student leaders, in apparent reference to strikes in universities that often turn violent. The knowledge the students acquire should be a clear pathway to employment, particularly self-employment," she said.
For this to happen, she said, students should remain innovative and keep up with modern technology, Modern Agribusiness, Ecotourism and Creative Industry among others.
Apart from Manyara, other student leaders elected are Neema Sheikh from Multimedia University who was named Deputy President, Tisa Moses from Moi University who was elected Secretary General, Muthoni Mburu from Kenyatta University who was elected Treasurer, Wangila Wabomba from Meru University the Organizing Secretary among others.
SEE: DPP SEEKS TO WITHDRAW FORGERY CASE IN KAREN LAND CASE
KUSO has been in existence for four years and draws active representation from 10 major universities, with membership of approximately 300,000. The organisation's main achievements include addressing suspension and expulsion cases in universities, HELB delays and allocations to students and addressing social ills and governance issues affecting students.