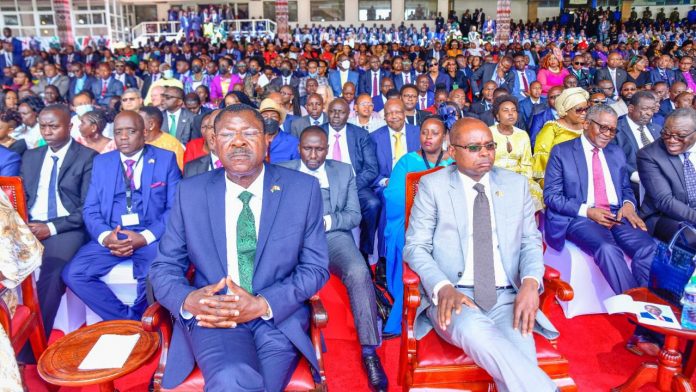 Moses Wetangula, the new Speaker of the National Assembly, has opened a new battle front with the Salaries and Remuneration Commission (SRC) as he assured newly-elected Members of Parliament (MPs) that he would ensure various scrapped allowances are restored for them to effectively deliver on their mandate.
The Lynn Mengich-led SRC in July eliminated sitting and mileage allowances for Members of Parliament. The SRC also scrapped all state officers' car grants as part of the review. The body, mandated to ensure that Kenya's total public compensation bill is fiscally sustainable, noted that the move would save Kenyans over Ksh1 billion a year in plenary sitting allowances alone.
The SRC notably also increased the lawmakers' base pay by Ksh134,000 to Ksh710,000. The review was intended to cut the public sector wage bill, borne by taxpayers, which currently stands at Ksh930.5 billion per year.
Speaking to lawmakers during their induction on Monday, September 19, Wetangula disclosed that the Parliamentary Service Commission (PSC) had been engaging the SRC and expected to make further announcements by the end of the week. He expressed confidence that the MPs would receive the allowances enjoyed by lawmakers in years gone by.
The Kenya Kwanza administration has so far maintained that it has inherited a 'dilapidated economy' and near-empty public coffers. In an NTV interview on September 18, Deputy President Rigathi Gachagua stated that delivery of their promises would take longer due to the financial situation the country is in. The return of car grants and sitting allowances, a heavy burden for taxpayers, is sure to spark a storm and raises various questions.
READ ALSO>>Rent-to-Own: Revisiting Ruto's Mega Housing Plan
Coupled with the fact that the Ruto-Gachagua duo was elected on the promise to prioritize the needs of the lowest rungs of society in decision making and resource allocation, the pronouncement by Wetangula has brought into sharp focus what exactly the promise of radical economic transformation under Ruto's Kenya Kwanza Coalition, where Wetangula is a Principal, looks like.
Announcing the review in July, Mengich cited public participation, Kenya's financial status, and international benchmarks among factors that contributed to the review. The scrapping of allowances and car grants was positively received by large swathes of society.
"The review took into account Kenya's economic performance for the financial years 2020/2021-2021/2022, as well as affordability and fiscal sustainability," Mengich noted at the time. She also cited a 2019 ruling by the Employment and Labour Relations court urging for the deconsolidation of the remuneration for State officers.
Wetangula, however, argued that MPs in Kenya are everything including the 'local ATM'. He maintained that they need to be facilitated to deliver on their mandate.
"I was having a meeting with SRC on your behalf and we have called them. Before we finish the induction, we will make a few announcements," Wetang'ula told MPs.
"Nobody in his right senses will interfere with your car allowances, mortgage, mileage and everything that belong to you."
"Obviously we live incrementally we don't live in reduction, so our engagement with SRC is to remind them that as they go about their constitutional mandate they should be alive to the fact that issues that perks that members have been enjoying in the last several Parliament should not be unnecessarily interfered with."