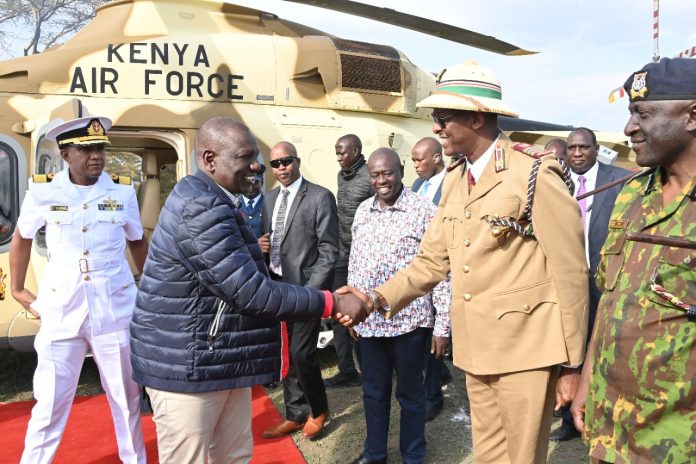 Housing is among topics President William Ruto and Deputy President Rigathi Gachagua have addressed in their early days in office – keen to assure Kenyans that they will deliver on their campaign promise of making home ownership affordable and accessible to all.
On the campaign trail, Ruto touted his plan stating that it would massively increase the number of home-owners in the country – explaining that his administration would engage property developers to offer rent-to-own schemes allowing tenants including youth, small traders and low-income earners to become home-owners. He stated that tenants would pay rents of between Ksh5,000 and Ksh10,000. Over the past few days, Ruto and Gachagua have doubled down on the promise.
"We will partner with home developers so that they construct houses which are cost-friendly for the youth. That way the tenant who pays rent between Ksh5,000 and Ksh10,000, the money will be converted to a mortgage."
"After about 10 to 15 years, the house will be under your name because we want to have a programme where the youth can own homes across the country," Ruto told a rally in Uthiru, Kiambu County on June 5. In an NTV interview on Sunday, September 18, Gachagua stated that the housing plan was among the top items on the agenda in the President Ruto-led meeting with elected leaders from the Kenya Kwanza coalition in Naivasha to plot their legislative agenda.
"It is the dream of every working person in the urban centre to own a home one day. So we are talking of houses (costing) between Ksh3 million to Ksh5 million which you can pay by having a mortgage for 20 years of between Ksh10,000 to Ksh30,000 which is equivalent to what people are paying for rent," he stated.
Gachagua further stated that they would move to plug the deficit of 250,000 houses a year thus also creating direct and indirect employment including in the construction sector. According to the World Bank, Kenya has an annual housing demand of 250,000 units against an estimated supply of 50,000 units, culminating in a housing deficit of 2 million units, or 80% deficit.
When Ruto first disclosed the plan, critics in the rival Azimio coalition questioned its viability, and cited concerns that property owners and developers could be forced to facilitate the schemes at unfavourable rates. They also claimed that the program would be vulnerable to graft.
At the same time, Gachagua argued that the delivery of some of their promises would be delayed – claiming that they found public coffers in a worse state than they expected.
During a meeting with Kenya Kwanza leaders in Karen two days after the Supreme Court upheld his election victory on September 5, Ruto also spoke on the housing plan. He referenced houses built in Pangani, Nairobi by the government under the former administration's affordable housing plan under the Big 4 agenda. He has previously blamed the handshake between ODM leader Raila Odinga and former President Uhuru Kenyatta for derailing delivery of the Big 4 agenda.
Ruto claimed that the plan to have affordable mortgages was first floated in 2018 but overcome by political interests.
"In the next two weeks, I want you to pay a visit to Pangani where we have a model programme for our housing. We have actually built a house for Ksh1 million. A good house with a bedroom, sitting room, kitchen, toilet and shower. The mortgage for buying that house is Ksh5,000 per month. It is the only programme where rent is going to be higher than mortgage."
"If you were to rent that flat, you would probably pay Ksh15,000 or Ksh20,000 but it is going to cost paying mortgage Ksh5,000. A two bedroom, Ksh10,000 for mortgage," the President argued.