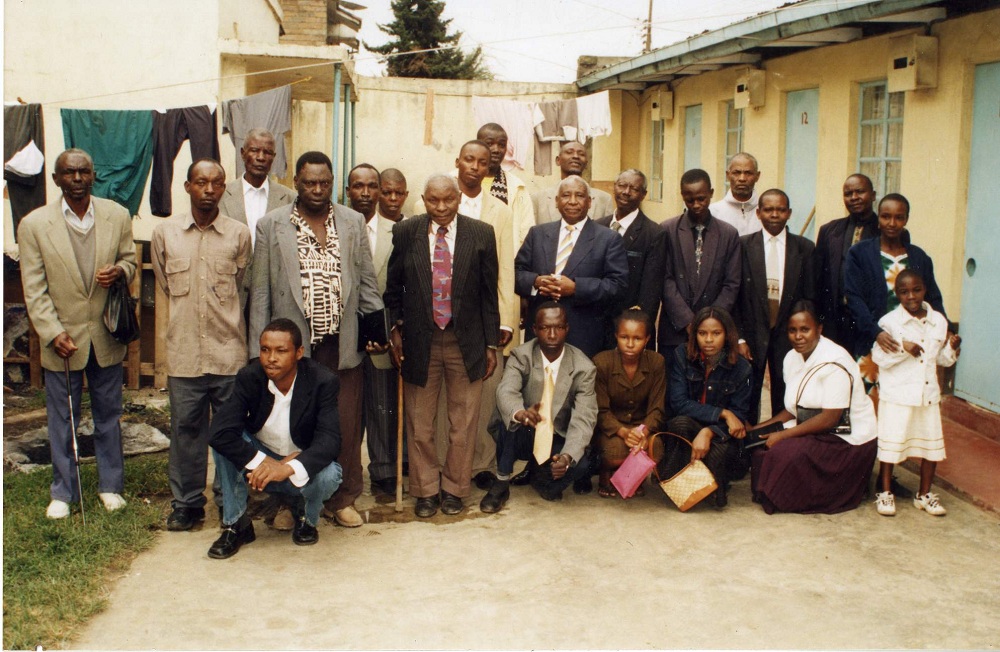 "The intrinsic value that God has assigned for the smart, Musso-driving bank Executive who lives in Runda is the same value He assigns for the drunk, foul smelling gunny bag totting man living on the street; Jesus Christ gave his life equally for both their souls." (Bishop Absalom Ndungo Njeru, 2017).
Psalm 68:5-6 "A Father of the fatherless and protector of widows is God in his Holy habitation; God settles the solitary in a home; he leads the out the prisoners to prosperity, but the rebellious dwell in a parched land."
If there is one man who has dedicated his life and wealth to be God's executive arm to fulfill this scriptural injunction to the letter, it is Bishop Absalom Ndungo Njeru, 73 of the Kenya Redeemed Church, Kayole, Embakasi Sub County, Nairobi County.
Ndungo uses the proceeds from his Compassionate Printing Press business and his clergyman's allowance to provide a place of refuge where elderly men, ravaged by prolonged abuse of drug and alcohol which turned many of them into street bums, they can be lovingly nurtured back to the vitality of life and usefulness.
It all started 21 years ago in 1996 near his East Leigh residence when Bishop Ndungo met one toothless man, a Mr. Chege, totting a smelly oily bag, and also smelling foul begging for a few coins.
 "When I met Chege, I asked him: "Do these few coins make any difference to your life" to which he retorted "If they didn't make any difference, I would have died a long time ago".
Instead of donating the alms, and out of what Bishop Ndungo calls 'uma andu' (great concern for people, kindness), he invited him for a cup of tea at a nearby café while he with great love and empathy listened to Chege's tale of woe.
To Bishop Ndungo, who has been preaching the Word of God since 1969, it sounded like a script out of the Gospel of Luke 14: 3 which relates the story of the prodigal son who so squandered his inheritance on the good life that he became a 'chokora mapipa', eating the pigs left overs.
Ever eager to win a soul for his Lord, Ndungo was happy when his message was received and accepted; Chege had become a brand new person on the inside, and it was important to remove him from likely temptation.
"There and then, I offered him a place to live at my printing business premises which was directly adjacent to our house," says Bishop Ndungo, adding that he also gave him his own clothes, as had happened to the Bible's prodigal son.
Chege became a staunch believer and joined the Church at Kayole; he was to get employed by Faith Wanjiru of Imani Children's Home as a cook. Bishop Ndungo had paid for Chege's dentures, he was quite the eligible Bachelor.
"When Chege found a woman to marry, I negotiated his dowry and paid it; and then I joined them in Holy Matrimony," says Bishop Ndungo who adds that the couple lived 'happily ever after' for a number of years before Chege passed on.
Drinking buddies
Chege's former drinking buddies came to look for him; the same story was replicated over and over and over again; "Upto now, I have conducted five weddings for the people I have rehabilitated at this place, and one more is coming in December," says the Bishop, adding that one other man has died since, while another one reverted to his drinking ways.
Bishop Ndungo says since his business premises is close to Mathare slums, every so often he would find that strange men had been ferried by Mkokoeniand literally dumped outside his gate.
On close scrutiny, he would find that they were unwell; on him had been forcibly laid the responsibility of 'the Good Samaritan', he was expected to take them to Kenyatta National Hospital and pay their expenses; and when they were discharged, provide them with a conducive environment for full recovery.
"I had two such men who were over 80 years of age; one man tried to repatriate back home but he was rejected so I told him, "you are my son, remain here with me" and they've been living here at Greater Concern Life Ministries for the last 20 years," says Ndungo.
Ndungo has deep concern for the 'souls of the lost', but the street men were for a long time his major concern. His style of rehabilitation is teaching them the Word of God, group counselling and one on one counselling.
But what is unique about his centre is that the cost of the rehabilitation process which can take years is born wholly and personally by Bishop Ndungo.
"Currently, we spend between Sh 150,000 – 200,000 which pays the Sh 42,500 (including my former residential house which is in the compound), utilities, food for the 38 people living here, salaries for two teachers, a caretaker a and a watchman," says Ndungo. "I still do printing jobs, and this plus my Clergyman's allowance is what caters for the home," he adds.
Ndungo says he realised quite early that the responsibility of rescuing and rehabilitating grown up men is not very appealing to many people; he says although his family and church are supportive of this ministry, and do come in when he request them to, he decided it was his personal assignment from God.
This he derives from his understanding of Luke 14: 12-24 where Jesus relates the story of a king who prepared a wedding reception for his son; when the preparations were ready, he sent to inform  his revered guests that the meal was ready, but they all to a man declined the invite over flimsy excuses. Incensed, the King, so it is recorded sent his servants 'to the streets and lanes of the city, to bring the poor and crippled and blind and lame. Jesus, drawing from that lesson, had admonished his followers "when you have a party invite those who can't invite you back and thus pay you," for you will be repaid at the resurrection of the just.
'Marital asylum'
This scripture undergirds his commitment to the mission because he does sometimes get overwhelmed both by sheer enormity of need to heal the deep pain people are undergoing compared to his ability to assuage it all.
For a number of years, Ndungo realised that women have started to seek 'marital asylum' at the GCLM centre; most often because alcohol and drugs has destroyed both their financial base and their marriages; most of these women, sometimes with their children have come knocking at his door, sadly, with limited space, he has had to turn some away into the 'dreary night'.
"Sometime back I was called to Mama Lucy Hospital to take Ms Mary Muthoni* (name changed for protection) because she had delivered through Caesarian section but she had nowhere to go; I brought her here and we nurtured her back to health; she lives here with her child and house help," says the Bishop.
Currently, there are five women with their children, and one is almost due to give birth.
Overwhelmed by this burden on his shoulders, Bishop Ndungo has on many occasions nearly closed the place; once when he was determined to do so he had a dream.
"In it, I was driving a big lorry and I arrived at a dumpsite which was on fire and people were cheering gleefully. When I checked what was burning, I saw it was some 'chokora' (street children); I dived in, rescued them and put them in my lorry before speeding away," says Bishop, adding that this feeling does assail him from time to time.
Ms Muthoni recounts her life, which fits the same prodigal son script; though it is another who was the prodigal.
"I had a good business but somehow my finances dwindled until my house rent was in arrears. I delivered my baby at Mama Lucy Hospital and while there, I shared my plight with a nurse who called Bishop to my rescue," says Muthoni, adding that Bishop Ndungo later on paid her entire rent arrears so could begin life on a new financial slate.
"When I came here I was in deep pain; I could only speak to Bishop but after the daily programs, my self-esteem has returned and I though I have found a job, Bishop has allowed me to stay here with my child at no cost until I have organised myself to rent my own premises," says Muthoni.
Ndungo, who relocated to Savannah estate, Embakasi Sub County so as to be near his Kayole Church, is a frequent visitor at the Mama Lucy Hospital; on one occasion, he coincidentally met Mr. Samuel Thamo Kaburu who had broken both his leg and hand in a drunken bar brawl. It is almost like Bishop Absolom's psyche is responsive to men with a tale of woe occasioned by abuse of alcohol and drugs; that was in 2015.
He volunteered to push Kaburu's wheelchair until he was examined by the Doctor; and when his limbs were plastered up, took him in his vehicle, destination GCLM centre.
"I resisted, but after two weeks I called him to come for me; he was my mother's long time acquaintance, and she was happy to see him come for me," says Kaburu.
He says: "Alinileta hapa Great Concern, niliombewa, nikakumbali Yesu, nimekaa rehab paka sasa hii; mimi ni caretaker wa Kanisa la Eastleigh. Kutoka 2015, nimekaa hapa na sijalipa kitu (He brought me here to Great Concern; I have been living at this rehabilitation centre since then and now I'm the caretaker at our church in Eastleigh. From 2015, I haven't paid a coin to live here)
Kaburu says his two brothers, Peter Gatongo, with his daughter and David Mwaura have also passed through this centre. "Kusema ukweli hii ni kambi ya Mungu; kuna Mtumishi wa Mungu, na zile biashara yeye anafanya anahushisha Mungu. Askofu anapenda kuelekeza watu kwa Mungu (I tell you truly this camp belongs to God; Bishop here is God's servant and everything he does is guided by God; he also directs our attention to God. He is God's priest.)
Spiritual oversight
At 73, Bishop Ndungo has already mentored two young men, dubbed 'Walimu' to assist him with the daily running of the centre, while Pastor Samuel Ambuka assists him with providing spiritual oversight to the residents.
One of them, Mwalimu Charles Muchugi is not only passionate about rehabilitation work; he has a Degree and a Masters in Religious Studies with a major in Greek (New Testament) Scriptures from the Kenya Christian Institute of Practical Ministry at Kangemi, Nairobi.
He also later studied for a post graduate certificate in Behaviour Transformation, and was employed at the Institute as a counselor. He says his colleague at the Institute Mr. Lewis Muraguri, a Motor Vehicle Mechanical Instructor who had volunteered to teach Mechanical courses to those being rehabilitated brought him to Bishop Absolom's center.
"Knowing me as a counselor, and my passion, he knew when I saw these people, it would strike a chord in my heart and it actually did," says Muchugi, adding that he volunteered to visit the centre every Wednesday for counseling for a number of years until 2005 when Bishop Absalom took him in on a permanent basis.
Muchugi says part of their programme involves a fellowship, reading the Bible and group counseling in the morning hours. In the afternoon, they train their charges on practical skills like making soap, and bead work so that when they are released back into society, they will be able to engage in income generating activities so that they don't relapse into the denigrating habits.
Commenting on their rehabilitation style, Muchugi says: "We saw the government spend thousands of shillings to rehabilitate alcoholics but stopped after a brief period. The rehabilitation at this center has been uninterrupted for 21 years since 1996, yet only one person (Bishop Absalom) has been supporting it.
He adds: "If the Government can partner with us who have engaged in rehabilitation work for a long time and have been tested and stood the test of time, we can help in the rehabilitation of alcoholics, drug addicts and habitual offenders."