Josiah had always hinted to me the sinful idea of going to a strip club, euphemistically called the 'Gentleman's club'. For long, my Christian nature highly repulsed that temptation. The wild side at long last won. Curse the devil.
After several ground and internet surveys, we picked on Klub Bavon, one of the Best Nairobi strip clubs. It unashamedly stands on Keekorok Road in the intestines of Nairobi downtown, opposite her other sinful sisters such as Apple Bees and Liddos. This is zone of licensed debauchery. Besides the arrogant and ruthless kanjos, such places are the reason Nairobi is termed the "sinful city under the sun".
On a Friday night, we shyly went up the flight of stairs leading to the club. Two mountains of human beings, attired in black suits blocked the entrance. Their faces looked like military weapons. Their large noses kept dancing up and down as if sniffing for grenades.
Nairobi by night
We parted with three hundred shillings each before they let us in. Still harbouring remnants of my morals and Christian conscience, I silently nursed my guilt and shame as I walked in. Josiah, on the other side, was most excited. Calm and unafraid, you would think he was one of the patrons of the club.
There were very few people in the club. We were puzzled at first. The amateur in us had arrived at a strip club at 7:30 pm. Not even in normal clubs do folks arrive that early.
"What will you have?" asked the waitress.
"Fanta baridi…kubwa" I responded.
"Sprite,"' Josiah added.
She seemed surprised at our orders. But what had she wanted us to order, anyway?
At around 11pm the club was packed full.The rich patrons of debauchery with their potbellies crawled into a particular room with a VIP tag at the door for the private shows. The rest of us commoners were consoled with our regular positions.
Young beautiful ladies sashayed under the neon lights while taking turns making unimaginable moves at the poles. Before I forget, they were naked, and I mean naked.
I had never seen anything like this.
After drowning our sodas we sat back to enjoy. However, the mean looking men in black suits kept looking at us with evident malice. Their big eyes seeking and restless. One of them approached us, looked at the empty bottles then at our faces. He did that thrice before growling, "Majamaa, buy drinks ama niwatupenje (guys, buy drinks or I throw youout)."
We were shocked. Had we not just paid entrance fee? Again, with our village naivety we never knew that it was standard culture that one had to constantly order drinks.
Based on ours means, we ordered two more sodas sold at a very exorbitant price. We silently agreed to sip the sodas after every 30 minutes, lest we gulp them down and risk being thrown out.
"Why is none of these girls coming to our table?" I asked Josiah as we looked around.
Apparently, those beautiful ladies only walked to the tables that were flooded with expensive drinks, shaking their naked behinds on the laps of the excited men. Lap dance it's called. Shoeless and penniless peasants like us were ignored and left to embrace our bottles. The injustices done to the poor ….!
At 12:30 am, the DJ screamed through the speakers that the show had just begun. A few other obscenities rushed out through the very speakers in an effort to hype the girls. We were at one of the best Nairobi strip clubs.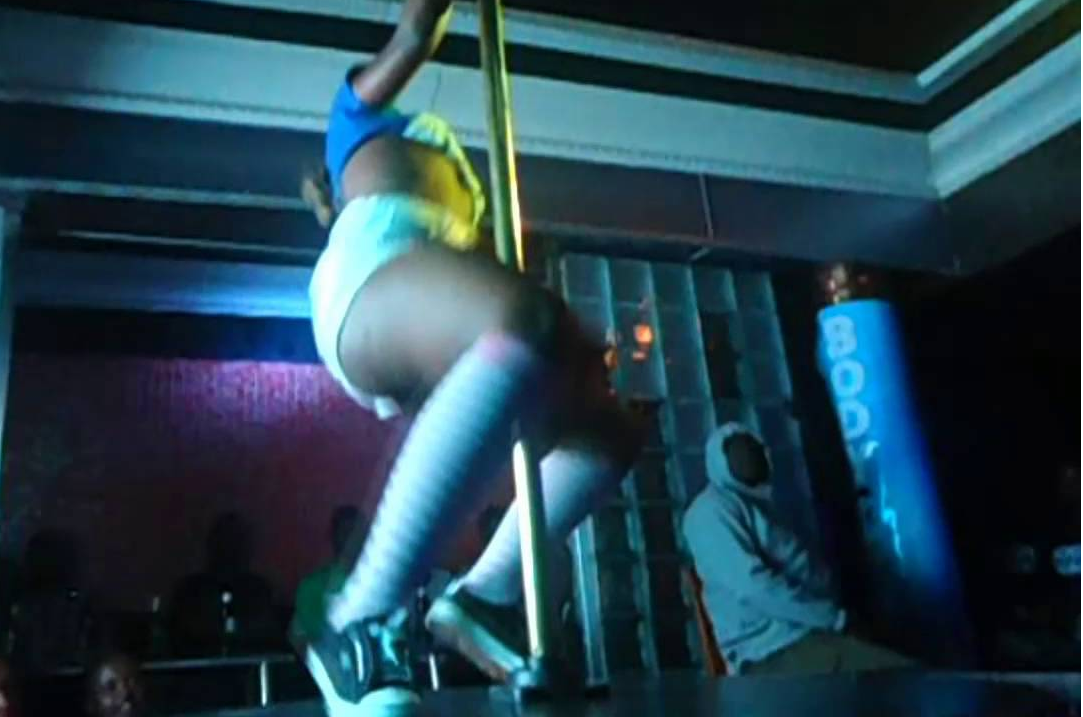 On the pole near us, one particular stripper kept wriggling her naked behind in a very extreme manner. Each wriggle rhymed the fast beat of the music. I have never been that confused in life. She had a round dimpled face, heavily masked in makeup.
"See those dimples like Sandra's," I boastfully whispered to Josiah.
Sandra was one of my girlfriends who I liked most. However, we rarely met for she was always busy; juggling between three jobs, a primary school teacher during the day and a waitress on most nights. She attended many dance classes, too, for she loved dancing.
I, however, struggled to see the face of this talented ass-shaker since she kept moving all over and flipping her hair (wig) back and forth. Her hips were daintily curved. All over her was a veritable aura of beauty, a shadow of lucent light.
My eyes can't see
As she came down from the pole after her dance, we looked right into each other's faces. She smiled. A beautiful but familiar face. The big weave and heavy make-up was still obscuring the clear features of her face.
Josiah, startled, said, "aah Dan na huyu siyule Sandra wako (isn't this your Sandra??"
My heart skipped. I took off my spectacles to see her well then realized I actually needed them to be able to see. I was losing breath to anger and shock.
What was most shocking was that she was not even shocked to see me. She smiled her cunning, knowing smile and started to walk away.
I looked at the mean looking bouncers and thought twice about starting trouble. Josiah, noticing that the place was no longer conducive to me, demanded that we head home. He sympathized with my situation but the events were to shocking to comment. I could, however, feel that he restrained himself from breaking into laughter.
Encounter with police
Few metres from club, a police Landcruiser came to a halt in front of us. Two tall police officers jumped from the back. "Kijana, wewe ndiye nasumbua raia hii town, panda kwa hiyo gari (young man, you are the one breaching law and order in this town, get into that vehicle)" The tall one ordered with a very heavy Kalenjin accent.
I wondered why he said kijana (singular) yet we were two. I turned to look at Josiah who was always quick with his mouth to save the situation. The only image I have of Josiah that night was the edges of his red jacket disappearing at some lane on the far end of the road.