Kenya is one of the most dynamic and exciting places to be a woman entrepreneur in Africa.
Over the years, Kenya has become a centre for innovation and entrepreneurship; A place that has constantly created pioneering inventions, unique businesses, Award-winning ventures, brands and products that continue to dominate the markets and not only create job opportunities but also make millionaires – if not billionaires – of the founders.
In all this, women have continued to gallantly stand up and be counted in areas and fields that have long been dominated by men. And the Kenyan women are definitely not disappointing.
Today, we raise a glass and toast to some of the BEST TEN of these noteworthy trailblazers.
10. Tabitha Karanja, Founder and CEO of Keroche Breweries
Tabitha is one of the most notable Kenyan entrepreneurs overall. Not just in the female field. The media-shy mogul took on an 87-year-old business monopoly and entered an industry with a deeply entrenched male gender stereotype. Tabitha broke the mould to found Kenya's first home-grown beer and alcoholic drink manufacturer, Keroche Industries.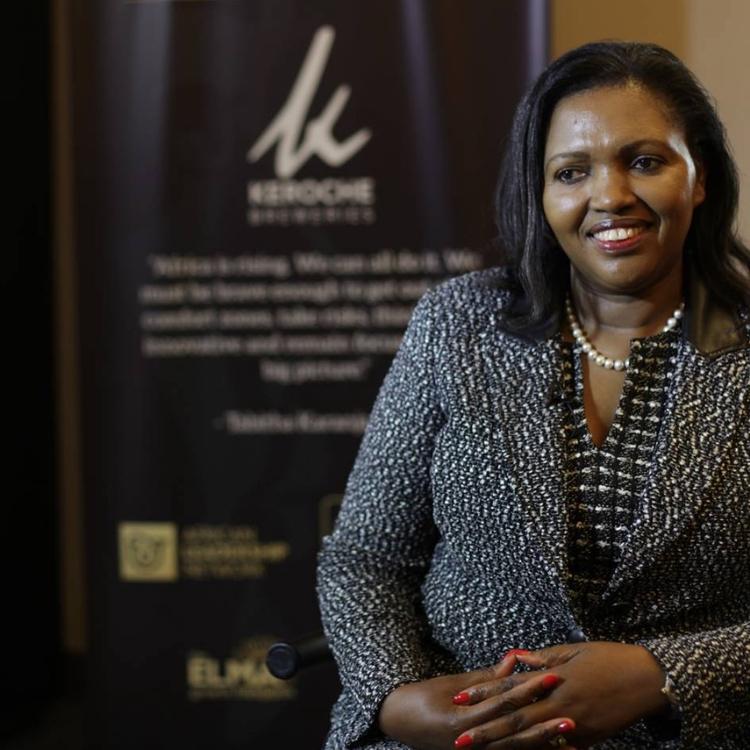 Today, her company's state-of-the-art production facility is targeting 20% of the Kenyan market. For her enormous contribution in liberalizing the liqour market in Kenya, Tabitha was honoured by President Mwai Kibaki in 2010 with a most significant Kenyan accolade – the Moran of the Order of the Burning Spear award. This, mark you, is not the only award this indomitable trailblazer has.
9. Adele Dejak – Fashion Icon
Adele Dejak is a Kenyan entrepreneur who runs an authentic jewelry and fashion accessories brand. Her brand represents the true African experience ranging from bracelets, earrings, necklaces, and handbags. Much like her western compatriots Cindy Chao, Elsa Perreti and Farah Khan Ali, Adele has shone brightest in fields she never dreamed about. Adele has had her crafts worn by the hallowed likes of Lupita Nyongo and Alicia Keys. And, in a past interview, has made it clear that she is working to be the Coco Chanel of Africa. And having collaborated with the United Nations already, well, we don't see why hers is a tall order.
8. Suzie Wokabi, Founder of Suzie Beauty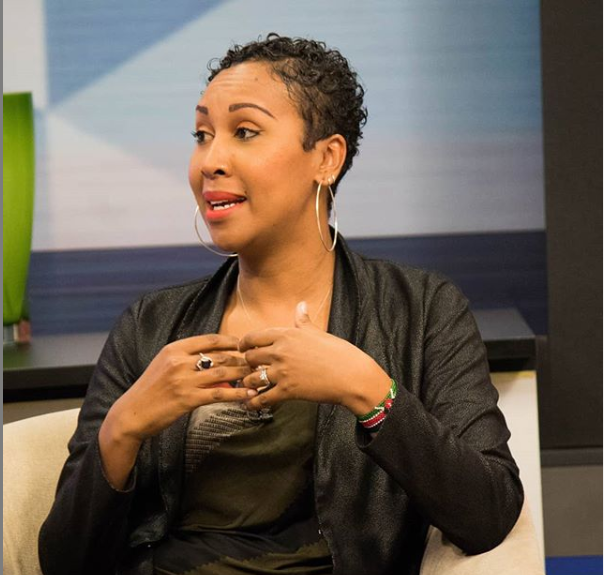 Before Kylie Jenner and Huddah Monroe or even the entire Kardashain Klan ventured into the billion-dollar beauty industry, Suzie Wokabi was knee-deep in it. Suzie is the legendary makeup guru and beauty connoisseur who has, for years now, nourished, beautified, edified and glorified the African woman through her eponymous makeup brand Suzie Beauty.
And even though the successful Suzie Beauty line was acquired by the Flame Tree Group in December 2015, for what I believe were millions of shillings, Suzie has remained in the game and even ventured into deeper beauty waters. And we can only watch the magic happen.
7. Michelle Ntalami, the founder of Marini Naturals
Michelle is a valiant Beauty icon who, not so long ago, got tired of the peskiness of the nappy African hair and decided to take on the bull by its horns – Make the African Hair great again.
And that's how the Africawide Marini Naturals was born. Steadfastly and keenly, Michelle has taken care of the hair of millions of African women, bringing back the rejuvenation and the vitilisation that was so needed by the beautiful African girl. And made millions off of it too.
6. Lucy Kapkirwok, Founder of Sanpad Products
Growing up in a village where young girls and women lack access to affordable and hygienic menstrual management products, causing low self esteem and inevitable absenteeism from school inspired Kenyan socialpreneur Lucy Kapkirwok to find an innovative solution ; The Sanpad Products. This is a sanitary pad-pant business, an innovative low cost initiative aimed at manufacturing affordable and accessible sanitary pads cum pants to address the needs of women and girls in resource poor settings.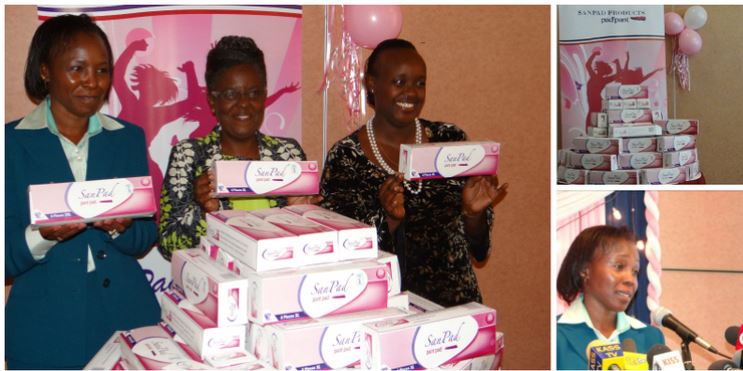 This alone has changed the lives of millions of Kenyan girls in the villages and deepest corners of the country. And seen millions more attend school and even emerge useful women in society.
5. Sonal Maherali, Youtuber and CEO of Sonal Maherali and Co Ltd
Sonal is one of the most reputable and renowned Youtube personalities in Kenya and East Africa. Suave, well-spoken, elegant, richly beautiful and mind-bogglingly endowed, Sonal has seen her Youtube numbers balloon to an impressive 60,000+ subscribers. Actually, one of the top Youtubers in Kenya in general. With deep interests in fashion and beauty, Sonal even has her own clothing line that has been doing amazingly well since its launch. An avid fan of designer stuff, Sonal boasts of close to a thousand designer shoes and bags. And more in jewelry and dresses. From Coco Chanel to Jimmy Choo.
4. Stella Langat, founder of Double Dee's
This little trailblazer, who was born in Kericho and educated abroad, has been doing for busty women what no one ever thought of doing – providing them with bras that are a proper size for their busty bodies. Together with her three friends, Stella launched the hugely-successful Double Dees, first as a small venture in the USA and later, as a business that even opened its doors in Kenya in 2016.
See: Crackdown on betting firms to cost media 10% of advertising revenue
Busty women have never felt happier and more comfortable. And because Africa is the land of busty women, Stella may just sit pretty and watch her fortunes grow to millions.
3. Teresa Lubano, founder of The Nanjala Company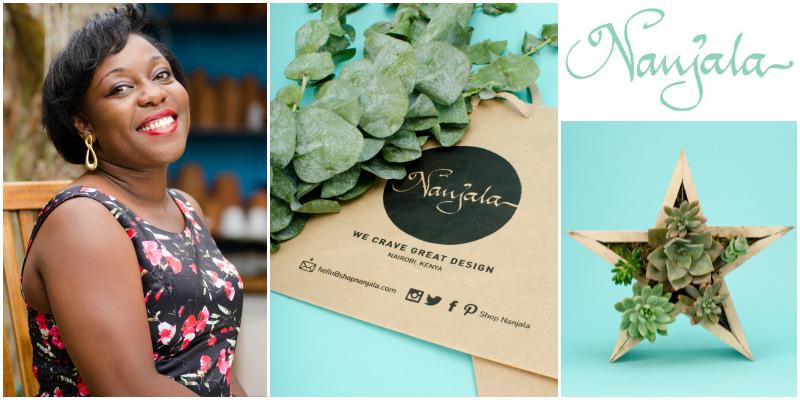 Launched online on the 1st of December 2015, The Nanjala Company was born from a recognition that many local artisans and craftsmen are held back by a lack of exposure and opportunity. Therefore, through her e-commerce platform, Teresa committed to helping them take their talents and wares to the market in a more professional and gainful manner. Thus creating business for hundreds of little-known creators and artisans. And beautifying Africa's homes in ways that could, hitherto, remain unseen.
2. Catherine Mahugu, co-founder of SasaAfrica
Catherine Mahugu is the founder of an e-commerce platform which allows Kenyan jewellers to sell their products to customers directly. The company currently offers jewellery to over 450 retailers worldwide including Nordstrom, Espirit, and Fossil.
Ms Mahugu saw the need to promote African artifacts such as necklaces, bangles and other jewellery manufactured by locals and sell them to buyers globally and ran with it. Now,not only have hundreds of jewelers remained in business but the world has gotten brighter and more beautiful from her pioneering excellence.
1. Sally Ibeere, Founder, One Residence Limited
Sally Ibeere runs a smattering of successful businesses in and out of the country with her most notable being One Residence Luxury Homes.
One Residence introduced to the market the epitome of luxury LIVING with top end furnished and serviced lifestyle homes for expatriates and is now part of the coveted and Warren Buffet-owned CORT Furniture Rental Network which serves the global mobility family who land and go straight from the airports to their fully set homes. Home to home seamlessly.
Read: Famous journalists whose careers were destroyed by crimes
According to their website, One Residence offers Designer Furnished Penthouses and Lifestyle homes for long and short term across all prime residential areas in Nairobi – Kenya. Since 2012 hundreds of expatriates and diplomats have been served by the very able- and diligent- hands of this indefatigable Sally Ibeere who has redefined the true essence of 'furnished and serviced' living concept with comfort her number one priority. And her greatest legacy yet.