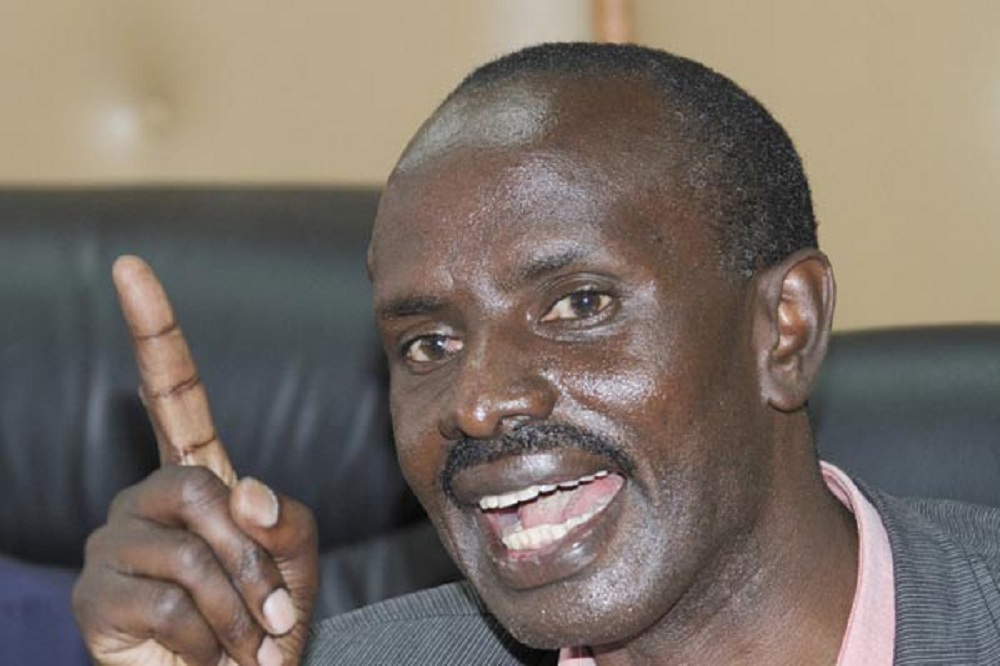 [dropcap]K[/dropcap]enya National Union of Teachers (Knut) Secretary General Wilson Sossion, who is under pressure from the national government to quit following his nomination as an MP, claims the move was instigated after he opposed wide-ranging reforms being implemented by Education Cabinet Secretary Dr Fred Matiang'i.
Ironically, during the recent release of the Kenya Certificate of Primary Education (KCPE) examination results, which were out in record time, Dr Matiang'i took time to congratulate him and other trade union officials who were either elected or nominated to Parliament and expressed hope they would join the Education committee to champion the sector's interests.
In the latest standoff, Sossion has threatened to call a teachers' strike to oppose reforms formulated by the Education ministry including introduction of a new curriculum, substantive appointments of headteachers, principals and their number twos, merging of boards of secondary and primary schools  sharing a compound and direct government supply of textbooks to schools.
A friend of controversy
On the new curriculum that would replace the 8-4-4 system, he claims foreigners are pushing it and that the government has been held captive. He has also protested the demand that headteachers and deputies acquire Bachelors of Education degree to retain their positions while principals and their assistants are being asked to obtain Masters of Education degrees to be secure.
However, it is not the first time the former Chemistry and Agriculture teacher is clashing with the government especially during the tenure of Prof Jacob Kaimenyi over various issues to do with teachers welfare such as collective bargaining agreements and teacher recruitment. In his tenure, he has presided over the several teachers' strikes, including one that lasted five weeks in 2015, paralysing third term teaching and examination preparations.
READ ALSO:
Last year, when Matiang'i released KCPE exam results earlier than expected, Sossion said KNUT doubted their credibility. "We have not argued from the blue. We have generated a report which all of you have. It contains a comparison from last year to this year in terms of performance. Let other groups generate their reports, then we see and compare. The ministry has been quiet for three days and that means they are guilty," he said of the results which were marked by lower grades that Matiang'i had attributed to the government's crackdown on cheating.
Critics have said that the move by East African Affairs, Labour and Social Protection Cabinet Secretary Phyllis Kandie to demand that trade union officials serving as State Officers relinquish their positions immediately leave office is political.
"Jubilee administration wants to suffocate every strong voice that is against their bad governance. The quit notice to trade unionists serving in Parliament either as elected or nominated is illegal & barbaric. Joseph Jolly Mugalla served as MP-Ikolomani and COTU (Deputy) Secretary General at the same time until he retired from Trade Unionism in 2001. Jubilee is scared of Hons. Sossion, Omboko Milemba & Tom Odege. They are tough and critical of Jubilee shenanigans," ODM Communications Director Philip Etale wrote on Facebook eliciting mixed reactions.
Not illegal to have two jobs
Roba Duba also served in the last Parliament and still retained his position as Secretary General of the Local Government Workers Union. The courts have previously also declared that it is not illegal for an MP or Senator to be engaged in gainful employment elsewhere since his elective job is not a full time occupation.
"Nowhere else in the Constitution so far as I know is the term full time State officer used. The import of those provisions is that not all the persons defined as State officers are expected to work on a full time basis," Justice Francis Tuiyot ruled in June 2013 following an application to disallow Siaya Senator James Orengo from representing then Funyula Senator Paul Otwoma in an election petition.
He added: "The complaint against Orengo is criticising that by signing pleadings he contravened the provisions of Article 77(1) but the responsibility was on the petitioner to demonstrate that Orengo's participation as counsel is inherently incompatible with his responsibility as senator."
Incidentally, Sossion had initially declined ODM's decision to nominated him to the National Assembly, saying he preferred dedicating himself to his job at Knut House.
His wars with the Jubilee administration are, however, not new. In 2013, he rallied behind the election of Uhuru Kenyatta and his running mate William Ruto but they fell out almost immediately after they gained power. It is rumuored that he had been promised a Cabinet job that never materialised.
While he admitted not have fitted into the shoes of some of his predecessors such as founding Secretary General Stephen Kioni and the fiery Ambrose Adongo, there is no doubt that he has been a thorn in the flesh of the national government.
Apart from holding two bachelor's degrees in Education and Science, Sossion, who also has a Masters in education management from Moi University and a diploma in agriculture and extension services from Egerton University, started his teaching career at his alma mater, Tenwek High School in Bomet county.
Time stickler
He has also been pursuing a doctorate in education management and policy at Kenya Methodist University.
In a previous interview with Business Daily, he said he never aspired to be a trade union official but was pushed by fellow teachers in Bomet to go for it and was elected as branch executive secretary. As a teacher, the time stickler said he was absorbed in his work, staying in school throughout.
"I would only leave school once a month to take my salary," he said.
He spent much of his evenings in the staff room and in the mornings, he joined the students, guiding them. In his free time, he would coach drama and music students or accompany them for education trips.
ALSO SEE
He told the newspaper it is those qualities that convinced his colleagues he was a candidate for union leadership. His subjects had always topped at the district. In fact, 40 out of 70 of his last chemistry and agriculture class in the year 2000 scored A's.
Mr Sossion used a donated bicycle for campaigns. Later, the teachers gave him a motorbike to traverse the whole of Bomet but he narrowly lost the elections.
In the interview, he said teachers encouraged him to vie again in 2001 and assured him of votes and true to it,  he with a landslide. Two months later, he was elected to the national executive council in a move that changed his destiny. At the council, he said he was exposed to policy and decision-making.
In 2007,  he vied for the position of KNUT second vice chairman and won. Later, he went for the first vice chairman position and was elected unopposed. He rose through the ranks to the national chair and in 2013, and then members requested him to switch and serve as the secretary general.
Sossion remarried in April 2016 when he tied the knot with his girlfriend Vivianne Kenduiywa. He has three children from his first wife, who died in a road accident in 2012. He has vowed to defy Kandie's order, which was contained in a special issue of the Kenya Gazette dated December 13. Who will be the first to blink?