[dropcap]W[/dropcap]estlands Member of Parliament Tim Wanyonyi has declared his interest in the governorship of Nairobi county in 2022. The second term legislator disclosed that he would not seek re-election to Parliament in the next election but will instead "go for something bigger".
"It is a great honour to serve in the National Assembly as an elected lawmaker," says Mr Wanyonyi. "Ten years is enough for me to work for the people of Westlands. I do not want to hang on forever. When my tenure comes to an end, I should be able to pave way for others as I pursue new political goals and challenges at a higher level."
He said he had cultivated his professional and political careers in Kenya's capital city for over 20 years and believes he can offer better service to the public. He dismissed speculation that he was laying ground to stage an a*****t for the governor's seat in Bungoma county, his place of birth.
"I made it clear when I started my campaigns in 2012 that if elected I would serve for two terms only as a Member of Parliament," he says. "That position has not changed.The Nairobi Governor's seat is the one I shall be going for. I will seek my party's ticket to vie for that position. I joined politics in 2003 as a nominated councillor in Nairobi and was elected MP five years later. Therefore I understand the capital city much better than any other county in Kenya."
READ: COTU BOSS FRANCIS ATWOLI MARRIES KTN NEWS ANCHOR
Wanyonyi is the first MP to declare his interest in the Nairobi Governor's seat in the next election that is also expected to feature immediate former Governor Dr. Evans Kidero and incumbent Mike Mbuvi Sonko. However, the MP said even though he has declared intentions to run for the Nairobi gubernatorial seat, he would not engage in early campaigns but give Sonko full co-operation and all the backing he needs until he completes his term.
"The current governor should not be distracted in any way. He has their mandate to deliver service to them for full five years," said Mr Wanyonyi.
Mr Wanyonyi easily passes as a man of valour. As MP, he represents Kenya's richest and most multi-ethnic constituency. It was, however, not easy for him to make it. He cheated d***h 20 years ago. He was later to be cheated out of a parliamentary nomination slot for persons with disabilities in 2007. However, hard work, determination and consistency were to pay dividends in 2018 when, against all odds, he was resoundingly elected as the MP for Westlands, Nairobi, on an ODM ticket.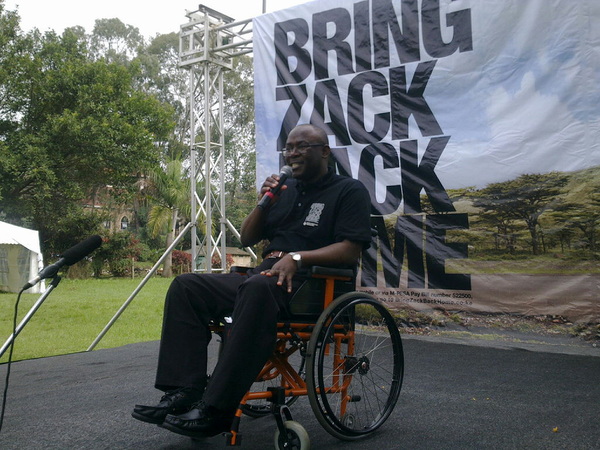 Mr Wanyonyi is also the co-founder of the Kenya Paraplegic Organisation (KPO) where he served as executive director until he became an MP. He is currently its chairperson. Many Kenyans might still be familiar with the highly successful 'Bring Zack Back Home' media campaign in early 2012 to raise funds for the construction of a spinal i****y r************n centre at Nairobi's Karen region.
READ: LITTLE KNOWN KENYAN TYCOON BUYS UPCOMING TV STATION
Few can, however, tell how the brilliant idea was mooted and the intense lobbying it involved. Its architect whose effort raised Ksh63 million towards the campaign sponsored by mobile phone services provider Safaricom was the now 52-year old lawmaker.
If anything, few people gave him any chance when he declared interest in contesting for an elective seat. He had first thought of running for a senatorial post in Nairobi County but later changed his mind midstream and switched his eyes to the National Assembly.
RELATED: HOW G****N BLEW MY SPINAL CORD AWAY